New Peugeot 3008 and 5008 mild-hybrids coming this year
Peugeot's all-new mild-hybrid system will be offered first in the 3008 and 5008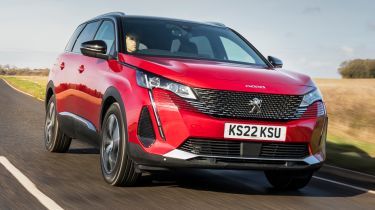 2023 will see every Peugeot car gain electrification of some sort, including the 3008 and 5008. Rather than bring out a fully-electric or plug-in hybrid version of the family SUVs, Peugeot will offer them with mild-hybrid power. First deliveries are expected by summer. 
It's the first time we've seen electric power come to the 5008 and the new system coming to both SUVs consists of a 1.2-litre PureTech petrol engine mated to a dual-clutch gearbox. A 48V battery is recharged while driving to provide a total potential output of 134bhp and 230Nm of torque. Peugeot says the mild-hybrid powertrain also allows for extra torque at low revs and a 15 per cent improvement in fuel consumption. There's the possibility for zero-emission driving for short distances at low speeds.  
New 2023 Peugeot 3008 set for bold look and all-electric power
Visually, there's nothing to differentiate the new hybridised models from the purely internal-combustion engined versions of the 3008 and 5008, but there will be some changes inside. Peugeot's i-Cockpit digital display will show when the car is running on pure-electric power as well as the flow of energy in the system, the battery charge level and its current power output. There's also a display showing the percentage of the distance travelled on pure-electric power. 
The hybrid system won't affect cabin or boot space either as it's stored underneath the front passenger seat. Peugeot says the hybrid 3008 and 5008 will be equipped with an 'Acoustic Vehicle Alerting System' which essentially emits a sound when travelling up to 18mph to warn pedestrians and cyclists.
Peugeot hasn't said how the new hybrid system will affect pricing, but on the 3008 we can expect the mild-hybrid to sit below the plug-in hybrid versions. On the 5008 there's no plug-in option so we expect the mild-hybrid offerings to be the most expensive versions of Peugeot's large SUV.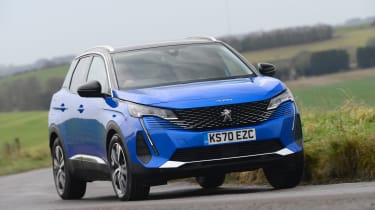 The new hybrid units swiftly follow a revamp of the 3008 and 5008 trim level structure. Available to order now, the basic Active Premium 3008 and 5008 are now called Active Premium+ and both models get the 'Aluminium Pack' with aluminium front door sills and pedals, 18-inch 'Detroit' Storm Grey diamond-cut alloy wheels (for the 3008 models only) and aluminium roof rails. The rear window and rear side windows are now tinted. The Active Premium+ 3008 starts from £32,605 with the 5008 starting from £36,570.
As for the Allure Premium+ models, they both receive the 'Aluminium Pack' and the roof is now changed to a contrasting 'Black Diamond' finish. The Allure Premium+ 3008 costs from £35,085 and the 5008 in the same trim level starts at £39,150.
Now read our review of the new Peugeot 408…
Source: Read Full Article