New Mercedes GLC Coupe SUV spied ahead of 2023 launch
These latest spy shots provide our clearest look yet at the firm's BMW X4 rival, including a first glimpse at the cabin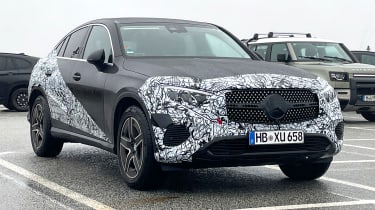 Following the all-new GLC SUV, which was unveiled last year, Mercedes has turned its attention to a sleeker GLC Coupe version which will arrive later in 2023. Sporting a more aerodynamic body shell with a tapered roofline, the GLC Coupe will trade blows with the BMW X4 when it goes on sale, and these latest photographs preview the car in pre-production form. 
We've already caught the high performance GLC 63 Coupe testing on public roads, but the car in these pictures is a more thinly disguised non-AMG variant with a taller ride height, smaller wheels and more subdued styling. 
BMW X4 review
At the front, the GLC Coupe will be fitted with a similar grille to its SUV relative, featuring a cluster of three-pointed star logos and a single horizontal bar spanning its width. This is flanked by a set of LED headlights equipped with Mercedes' Digital Light technology, which can project animations and symbols onto the road. 
This test car wears a set of 19-inch alloys with a closed-off design to optimise aero, and the sloping roofline gives a sportier profile than the more upright GLC SUV – albeit while sacrificing cabin space. 
The GLC Coupe will ride on the same MRA2 platform as the C-Class and GLC SUV, and its interior tech is also shared with those models. An 11.9-inch portrait-orientated touchscreen takes centre stage in the dashboard, providing access to Mercedes' latest MBUX infotainment software. This includes an augmented reality navigation system, the "Hey Mercedes" voice assistant and a 360-degree parking camera to aid low speed manoeuvres.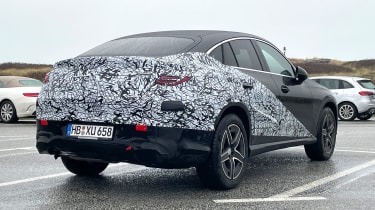 Elsewhere, the GLC Coupe's two-tiered dashboard design and 12.3-inch digital instrument panel are familiar to the standard GLC, although the lowered roofline will eat into that car's 600-litre boot capacity. 
The recently unveiled second-generation GLC will use electrification for all of its powertrains, ranging from 48-volt mild-hybrids to three different plug-in hybrids with an all-electric range of up to 62 miles. A fully-electric variant isn't in the offing however, with the similarly-sized EQC occupying that space. It's almost certain the GLC Coupe will be offered with the same range of powertrains as the GLC. 
A GLC Coupe 200 4Matic will probably kick off the range with a 2.0-litre turbocharged four-cylinder with 48-volt assistance, developing 201bhp and 320Nm of torque. There should also be an option of the same engine with 254bhp and 400Nm of torque. Alongside them is a mild-hybrid diesel 220 d 4MATIC with 194bhp and 440Nm of torque. 
The plug-in hybrid tech featured in the new GLC should carry over to the Coupe model. Mercedes has two petrol-powered plug-in hybrids and a diesel option. They all use a 31kWh battery coupled to an electric motor with 134bhp and 440Nm of torque. An all-electric range of over 62 miles is claimed.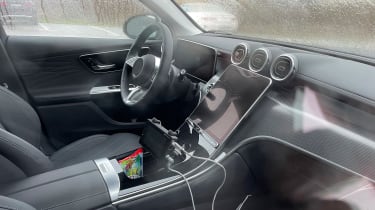 The 2.0-litre petrol plug-in hybrid could be made available with 309bhp and 550Nm of torque as well as a 376bhp, 650Nm model. A diesel plug-in hybrid would produce around 242bhp and 750Nm of torque. 
Given the GLC will share a platform with the new C-Class, we expect the new C 63's powertrain to feature in the AMG GLC Coupe. This could mean up to 671bhp from a 2.0-litre four-cylinder turbocharged engine supported by an electric motor. A plug-in hybrid capability should also feature.
We expect the GLC Coupe to be fully revealed in the coming months, with a price tag slightly higher than that of the regular GLC.
Check out the top 10 best SUVs to buy now…
Source: Read Full Article