New Mercedes EQE SUV spied ahead of 2022 launch
Mercedes will launch its electric EQE SUV next year, and our spies have spotted the BMW iX rival testing in pre-production form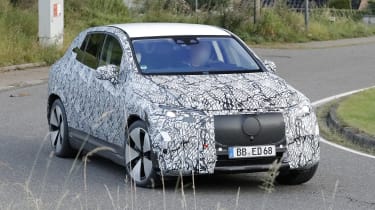 Mercedes is preparing its EQE electric SUV for release next year, and our spies have captured a pre-production model testing in Germany. 
The heavy camouflage conceals much of the car's styling details, but it's evident that the EQE SUV will draw from the design language of Mercedes' other EV offerings – in particular the EQC SUV and EQS saloon. 
New Mercedes S-Class 2021 review
We can pick out that the front facia is rounded and smooth, featuring a swooping grille design and integrated headlight arrangement similar to other EQ models. The front grille will house radars and sensors for the EQE SUV's driver assistance technologies, with cooling airflow provided by a shallow vent below the main grille. 
The car's thin LED running light strip is visible through the disguise, with this test car also receiving a set of low-drag wheels with a diamond-cut finish. A steeply-raked windscreen should also aid aerodynamic performance, in a bid to maximize the EQE SUV's range on a full charge.
A sharp, upswept crease can also be seen along the car's flanks, along with a smooth roofline and steeply-angled c-pillars. A full-width LED light bar – in keeping with the EQ design ethos – can also be seen, with a running light arrangement that resembles that of the EQS.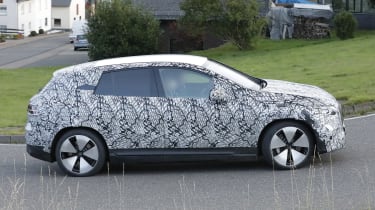 The EQE forms part of Mercedes's ambition to expand its range of fully electric EQ-badged vehicles so that it has an EV in every segment it serves by 2025. 
It won't be the largest Mercedes electric SUV we'll see in the coming years, but it will be positioned towards the top end of the company's EV line-up, sitting above the EQC and the smaller EQA and EQB SUVs when it arrives. 
The EQE badge will be shared across a large saloon, which has already been revealed, and the SUV that these spy shots and our exclusive illustrations reveal. Click on through our gallery to see more pictures of how the production-ready EQE SUV could look.. 
The EQE will sit on the same EVA2 underpinnings as the EQS and EQE saloons. It also marks a shift away from the conventions set by the EQC, which uses a modified version of the GLC's platform rather than dedicated electric architecture.
The EVA2 platform is highly modular, and Mercedes is expected to launch a broad range of powertrains and battery options across the EQE range. In fact, the German brand has already filed trademarks for a whole host of badges, including AMG monikers from EQE 43 to EQE 63, suggesting that high-performance variants are in the works.
Mercedes has already revealed powertrain details for the car's saloon relative in EQE 350 guise. This will use a 90kWh (usable) battery to power a motor on the rear axle, which produces 288bhp and 530Nm of torque. Performance figures for the EQE 350 haven't been detailed, but Mercedes quotes a range of up to 410 miles from a full charge.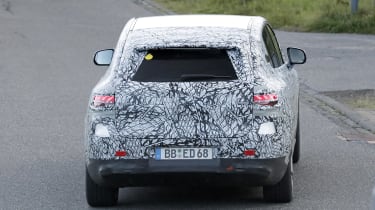 With 170kW DC charging capability, a full battery top-up takes 32 minutes, or eight hours and 25 minutes from an 11kW AC charge point or wallbox. Mercedes also offers an optional 22kW AC on-board charger, reducing this time to just over four hours. The firm has also partnered with providers such as Ionity and Shell Recharge to give its future EV drivers convenient access to rapid charging stations.
The EQE saloon can be specified with the MBUX Hypercreen infotainment system that debuted on the EQS, which we also expect to be available on the EQE SUV. This comprises a 12.3-inch digital instrument panel, a 12.3-inch touchscreen for the passenger and a 17.7-inch central display.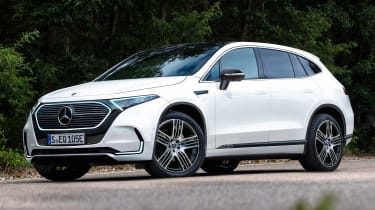 Speaking about the company's future, Mercedes CEO Ola Kellenius, said: "At Mercedes, we are going from EV-first to EV-only for our new architectures and cars. On a global level, the pace of change in the markets will vary, of course. A little faster here, a little slower there. 
"But the transformation to battery electric cars is unstoppable. And it will pick up speed everywhere. We are accelerating our ramp-up in R&D activities to serve an all-electric era. Investments in new technologies will be significantly increased and pulled forward. This includes expanded activities in battery cells and systems."
Looking to the future, Mercedes will launch a range-topping EQS SUV next year, which will eventually spawn its own Maybach variant. The G-Class will go also all-electric in 2024 with a model called EQG confirmed and, in 2025, the firm will launch its next-generation MB.AE platform as it shifts towards becoming a pure-electric manufacturer.
Mercedes' ambitious EQ plans, from A to V
Mercedes EQA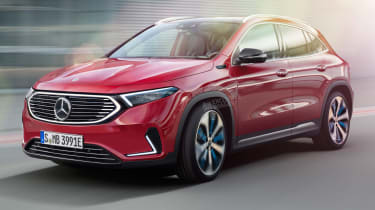 Due: 2021
The EQA – the smallest member of the EQ family  – will be launched before the end of the year and is set to rival DS 3 Crossback E-Tense.
Mercedes EQB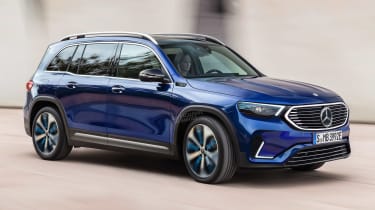 Due: 2021
The bigger brother to the EQA will have a taller roofline and more passenger space, but will have the same range.
Mercedes EQC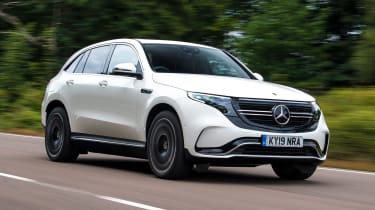 Due: on sale
Mid-sized SUV kick-started the EQ family at the end of 2019. It has a WLTP range of 231 miles and starts at £65k.
Mercedes EQE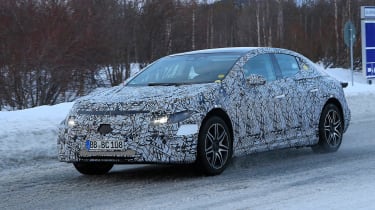 Due: 2022
Saloon version of EQE is likely to land before the EQE SUV. It will also use the company's dedicated EV platform.
Mercedes EQS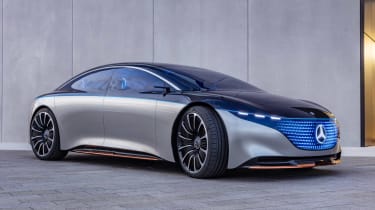 Due: 2021
The flagship model of the EQ family was launched this year, and will reach showrooms in 2022. There'll also be an EQS SUV.
Mercedes EQV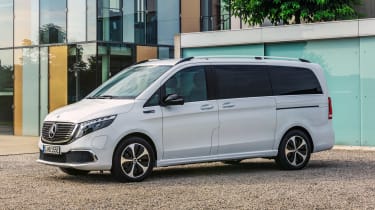 Due: on sale
Electric EQV MPV has a flexible seating layout and uses a 100kWh battery for a claimed range of 252 miles.
What are the best electric cars on sale right now? Click here for our top 10…
Source: Read Full Article