New McLaren 720S GT3X 2021 review
The McLaren 720S GT3X is a track-day weapon that 15 lucky people will have the pleasure of owning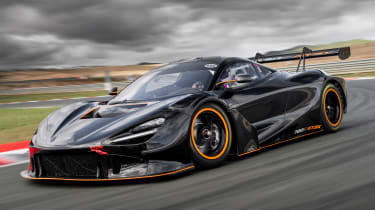 4.0 out of 5
Verdict
The ultimate McLaren isn't cheap at £720,000. The fact that it can never be raced or driven on the road also means its use is effectively limited to track-days only, which seems a shame. But for the 15 wealthy people who will own one there will be nothing else quite like it at the price; Lamborghini's Essenza V12 and Ferrari's FXX offer no more speed or thrills and cost two or three times more. It looks quite tasty in the flesh, too, plus you can take your mates out in it – if they have the stomach for it. 
On the surface, the McLaren 720S GT3X seems like an impossibly expensive car that has no real purpose in life. It costs £720,000 and can never be raced, neither can it be driven on the road. A cynic could therefore accuse it of being little more than one of the most expensive track day cars that (an awful lot of) money can buy.
But the fact that there will be just 15 examples made will surely enhance its appeal among its intended audience, even though only half this allocation has been snapped up so far. And anyway, among such exalted company the GT3X could even be considered a bargain (Ferrari's XX cars and the Lambo Essenza SCV12 cost over two times as much) so long as it delivers where it needs to.
Best track day cars 2021

Thankfully, it does. With 740bhp from its twin-turbo V8 engine, a six-speed sequential X-Track gearbox, a two-seater cabin that's been lifted straight from a GT3 racer plus a no-rules aerodynamic package that means it has enough downforce to leave its paint behind through a corner, the GT3X really is in a league of one when it comes to track appeal.

More reviews

In-depth reviews

Road tests

New McLaren 720S Spider 2019 review
New McLaren 720S 2017 UK review

It's not just tenths but entire seconds faster round most circuits than the GT3 racing car on which it's unashamedly based. As indeed it should be, given that it costs quarter of a million more than a competition-compliant 720S GT3. Whatever the case, it is a pretty incredible car to drive, as we discovered recently when McLaren let us have a go it in around the Navarra circuit in Northern Spain for half a day. 

To begin with, the GT3X seems impossibly intimidating – visually as well as conceptually. But once you climb inside its button-infested cabin and get comfortable behind its wheel, courtesy of a pedal box that moves to meet your feet and a seat/belt combination that clamps you violently in position, the trepidation factor gradually begins to reduce.

The view forwards is excellent, the view behind taken care of thanks to a big screen relaying images from a camera, everything else inside being positioned just-so.

Flick the ignition and thumb the starter button and the noise is loud, yes, but not deafening when the twin-turbo V8 erupts into life. To get going you press the heavy clutch right to the floor, engage first gear via the right hand paddle, give it plenty of revs then let the clutch back out as gently as you can. Do it right and the GT3X begins to move with only a small lurch and you're away, no more clutch to worry about until you come back into the pit lane at the end of a stint because from then on the shifts thump through sequentially, up or down. 

You need to be accelerating or braking quite hard before the X-Track gearbox will shift properly, mind, otherwise it either won't shift at all or it'll spit the gear right back at you if you're in any way tentative.

It takes a lap or two to get some heat into the wide Pirelli slick tyres. The brakes need a fair bit of warming up too. As does your own brain before you can even think about opening up the GT3X properly, just to see what it can do.

But when all the temperatures are up and your head is in the right place, the GT3X can do things on a circuit – and to a circuit – that very few other cars can. Initially it's the pure acceleration that blows you away the most. At just 1210kg 'dry' the GT3X has a decently nutcase power-to-weight ratio of around 550bhp per tonne. That means it is massively fast in a straight line – way more so than the 600bhp GT3 racing version.

There's also a deeply impressive absence of lag to its power and torque delivery, with boost seeming to swell from the moment you touch the throttle at anything much above 4000rpm.

The gearbox works quite brilliantly, too, with smooth but impossibly fast shifts occurring the instant you touch the paddles, up or down. To begin with you wonder if you will ever be able to get anywhere near the X's overall abilities around a track, so rapidly does the horizon appear in the windscreen.

But the more you drive it, the harder you push it, the less intimidating it all seems. Which is unusual but intentional on McLaren's behalf. 

They didn't want to make a car that only the most talented can get beneath the skin of. Instead they wanted to make a car that's very fast indeed but also approachable, manageable. They succeeded, and it's the way the GT3X stops and steers and goes round corners that actually manages to reduce the fear factor, rather than increase it – because in truth it has abilities in these areas that are well beyond what most driver's will ever get anywhere near breaching. Yet you can still get an awful lot out of it going at less than 10/10ths. 

The power of its brakes is huge, but it's the stability and sheer grip it generates into and through the corners that is probably most impressive of all. Basically you aim it, and it sticks, simple as that. And even if you get it wrong the GT3X still has so much in reserve, it doesn't feel like it wants to bite. Inevitably you climb out wanting more, not less time behind the wheel, so relatively forgiving is it of your mistakes.

That really is an extraordinary achievement, given just how quick it is. In the end it's nowhere near as scary to drive as it looks. So maybe it IS a bargain in its own particular way, even at almost three quarters of a million pounds.    

| | |
| --- | --- |
| Model: | McLaren 720S GT3X |
| Price: | £720,000 |
| Engine: | 4.0-litre twin-turbo V8, petrol |
| Power/torque: | 740bhp/770NmNm |
| Transmission: | 6-speed sequential |
| 0-62mph: | 'less than 3.0sec' |
| Top speed: | 'over 190mph' |
| Economy/CO2: | N/A |
| On sale: | Now |

Source: Read Full Article