New Maserati MC20 prototype review
We get our first taste of the new 202mph Maserati MC20 supercar in prototype form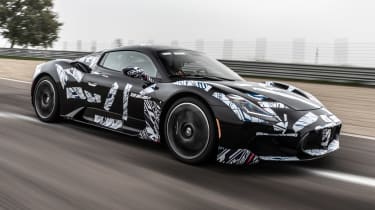 Verdict
It's clear that Maserati is back. The MC20 feels like the car that can rejuvenate the brand once more. From our first brief encounter, it appears to have found the sweet spot between racetrack agility and everyday comfort. We'll drive the finished thing early next year, and we can't wait.
Maserati is making its long-awaited supercar comeback with the MC20 and the company has McLaren, Porsche and, more importantly, Ferrari in its sights. For years Maserati has been overshadowed by its neighbours from Maranello, and has even used its engines and technology. But the MC20 changes that; it's 100 per cent Maserati. Ahead of the car going on sale in 2021, we've had the chance to get behind the wheel on track.
Open-topped Spyder and electric versions of the MC20 are due in 2022, but the coupé we have here packs a 622bhp 3.0-litre V6. It's Maserati's first in-house engine for more than 20 years – and the company is very proud of it. The magic formula of this compact unit is MTC (Maserati Twin Combustion), a pre-chamber fuel injection system combined with dual ignition, similar to the set-ups used in Formula One.
Best supercars 2020
The car uses a carbon-fibre monocoque chassis, as McLaren does, and the Italian firm claims a kerbweight of 1,470kg. It also says the MC20 can cover 0-62mph in 2.9 seconds and hit a top speed of 202mph. Be in no doubt that this is a proper supercar.
There's a drive-by-wire throttle, and on track the engine responds immediately in the more aggressive Sport and Corsa driving modes, even if the automated gearchanges on this prototype are sometimes a little rough.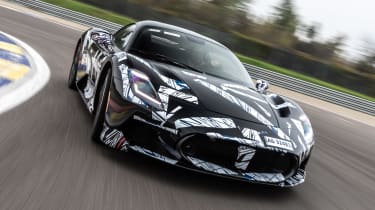 A large central rotary knob is used to select driving modes, while the damper tuning is operated via a button in its centre, so you can have a firm or softer set-up in each of the four modes.
GT mode gives the MC20 a greater degree of comfort, and the car handles rough surfaces with ease. The electric power steering is very impressive and key information is fed back to the rim, while the front end is keen to dive into tight corners.
Thanks to an even weight distribution, the MC20 remains balanced and neutral at speed, and even during fast direction changes. Only if you overdo it does the rear end issue a friendly reminder that you're sitting in a 622bhp supercar, but it never feels intimidating. The carbon-ceramic brakes are brake-by-wire, but although they have huge stopping power, they feel synthetic. Engineers told us that they're still working on this.
Given that we only sampled a prototype, it's difficult to draw firm conclusions on cabin quality. But the combination of visible carbon fibre and Alcantara lends the cockpit a sporty, high-class ambience, if not being quite as dazzling as a Ferrari's. Two 10.25-inch screens – one for infotainment, one for the dials – are enough without being overbearing. But even here, for an all-new model the graphics look a little simple.
| | |
| --- | --- |
| Model: | Maserati MC20 |
| Price: | £187,230 |
| Engine: | 3.0-litre V6 twin-turbo petrol |
| Power/torque: | 622bhp/730Nm |
| Transmission: | Eight-speed dual-clutch auto, rear-wheel drive |
| 0-62mph: | 2.9 seconds |
| Top speed: | 202mph |
| On sale | Now |
Source: Read Full Article