New Maserati MC20 2021 review
The new Maserati MC20 is the famous Italian brand's welcome return to supercar market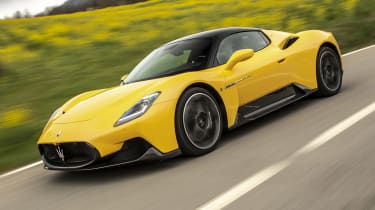 4.5 out of 5
Verdict
Maserati's first supercar in a generation is a hit, and a triumph for the brand – a car capable of going toe to toe with the very best in its class for handling. The pure-electric version will give the MC20 a fascinating breadth of abilities when it arrives, but in the meantime, the new twin-turbocharged V6 is a masterclass in how a 'regular' combustion engine can deliver lag-free performance. Yes, we wish it had more of a voice, but when the rest of the overall package is as accomplished as this, does anyone care?
Just six years ago a Maserati supercar would have been strictly off limits for the famous Trident brand. Back then it was managed by Ferrari, which forced its former arch-rival to give up on fast cars and turn its attention to luxury saloons, laid-back coupés, convertibles and, latterly, SUVs.
Now, however, the Prancing Horse is out on its own and Maserati has its mojo back, to the point where it has managed to convince new owner Stellantis to let it once again battle it out in the supercar class – including, yes, Ferrari.
Best supercars 2021

The MC20 is an astonishing achievement, and that's even before you've seen one in the flesh. Going from the first sketch to the car being launched in Modena, Italy, has taken just two years, less than half the development time of most cars.

Don't let the speed of the process fool you into thinking that this has been a bit of a rushed job, though. Maserati's Ferrari F8 Tributo rival has been designed, developed and engineered to humiliate its opposition from down the road in Maranello.

This no-expense-spared approach explains why, instead of using the Ferrari's aluminium space-frame platform, Maserati has elected to follow in British company McLaren's tyre tracks by developing a lighter, stiffer, more rigid carbon-fibre tub for its car.

It doesn't stop there, either. The MC20 has been developed to take both petrol power and an advanced pure-electric powertrain that will come later.

Concentrating on the here and now, instead of borrowing an engine from another car maker, Maserati has started with a clean sheet of paper, and the resulting 'Nettuno' 3.0-litre twin-turbo V6 is a last hurrah for combustion power, incorporating real F1 tech in a road car.

At the very heart of the Italian company's motor is what is called Maserati Twin Combustion technology, which acts alongside a regular spark plug like a tiny flamethrower above the pistons. The result is a bigger, more efficient burn that allows the V6 to generate big power at the same time as meeting all the latest emission requirements.

And we mean big power: a herculean 621bhp and a punchy 730Nm of torque. Combine that with an impressive 1,475kg kerbweight (thanks to a body made mostly from carbon fibre) and you end up with a car that is capable of an extremely rapid 0-62mph sprint time of just 2.9 seconds and a top speed of 203mph.

Both of those figures match the fastest in the segment, but numbers will only really speak volumes if Maserati's supercar can back it up with a drive worthy of the very best. We're happy to report that not only is the MC20 competitive, it also jumps straight into the mix at the very top of its class.

For our drive Maserati laid on a tight and twisty race circuit and, in its own words, some of the very worst roads in the region – with stretches of tarmac that would challenge even a high-riding SUV.

Thanks to the MC20's unique five-link double-wishbone, long travel and three-stage adaptive dampers, the Italian supercar coped with everything thrown at it – from huge bumps and nasty cambers to a crest that saw all four wheels part company with the road surface.

In fact, from behind the wheel the MC20 feels like a big, friendly Alpine A110, with similar levels of confidence-inspiring feedback that's blended with incredible levels of grip and traction.

The steering, meanwhile, deserves a mention, because it is better than most Ferraris'. The rack is still quick, but it provides a better feel for how much front-axle grip there is at any given moment.

On track, the Maserati delivers explosive performance to match its on-paper potential, and our car's carbon-ceramic brakes were immense throughout the drive, if a little noisy after hard use.

Tyre partner Bridgestone has worked hard to deliver a special compound for the MC20. The rubber is designed to ensure that when grip does run out on the rear axle, the breakaway is smooth and progressive.

In this respect, the Maserati is meant to flatter drivers of all abilities, instead of constantly threatening to punish all but the most accomplished.

There are a few flaws, mind you. The MC20's stripped-out cabin is a little plain for our tastes, and the digital dashboard ahead of the driver isn't as clear as you'd hope. The lack of physical dials for the climate control is irritating, too, because it means you have to adjust the cabin temperature via the infotainment system.

Clawing back some points, this touchscreen system does offer Amazon's Alexa smart assistant, a WiFi hotspot and the ability to manage some vehicle systems via the Maserati Connect smartphone or smartwatch app. These are relatively novel features in the supercar class.

But there's one thing you do expect with some of the world's fastest cars: an evocative soundtrack. And sadly, the all-new twin-turbo V6 doesn't quite deliver the aural excitement of the V8-powered F8 Tributo, or the glorious note of the Audi R8 or Lamborghini opposition.

Despite that, we think most in the market for a supercar will still be mightily tempted by the MC20 on account of its sheer beauty. There are no big spoilers – all the complex air-blending takes place beneath the skin – and with butterfly doors and rear air vents that form a Trident shape, it definitely brings a fresh look to a class that has had relatively few new arrivals in recent years.

There's even a small 50-litre 'frunk' up front and a larger 150-litre boot behind the rear-mounted engine, so the MC20 offers fair practicality. That's handy, because if you are one of the lucky buyers, the car's breadth of performance, handling and ride will mean you'll want to use it every day.

| | |
| --- | --- |
| Model: | Maserati MC20 |
| Price: | £187,230 |
| Engine: | 3.0-litre twin-turbo V6 petrol |
| Power/torque: | 621bhp/730Nm |
| Transmission: | Eight-speed dual-clutch auto, rear-wheel drive  |
| 0-62mph: | 2.9 seconds |
| Top speed: | 203mph |
| Economy: | 24.6mpg |
| CO2: | 261g/km |
| On sale: | Now |

Source: Read Full Article