New Maserati GranCabrio teased with official images
The GranCabrio will be the convertible version of Maserati's GranTurismo sports car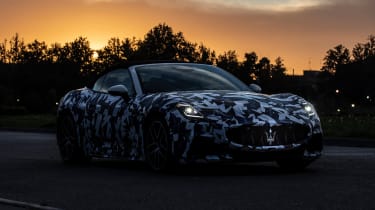 Just like the old GranTurismo, Maserati will sell its front-engined GT car as a coupe and convertible. We've already seen the new GranTurismo unveiled in hard-top guise and now it appears the convertible GranCabrio is almost ready for its full debut. 
These latest pictures taken outside Maserati's headquarters in Modena mark the first time we've seen official images of the new GranCabrio, but minimal camouflage suggests it's close to being finalised. The GranCabrio will share plenty of technology and design with the coupe, with the main difference coming in the form of a fabric folding roof. 
New Maserati MC20 Cielo 2022 review
The overall design of the GranCabrio is the same as the GranTurismo, but this car looks like it's the top-spec Trofeo model rather than the entry-level Modena. The front bumper has the slightly larger side air vents of the Trofeo, there are side-skirt blades just visible through the camouflage and to the rear we can see the more aggressive rear bumper set up with the quad-exhaust arrangement. It also appears as if the small lip spoiler the Trofeo features isn't on this test car, whether or not this is because of the different aerodynamics caused by the fabric roof or a quirk of this particular test car remains to be seen. 
Like the GranTurismo, two internal-combustion powertrains will be available – both based on the MC20 supercar's "Nettuno" 3.0-litre twin-turbocharged V6. The Modena will come with 483bhp and 600Nm of torque, whereas the Trofeo will get the same engine in a higher state of tune – 542bhp and 650Nm of torque to be precise. 
Performance figures may alter from the coupe, depending on how well Maserati is able to limit the supposed weight increase of the GranCabrio, so we may not see it match the Trofeo's 3.5-second 0-62mph time and 205mph top speed.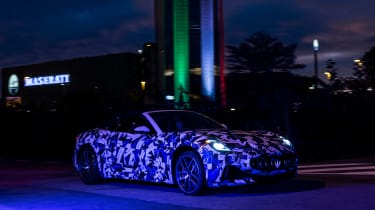 A drop-top version with the all-electric Folgore powertrain hasn't yet been spotted. With the Folgore's extra kerbweight (2,260kg compared with the petrol-powered GranTurismo's 1,795kg) it may be more difficult to package that car with the extra weight of a folding roof. If Maserati does manage to pull off a convertible Folgore then it would be one of the quickest pure-electric convertibles on the market. 
With the GranTurismo being launched in late 2022, we can expect the full unveiling of the drop-top GranCabrio in early 2023.
Now read our review of the Maserati MC20 Cielo…
Source: Read Full Article