New Lexus NX 450h+ 2021 review
Does plug-in hybrid tech improve the new Lexus NX? We find out…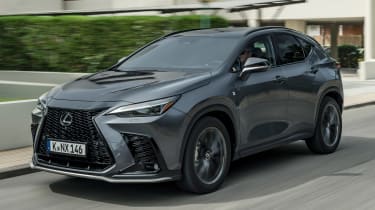 4.0 out of 5
Buy used for less at Buyacar
Verdict
It's a case of 'less is more' with the new Lexus NX. That's because there's less fuss than before on the surface, and it's a more convincing car as a result. Lexus has successfully identified where the new NX needed to improve over its predecessor, and it has also done well to make a premium car from a platform and tech shared with the Toyota RAV4. It's efficient, refined, comfortable, practical, relaxing to drive and now free of many of the irks that could put off buyers of more conventional premium SUVs from the German brands. 
This new second-generation Lexus NX is representative of a new attitude from the Japanese premium brand. It's the first Lexus to be developed under a new strategy that its chief engineer says is bringing the brand back to basics, with a more self-critical approach. And it's also the first Lexus ever to come with plug-in hybrid power – drivetrain technology that, until now, has been out of favour with Lexus despite its long track record of electrification. 
It's brave stuff from a car company that knows its customer base, and perhaps braver still when you consider that the NX is the brand's best-selling car in Europe – why change a winning recipe? But, this mid-size SUV is also most responsible for bringing in new customers, so it certainly makes sense to spread the wings of this Audi Q5, Mercedes GLC and BMW X3 rival even further. 
Best hybrid SUVs 2021

Driven here, in left-hand drive form but on UK roads, is the new plug-in hybrid version. It's badged 450h+, and while it's new technology for Lexus, it's not a completely unknown quantity. The car shares its TNGA-K underpinnings with the latest Toyota RAV4 and this hybrid system, comprising a 2.5-litre four-cylinder petrol engine, a CVT transmission, an electric motor system and an 18.1kWh battery.

More reviews

Car group tests

Volvo XC60 vs Lexus NX
Lexus NX vs Audi Q5

In-depth reviews

Long-term tests

Long-term test review: Lexus NX 300h

Road tests

New Lexus NX 2021 review
Lexus NX 300h 2017 facelift review
Lexus NX 200t F-Sport review

Used car tests

It's a sizeable battery for a mid-size plug-in SUV, placed under the floor of the car (the 'self-charging hybrid' NX 350h packages its smaller cell under the rear bench). It's also the key to unlocking some of the impressive figures the new NX boasts on paper. More than 40 miles is possible on battery power alone, while CO2 from as low as 20g/km launches the new NX into serious consideration as a great company car, given Benefit-in-Kind taxation is from seven per cent.

The NX's exterior design is unmistakably the result of an evolutionary process, but once you get inside you see that this really is a radical departure from its predecessor. And it's once you're sitting in the driver's seat that you begin to understand the new approach embraced by the brand during the car's development.

As ever, interior quality remains as plush as you'd expect of the badge. Lexus interiors have always combined a high level of perceived quality with a sense of robustness, and while the operating concept and layout of the dashboard is very different from what's gone before, that general perception remains. 

One huge weak point has been addressed, and it's difficult to miss too, given how much it dominates the dashboard. The new infotainment system that sits centrally is available with a 14-inch screen, and it's placed handily in reach of the driver compared with the old floating system. That's because it now relies on touch input and voice command, rather than the frustrating touchpad system. And the menu layout is far more straightforward than before, too. 

It headlines a significantly decluttered driving environment, with the number of buttons reduced almost by half. Collectively, it's improvements like these that exemplify the new Lexus attitude. 

The new platform helps interior packaging. It's only 20mm longer than the old car, but it feels much more spacious, with lots of legroom for rear seat passengers. The 545-litre boot is good too, with a completely flat load area. 

Based on the way it drives, you'd perhaps be a little surprised to discover that the NX 450h+ shares its underpinnings and hybrid technology with the RAV4 PHEV. It's not completely distanced from its relative – the throttle response and steering feel are almost identical, which is no bad thing considering the RAV4 has better steering than many rivals in this segment.

But it is much more refined and comfortable, riding better without sacrificing body control. It happily glides on the electric motor only up to 83mph for zero emissions motorway driving, and you get significant battery-assisted driving in the hybrid drive modes, where it's keen to manage how the battery is deployed thoughtfully for optimum usage. For example, when the battery is depleted, the car reverts to behaving like a normal hybrid. So you still get minor electrical assistance at low speed. 

It makes for relaxing progress, and while the end result isn't something that lives up to the 256.8mpg promises, a real world return of 55mpg isn't bad, based on our time in the car spent without a fully charged battery. 

Prices for the new NX line-up kick off from £38,300, but the plug-in hybrid 450h+ line-up starts from £48,800, so there's a considerable jump in price between the conventional and plug-in hybrid technology that's offered. 

Standard equipment is strong on paper, with the base-spec 450h+ Premium Pack including heated front seats with electric lumbar adjustment and a heated steering wheel, adaptive cruise control, front and rear parking sensors, plus a reversing camera. However, you'll need to add the optional Premium Plus pack to get the 14-inch display; a 9.8-inch system is standard. 

Further kit and luxuries are found on the Takumi and F Sport models – the latter with sportier styling and adaptive dampers as standard, and tipped to be the most popular version in Britain.

| | |
| --- | --- |
| Model: | Lexus NX 450+ Takumi |
| Price:  | £57,800 |
| Engine:  | 2.5-litre 4cyl petrol-electric plug-in hybrid |
| Power/torque:  | 302bhp/N/A |
| Transmission:  | CVT automatic, four-wheel drive |
| 0-62mph:  | 6.3 seconds |
| Top speed:  | 124mph |
| Economy:  | 256.8mpg |
| CO2:  | 26g/km |
| On sale: | Now |

Next Steps

Source: Read Full Article