New Kia Stinger GT-S 2021 review
The Kia Stinger GT-S delivers strong pace, style and value, but it's not as practical as the 5-door body suggests and the fuel economy will sting the most.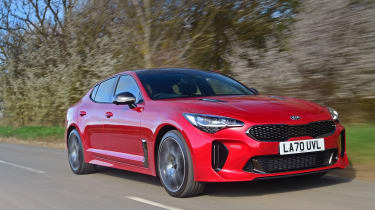 3.5 out of 5
Buy used for less at Buyacar
Verdict
While the obvious choices for a fast four-door cruiser come from BMW and Audi, the Kia Stinger offers a lot of the same appeal at a much more competitive price. Performance is strong, the ride and handling balance is great to live with, and equipment levels are brilliant. Look past the engine's insatiable thirst for fuel and the sub-par practicality, and the Stinger remains an appealing left-field choice.
When was the last time you saw a Kia Stinger on the road? It's certainly a rare sight, which is a shame, as there's always been plenty to admire about the brand's flagship sports saloon.
For the 2021 model year Kia has introduced a range of subtle updates to a car which, on paper, could consider the likes of the Audi S5 Sportback and BMW M340i as its closest competition. However, there's also a new mainstream rival looking to push into the premium segment in the form of the Peugeot 508 Peugeot Sport Engineered, too. So have the changes to the Stinger GT-S added enough to keep things fresh?
Best performance cars 2021

From the outside, you're going to have to look very loosely to spot the differences. The front is almost identical to the previous model, while new a set of 19-inch alloy wheels also mark out a difference. 

More reviews

Car group tests

Kia Stinger vs Volkswagen Arteon vs BMW 4 Series
Kia Stinger vs Audi S5

In-depth reviews

Long-term tests

Kia Stinger GT-Line S: long-term test review

Road tests

Kia Stinger GT-Line 2.0 petrol review
New Kia Stinger 2.2 CRDi diesel review

Used car tests

The main update comes at the back, where the tail lights are now connected by a full-width red LED strip. The graphics within the clusters themselves have been revised too, with the indicators now arranged as ten individual LED units designed to mimic a chequered flag. There's also a new blue paint finish to choose from.

Inside, there's now a frameless rear-view mirror, new metallic trim on the steering wheel and instrument cluster surround, and a 64-colour ambient lighting system has been introduced, but the 10.25-inch widescreen infotainment set-up is the big change. 

The old tech worked well enough, but graphically this system is a huge step forward. Combined with a higher resolution, the enlarged display is able to show more information more clearly, and benefits from connected services that provide live traffic updates and weather information.

Also new is the seven-inch digital display between the dials. Like the main infotainment screen, it boasts a much higher resolution than the readout it replaces, which not only means that the various trip and infotainment sub-menus are displayed much more crisply, but allows images from a surround-view camera system to show the sides of the car when the indicators are used, virtually eliminating blind spots.

Not long before the refresh, Kia dropped the petrol and diesel four-cylinder engines from the car's line-up, so now the Stinger is petrol V6 only; a 3.3-litre twin-turbocharged unit produces the same 361bhp and 510Nm as before. 

It's deceptively quick: not only because the wide spread of torque gives a strong, consistent shove, but also because the engine sounds too polite. Even an enhanced growl coming through the speakers doesn't do enough to change the fact that it's a little muted; we're not demanding pops and bangs found in the latest hot hatches here, but a hint of a roar from those quad exhaust tips would be welcome. WLTP emissions regulations likely play a part in this, though.

The performance could be better still if it wasn't for the eight-speed automatic gearbox. The torque converter unit can shunt into ratios a little clumsily – most obvious at the opposite extremes of low speed manoeuvring and full-throttle acceleration.

Little has changed with the chassis, and Kia's claim that it's built to a "Grand Tourer" brief seems pretty much on the mark. The ride has just enough firmness to hint at a sporty edge but it remains smooth overall. Only slightly excessive road noise does anything to harm its long-distance comfort. 

At 1,855kg the Stinger is hefty – and it feels it at times. Though it's slightly nose-heavy for the most part, a mix of body movement from the forgiving suspension and that rear-driven V6 means that you can play with the car's balance when you want to have some fun.

Switch into Sport mode, and the active seat bolsters gently squeeze you and the dampers firm up subtly. Factor in the precise steering and strong Brembo brakes, and the Stinger manages to show off just enough of its wild side.

While there's still much to appreciate about the Stinger, age has highlighted a couple of its biggest flaws even further. The first issue comes with the packaging. While rear knee room is fine, the low-slung front seats mean that there's no space beneath them for your feet, so passengers have to sit with their thighs angled to the sky instead of resting on the seat base. 

At 406 litre, the boot is smaller than in either a 3 Series or an S5 too, so there's less room all round – this despite the Stinger being both longer and wider overall than either of the German cars.

Then there's the fuel consumption. Officially, the Stinger manages 28mpg, though in the real world it'll be hard to match that unless your commute consists entirely of a steady 70mph motorway slog. In town, we didn't get much change from 20mpg – this despite a stop/start system which is always keen to engage in traffic. The V6 engine's thirst isn't helped by a modest 60-litre fuel tank, which means the Stinger doesn't quite have the continent-crushing range that the GT-S badge implies.

At a time when the Audi S5 Sportback uses a muscular V6 diesel that will easily get at least 10mpg more than the Kia in almost any situation, and the petrol-powered M340i manages 36mpg in official tests – despite more power, speed and a four-wheel drive system – it shows that the Kia's powertrain, though likeable, is ageing.

However, the Stinger can be let off the hook for these flaws to some extent when you take a look at the price. The V6 GT-S costs £42,595; a £1,450 increase over the pre-facelift version, but still the best part of £10,000 cheaper than either the S5 or the M340i.

And that's even before you start getting tick happy with the Germans' options lists. The only option for the Stinger is paint – a striking orange is the no-cost shade, while the rest add £675 to the price. 

The equipment roll call is exhaustive: wireless smartphone charging, a 15-speaker Harman/Kardon audio system, a head-up display, heated and ventilated electric front seats, all-round parking sensors, a powered tailgate and a host of safety features, including adaptive cruise control, are all standard.

| | |
| --- | --- |
| Model: | Kia Stinger 3.3 T-GDi V6 GT-S |
| Price: | £42,595 |
| Engine: | 3.3-litre V6 petrol |
| Power/torque: | 361bhp/510Nm |
| Transmission: | Eight-speed auto, Rear-wheel drive |
| 0-62mph: | 4.7 seconds |
| Top speed: | 167 mph |
| Economy/CO2: | 28.0mpg/229g/km |
| On sale: | Now |

Next Steps

Source: Read Full Article