The Hyundai Ioniq 5 is our reigning car of the year, so can the closely related Kia EV6 live up to expectation?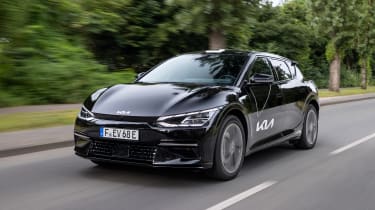 4.5 out of 5
Verdict
The Kia EV6 stakes a strong claim as a sportier electric crossover. The ride may just be a little too firm for some, but it is liveable, and the trade-off is a slightly more engaging drive. All-wheel-drive versions have very strong performance, while the claimed range and charging tech make the EV6 a very versatile machine, but it doesn't come cheap.
Kia can certainly stake a claim to being a market leader in all things electric cars. It cottoned on to the hybrid trend early with cars like the Niro, adding a fully electric e-Niro model that had the class sewn up until relatively recently. 
But the Korean firm hasn't rested on its laurels, and now it's aiming to push a level further with this: the EV6. It's Kia's first purpose made electric car, based on the E-GMP architecture developed in conjunction with sister brands Hyundai and Genesis. The Hyundai Ioniq 5 is the only other car we've driven on this platform up to now, and as our reigning car of the year expectations are high for E-GMP's second outing under the EV6. 
New 2021 Kia EV6 boasts up to 328 miles of range

Kia is aiming for something a little sportier and more dynamic with the EV6, and straight away the styling sets the tone, with a swoopier, curvier coupe look to its profile than the boxier, more angular Ioniq 5 crossover.

Like the Ioniq 5, it's bigger in the metal than it looks in pictures. It's just under 4.7 metres long, with a 2.9-metre-long wheelbase. Sandwiched in the floor between the axles is a 77.4kWh battery – the only option the UK market will get, although a 58kWh version is offered elsewhere.

The battery gives a claimed range of 314 miles in this AWD dual-motor car. It feeds a pair of motors for a total of 321bhp and 405Nm of torque, which is enough for a 5.2-second 0-62mph time.

It feels rapid too, with strong punch up to motorway speeds, and enough instant power for easy, even relaxing overtakes on country roads. If it still isn't enough for you then there's a high performance 577bhp GT version coming soon.

With no combustion engine to drown out other noises the car's refinement is laid bare, but it's fundamentally sound in the EV6; there's not much wind noise at high speed on the motorway, while tyre noise is also kept at bay well.

The ride has a slightly firm, busy edge to it, only over jarring bumps that would upset other cars, but this slightly more sporting profile to its dynamic repertoire is in keeping with the Kia's positioning – especially relative to its Hyundai Ioniq 5 sibling.

The EV6 feels slightly sharper to turn, while clever frequency selective suspension dampers mean that at lower speed when there's less energy going through the suspension (either over bumps or as you turn in and the car rolls) the damping forces are lower, so the ride is softer.

It firms up as the energy fired back at the dampers increases – usually with speed or how aggressively you work the steering. It's a subtle alteration in character, but a perceptible one nonetheless that means the EV6 is as comfortable as it can be when you want it. It's especially strong on the motorway, where it flows nicely, but you can seek out that little bit more support and firmness in corners when desired.

Of course, there's no hiding the EV6's 2,015kg kerb weight, but this is a facet of all modern EVs. Yet it turns well for such a large machine with a relatively long wheelbase – this is what it hides well, offering enough agility but still good stability in corners. There's a hint of fun on offer that we hope to explore further on drier British roads in time, too.

Kia's engineers tell us there are some final calibration tweaks for the suspension set-up on our pre-production prototype test car, but it feels well engineered to us.

The whole platform does, and with the E-GMP set-up's 800-volt electric architecture allowing 350kW charging for a 10-to-80-per-cent top-up in just 18 minutes, it's an incredibly versatile machine in this respect; it can add 62 miles of range in just five minutes.

Using a more conventional 11kW AC feed it'll take seven hours and 20 minutes to fully charge, which should still be fine for overnight top-ups.

As with Kia's other EVs, the rate at which the EV6 used its range (especially in Eco mode) seemed entirely trustworthy and predictable. Of course, to help maximise what's on offer from a full charge you can ramp up the car's regenerative braking through the different modes to the top level, called i-pedal.

This maximises the regenerative effect from the motors, topping up the battery with otherwise wasted energy at the same time. It's perfect for one-pedal driving in town and the calibration is intuitive, so it's easy to get to grips with. 

There's a neat trick too: hold the left-hand paddle and the car will momentarily revert to this setting even if you're in another regen mode, so you can call up this highest level on demand.

All of the other tech inside works with the same fuss-free appeal we've come to expect from the Korean brand, brought forward into a new generation with Kia's curved infotainment display.

Best electric cars to buy 2021

The pair of 12.3-inch screens offer sharp graphics and the main infotainment responds quickly and is full of features. GT-Line S models in the UK (representative of our test car and priced from £51,895 in AWD trim) feature a Meridian stereo, wireless phone charging, an augmented reality head-up display, Apple CarPlay and Android Auto, a 360-degree camera set-up with front and rear parking sensors, Kia's UVO connected services, heated and ventilated seats and a heated steering wheel, dual-zone climate control, LED headlights, 20-inch alloys and lots of driver assistance systems and safety kit.

Of course, if you're after a more affordable model the entry-level EV6 starts from £40,895. While that might still look pricey to some, this is a halo model for Kia, and once you factor in monthly payments – plus the savings you'll make on running costs – it could seem more reasonable.

The platform's packaging also means there's a good level of room inside, with a flat floor giving a comfortable seating position in the rear. Headroom is fine despite the EV6's more rakish profile too. Boot space stands at 480 litres, as the subwoofer eats into load space a little, but there's still a good degree of flexibility on offer, which is a trait that defines the EV6.

| | |
| --- | --- |
| Model: | Kia EV6 GT-Line S |
| Price: | Price: £51,895 |
| Battery/motor:  | 77.4kWh/dual electric motors |
| Power/torque: | 321bhp/605Nm |
| Transmission: | Single-speed automatic, four-wheel drive |
| 0-62mph: | 5.2 seconds |
| Top speed: | 115mph |
| Range/charging: | 314 miles/350kW DC (10-80% 18mins) |
| On sale: | Now |

Source: Read Full Article