New Ineos electric SUV: smaller, rugged off-roader on the way
Ineos will follow up the Grenadier with a more compact all-electric model, built with the same robust ethos as its larger sibling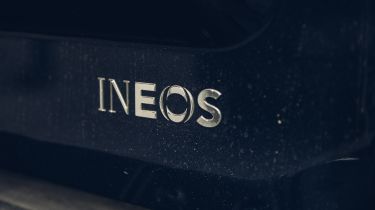 With the Grenadier, Ineos burst onto the scene with a single-minded SUV designed to tackle rough terrain and harsh conditions, and to follow up its initial offering, the firm will release a smaller EV model that adopts the same brief.
The Grenadier draws clear inspiration from the previous Land Rover Defender with its squared-off, boxy design and heavy duty looks, and the new electric SUV will offer similar characteristics packed into a more compact footprint.
Best electric SUVs to buy now
Speaking exclusively to Auto Express, Ineos sales and marketing boss Gary Pearson said: "As with the Grenadier, which is positioned as an uncompromising, rugged off-roader which is more of a tool than a toy, we'll stick to that very much with anything we come out with".
Ineos will pitch the EV as a workhorse, rather than a road-biased vehicle that prioritises opulence and outright electric range. According to Pearson, it will be a "smaller vehicle with a shorter range that can be used during the day – particularly if it's on an estate, managing some land, on a farm, on a Safari – where the range doesn't have to be seven hundred kilometres. Even though it doesn't go very far, where it goes is still challenging".
Despite this, the firm expects to steal sales from conventional crossovers on the basis of the car's style and rugged character, as it has with the Grenadier. However, its engineers are unwilling to compromise on the electric model's functional aspects to do so – specifically in terms of its design.
The electric off-roader's bluff proportions will be recognisable with links to the Grenadier, but while the two-box shape will maximise cabin space and utility, its aerodynamic efficiency will be sub-optimal. To compensate, certain elements of the new car will be optimised to better suit an EV, without altering the general design.
New Ineos Grenadier prototype review
"One of things that counters wind noise is incredibly good seals on the vehicle, which are designed to keep dust and water out but also do a good job of keeping noise out", said Pearson. "We probably would take a look at surfaces that could change to improve things, but only if the vehicle still meets the brief it needs to meet."
The electric SUV will be built at the same Hambach plant as the Grenadier, and while initial reports suggested that it could use a bespoke EV platform, a shortened version of the Grenadier's ladder chassis may be feasible. This would provide the off-road performance and durability required for such a vehicle, and is "technically very, very possible", according to Pearson.
As with the BMW-engined Grenadier, Ineos will outsource the powertrain technology of the smaller off-roader, and one potential partner is Magna Steyr – the Austrian company that helped develop the Grenadier. Magna will also produce the new Fisker Ocean electric SUV, which could donate its battery and dual-motor technology to the Ineos EV.
Top 10 best 4x4s and off-road cars to buy 2022
According to Pearson, the Ineos-Magna partnership is "as deep and strong as it's ever been", and the firm is "one of the many partners that can help and advise with what an electric vehicle looks like".
Pearson wouldn't be drawn on pricing for the EV, but did suggest that any vehicle from the brand must "look good, perform well and be affordable", and is hopeful that this can be achieved with the electric 4×4.
Now read our list of the best electric SUVs…
Source: Read Full Article