New Hyundai Kona N 2021 review
The new Hyundai Kona N small SUV is the latest performance model from the Korean brand, but what's it like on the road?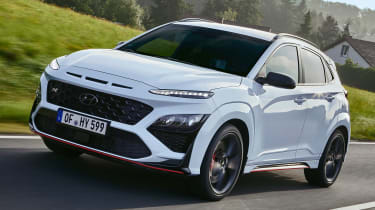 4.5 out of 5
Buy used for less at Buyacar
Verdict
In creating the Kona N, Hyundai may have shot straight to the top of the hot small SUV class – though with a small caveat. The Ford Puma ST isn't quite in the direct firing line, given it is more affordable and less powerful with its turbocharged three-cylinder engine. But lining the Kona N up alongside cars like the Audi SQ2 and Volkswagen T-Roc R sees it firmly plant its flag as a more exciting, purposeful and affordable machine with a huge level of standard equipment. 
This is a car that's been on the cards for a while. It's the new Hyundai Kona N – the first hot SUV Hyundai has made for the European market, and its place in the Kona line-up means that the brand's Volkswagen T-Roc rival is now, arguably, the most versatile car on sale in Britain today.
That's because, slotting alongside the petrol, diesel, mild-hybrid, full hybrid and fully electric versions of the Kona is this potent, performance-focused newcomer. But it occupies a fairly remote space in the small fast SUV landscape.
New Hyundai i20 N 2021 review

It's positioned as a much more powerful and expensive alternative to our current favourite – the Ford Puma ST. But it's not quite into the £40,000-plus realm of all-wheel-drive rivals like the Volkswagen T-Roc R, Audi SQ2 and the BMW X2 M35i. In essence, it is a loftier and more practical take on Hyundai's i30 N, sharing its running gear. That's a hot hatch that, while exhilarating and good enough to take on the best of the establishment, isn't without its downsides – namely its fairly uncompromising outlook. 

More reviews

Car group tests

Peugeot e-2008 vs Hyundai Kona Electric vs Kia Soul EV

In-depth reviews

Hyundai Kona review
Hyundai Kona Electric review

Road tests

New Hyundai Kona Electric 2021 review
New Hyundai Kona Hybrid 2021 review
New Hyundai Kona 2021 review

Used car tests

Power is provided by the same 2.0-litre turbocharged four-cylinder petrol engine found in the i30 N Performance, developing 276bhp most of the time but with an overboost capability that takes it to 286bhp for short periods. It sends that power to the front wheels only, and an eight-speed dual clutch automatic gearbox is the only transmission – there's no manual. 

The benefit of this auto-only approach is blistering performance. The brand claims 0-62mph is possible in 6.4 seconds, or as little as 5.5 seconds with launch control engaged. Top speed is 149mph.

What's impressive and slightly different is the chassis technology. That's because, in the UK, the Kona N is offered with electronically controlled dampers and an electronic limited-slip differential as standard. There are also a dizzying number of settings and drive modes to sample, and even traction control settings for mud and snow.

How the Kona N feels on a good bit of road is what buyers will part with their cash for, but those opting for the Kona N over the i30 N may also desire a bit more comfort and practicality. By and large, that's exactly what they'll get. 

In its Eco and Normal drive modes it's little different to drive than the regular Kona. It's comfortable, in fact, riding sweetly thanks to the slackening of the dampers and the extra amount of tyre sidewall you get on the 19-inch wheels taken from the i30 N. Also, you wouldn't really know that the engine under the bonnet can transform from quiet and unobtrusive into something altogether more raucous. 

To do that, you have several options at your disposal. You can twist the small drive selector knob near the gear selector into Sport mode, for a predetermined combination of engine map, damper settings, steering set-up, transmission aggression and exhaust note – the huge dual exhausts one of the standout features of the hooligan makeover applied on the outside. 

Sport mode is slightly deceptive, however. While it's one of three settings you can access via the selector knob, upping the pace and the volume, it's not the sportiest of the lot. There are in fact five modes in total, plus a bonus mode too, and if we're honest, it's not entirely straightforward. 

There are two blue buttons marked N on the steering wheel. These store pre-set configurations for everything, and you can do this by accessing the vehicle set-up options on the touchscreen infotainment system. By default, one of the buttons is blank and the other contains the 'N' driving mode, which places all parameters into their raciest settings. 

This is where the Kona N is at its best, and where you discover that the brand's engineers have managed to create noticeable steps in character between the different drive modes.

The damping immediately firms up, and in the corners the stiffer setup means the Kona N displays a sense of agility that defies its SUV bodystyle. There's little body roll thanks to a wider track, and the front end is very keen to turn in. It rotates very nicely indeed. 

The electronically controlled differential plays its part perfectly too – get on throttle mid-corner and you can feel the car tighten its line. It feels like a thoroughly modern front-wheel drive performance car, not just in terms of its capability but also the surprising ease with which its pace and balance is accessible. 

The red button on the steering wheel marked NGS takes things a step further, but only for a fleeting moment, activating the overboost function. Power rises to 286bhp for 20 seconds, while the chassis, traction control, exhaust and transmission settings are turned up to 11. It's a nifty feature that means you can summon a short, distilled hit of the Kona N's personality without needing to resort to the exhaustive selection of drive modes. 

The gearbox isn't the most engaging aspect though, even if in its more aggressive settings it swaps cogs with satisfying speed. The option of a manual for this N model would still be nice. 

With eight speeds the DCT can get caught in the wrong gear, where there is a little turbo-lag. But on boost its 392Nm of torque means the Kona N drags itself forward with the sort of relentlessness you'd expect of a true performance car. With the exhaust valves open it makes a pretty decent noise too, popping and banging when you lift off. 

Elsewhere, the rest of the Kona N package benefits from the timing of the car's release – it's a new model in the facelifted range. The interior is bang up to date with the fitment of standard digital instruments and a new 10.25-inch central touchscreen system. The sports seats are part leather, part Alcanrara, and there's a new sports steering wheel too.

The level of standard kit is also incredible given the Kona N's £35,395 price tag. The front seats have electric adjustment and lumbar support, plus heating and ventilation. The rear outer seats are heated, too, as is the steering wheel. There's also a Krell eight-speaker sound system and a wireless smartphone charging pad. Automatic climate control is standard-fit, too. 

Driver technology includes a head-up display, adaptive cruise control, lane follow and keep assist, front and rear parking sensors, a reversing camera, plus forward and rear collision avoidance assistance.

It's worth mentioning that space in the rear is a little more limited, but no worse than its key rivals in the two camps the Kona N spans, while the 361-litre boot is fine but not the biggest. However, the performance and character on offer here makes up for these slight  shortcomings.

| | |
| --- | --- |
| Model:  | Hyundai Kona N Performance 2.0 T-GDi DCT |
| Price:  | £35,395 |
| Engine:  | 2.0-litre 4cyl turbo petrol |
| Power/torque:  | 276bhp/392Nm |
| Transmission:  | Eight-speed automatic, front-wheel-drive |
| 0-62mph:  | 6.4 seconds |
| Top speed:  | 149mph |
| Economy:  | 33.2mpg |
| CO2:  | 194g/km |
| On sale:  | Now |

Next Steps

Source: Read Full Article