New Hyundai i30 N Fastback DCT prototype review
Will a new dual-clutch automatic improve the updated Hyundai i30 N? We try out a prototype version to find out…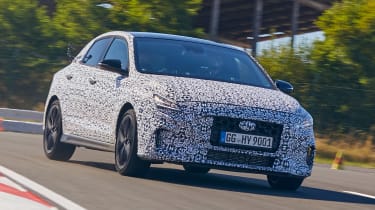 Verdict
Customers asked Hyundai for a dual-clutch auto in the i30 N, and they listened. The DCT's unique features make it more engaging than a regular dual-clutch auto found in rival cars, but for us, nothing matches the engagement you get from a hot hatch with a manual gearbox.
Few people, even the bosses at Hyundai, expected its first proper hot hatch, the i30 N, to be the runaway success it was when it arrived back in 2017. Over 21,000 examples have since been sold, and annually, it outsells pretty much every established key rival, with the exception of the Golf GTI.
Korean brands typically work on faster model cycles, so the i30 N is in line for an update – and quite an extensive one at that. The disguise on the prototype hides some minor visual tweaks, such as new LED lamps, a reshaped front bumper and new grille – standard procedure for a facelift. But new 19-inch forged alloys also appear, cutting 14kg of unsprung mass.
Best hot hatchbacks 2020
The updates that matter are beneath the skin and in the cabin. Hyundai has tuned the 2.0-litre four-cylinder turbo so that it now develops 278bhp and 392Nm of torque – increases of 5bhp and 39Nm respectively. That power is now available from 1,950rpm right across the rev band to 4,600rpm without any drop off in performance, shaving 0.2sec from the car's 0-62mph, which now stands at a claimed 5.9 seconds.
More reviews for i30 N
Car group tests
Hyundai i30 Fastback N vs Skoda Octavia vRS Challenge
In-depth reviews
Hyundai i30 review
Hyundai i30 Fastback review
Road tests
New Hyundai i30 prototype review
New Hyundai i30 N 2020 review
New Hyundai RM19 review
New Hyundai i30 Fastback N 2019 review
The launch of the facelift also brings with it an eight-speed dual-clutch automatic gearbox, as an option, for the first time. Pricing has yet to be confirmed, but expect a £1,500 premium over a six-speed manual model in the UK.
Klaus Koster, director for high-performance vehicle development at Hyundai Europe, told us i30 N customers had been asking for an automatic gearbox ever since the car arrived three years ago. And while Hyundai's N division did have the option of fitting a seven-speed DCT at the time, Koster told us it simply wouldn't have delivered the adequate performance required from an N model.
Three years later, and with a new eight-speed DCT at Hyundai's disposal, Koster and his team have what they needed. The dual-clutch gearbox adds between 60-70kg to the i30 N's overall weight; final specifications of the prototypes we drove had yet to be finalised.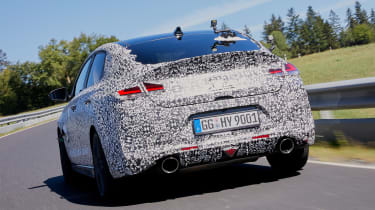 On the road, the dual-clutch gearbox acts almost exactly how you'd expect. In Normal mode it perhaps holds on to gears for a fraction longer than we'd like, but the shifts are at least smooth. The paddles behind the wheel are a little small and made of plastics, but they operate with a sturdy click, rather than the soft, mushy action you get in an equivalent Renaultsport Megane.
There are, however, several unique features to the automatic gearbox that make it a more entertaining and engaging transmission than those found in a lot of rivals. The first is called N Power Shift, which delivers a thump in the back on full-throttle upshifts in manual mode. It does nothing to improve performance, but certainly creates a little more drama than simply pulling a paddle.
The second feature Hyundai calls N Grin Shift, and it is accessed via a steering wheel-mounted button labelled 'NGS'. Press it and all of the i30 N's variable parameters are put into their most aggressive setting for 20 seconds. Increased engine power, faster gear shifts and an overboost function are all activated to deliver an instant hit of performance. It's especially useful for overtaking.
The cabin of the updated i30 N also gets a tech upgrade, with a new widescreen 10.25-inch display coming as standard. It's a really slick unit that now features a much tidier user interface for adjusting the i30 N's various settings, which can now all be accessed on one page. New bucket seats, although not fitted to our prototype, will be available for the first time, too.
| | |
| --- | --- |
| Model: | Hyundai i30 N Fastback prototype |
| Price: | £32,000 (est) |
| Engine: | 2.0-litre 4cyl turbo |
| Transmission: | Front-wheel drive, eight-speed dual clutch |
| Power/torque: | 278bhp/392Nm |
| 0-62mph: | 5.9 seconds |
| Top speed: | 155mph (est) |
| Economy/CO2 | TBC/TBC |
| On sale: | Late 2020 |
Source: Read Full Article