New Honda electric SUV leaked ahead of official launch
Honda will bring the electric SUV to market in 2023, with an expected driving range of around 200 miles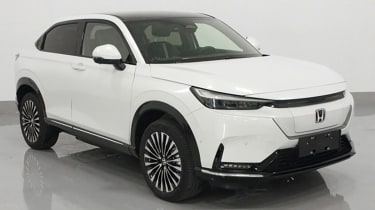 Honda's upcoming electric SUV has been leaked in full on an official Chinese patent office website before its intended launch date. The new EV will join the company's line-up in 2023 as a rival to the Hyundai Kona Electric and Peugeot e-2008.
Around this time last year, Honda gave us a taste of how its new EV could look with the SUV e:Concept – and it seems the production model has carried forward its design language. This production-spec car has gained two extra doors at the rear, but the grille shape, slim headlamps and prominent front bumper lip have all made it into production.
Honda e vs MINI Electric
The EV's silhouette is also similar, while the full-width rear light is a similar shape as the concept's, although it is a little thicker than before. Even the alloy wheels sport the same multi-spoke design, albeit scaled back to a more sensible 18-inch diameter. 
Honda bosses have previously confirmed to Auto Express that this new electric SUV will be based on a stretched version of the Honda e hatchback's platform, which makes space for the taller body and a larger boot. It's expected that the SUV will sit somewhere between the popular Jazz Crosstar model (which accounts for over 50 per cent of all Jazz sales) and the new HR-V when it comes to its dimensions.
While we haven't seen the new car's interior, we're expecting a similarly futuristic layout to the e hatchback, with dual 12.3-inch displays mounted on the dash. The infotainment system will be complemented by Honda's latest Connect system, which features smartphone connectivity and over-the-air updates.
However, despite the similarities between the two cars, these leaked images suggest that Honda won't carry the e's digital side-view cameras onto the SUV – at least not as a standard fixture. There's a set of conventional door mirrors clearly pictured in the images.
Jean-Marc Streng, Honda's UK boss, recently talked us through the company's EV strategy, saying: "We are going to bring a new model of BEV in 2023 – that's the next step, which will help us to have a wider offer." He didn't give away any specific details on the new car, but he did say: "It's going to be an offer in the right segment, which will achieve more sales."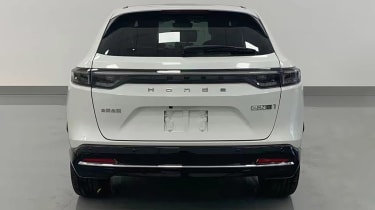 The Honda e city car is already doing strong business, bringing new, younger customers to the firm. "We have more than 85 per cent conquest customers," said Streng. "So we're bringing new customers to the brand and seeing a decrease of the average age." In just two years, the average age of a Honda buyer has dropped by four years, according to Streng.
This new electric SUV will join a refreshed Honda line-up that will be fully electrified by 2022. Streng explains: "Our target was to be electrified by 2022 and we are going to achieve this goal, which is nice because certainly in the UK it's eight years before the government's plan.
"We have hybrid for Jazz and Jazz Crosstar, we open orders for HR-V in August and launch the car in October – and having driven the car in Japan, you get a seamless transition between the three modes: petrol, hybrid and free electric. We have CR-V hybrid and we will come with a new Civic next year, which is electrified."
New 2023 Honda e SUV: powertrain and range
Honda hasn't yet issued any technical details for its new electric SUV, but this leak from the Chinese patent office confirms that it'll be available with a choice of two electric motors, with either 180bhp or 201bhp. The leak also confirms the SUV will have a top speed of 93mph. 
The added size and weight of the crossover will force Honda to fit a bigger battery compared with the e's 35.5kWh unit if it wants to achieve a range of around 200 miles. But, like the hatchback, 50kW rapid charging will come as standard, which should allow the SUV's battery pack to take on an 80 per cent charge in around 30 minutes. 
Connected to a more conventional 7kW home wallbox, the Honda e's tech means a full charge takes just over nine hours. Again, this capability should be transferred onto the SUV.
Honda has also released details on the production SUV's planned range of safety equipment. The finished EV will have a new 360-degree driver assistance system, which the company says will offer "improved recognition, predication and decision-making" skills compared with its current set-up, suggesting this new crossover will offer a higher level of autonomous driving capability than the rest of the firm's line-up.
Now click here to read our review of Honda's other new SUV, the third-generation HR-V… 
Source: Read Full Article