New Honda Civic Type R will come with 325bhp
The new Honda Civic Type R also retains the same engine and layout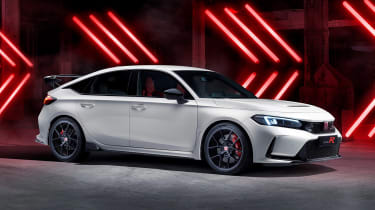 Honda's last-ever pure combustion hot hatchback, the new Honda Civic Type R, has been revealed and while the Japanese firm has been secretive over power figures, we can now confirm it'll come with 325bhp and 420Nm of torque.
Leaked images of brochures for the Japanese-market Civic Type R suggest an increase of 9bhp and 20Nm of torque over the previous-generation FK8 model. This extra power comes from a new turbocharger with a compact housing and a revised turbine blade, which makes for better airflow and thus more power.
New Honda Civic Type R ride review
The 2.0-litre turbocharged inline-four cylinder engine is an evolution of the unit found in the old FK8 model but we still don't know the performance figures of the new car. It's almost certainly going to beat the FK8's 0-62mph time of 5.7 seconds and top speed of 169mph.
The new 'FL5' Civic Type R's unveiling neatly coincided with both the 25th anniversary of the Civic Type R and the Civic's 50th birthday this year.
The car continues with its front-wheel drive layout, despite many of the latest hot hatches – such as the Volkswagen Golf R and Mercedes-AMG A 35 – utilising four-wheel drive to deploy power outputs over 300bhp. Power will be sent to the front wheels via a revised six-speed manual gearbox – featuring a new lever and an "optimised" gate pattern – and most likely a mechanical limited-slip differential. The suspension is made up of a new dual axis strut unit which has been designed to accommodate the wider 265mm section tyres.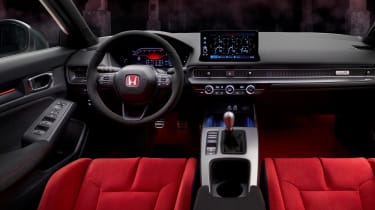 The new Honda Civic Type R has already proven its pace, by setting the front-wheel drive lap record at Suzuka, going round the famed figure-8 layout in 2 minutes 23.120 seconds. That's nearly nine-tenths of a second faster than the previous record holder, the extra special Civic Type R Limited Edition. Just like the FK8, Honda says the new car will attempt a Nurburgring lap record for front-wheel drive production cars.
The latest Type R is based on Honda's new 11th-generation Civic, which features a much cleaner exterior design than the 10th-gen car it replaces. This makes for a much less challenging-looking Civic Type R, although there are still plenty of suitably outlandish details, chief among which is the sizeable rear wing sitting on diecast aluminium mounts.
Lower down there's a new diffuser from the middle of which protrudes – once again – a triple-exit exhaust system. This time, though, the middle pipe is larger than the others, as opposed to smaller on the FK8. The diffuser, meanwhile, is integrated into the car's underfloor for optimal aero performance.
At the other end is a splitter and enlarged air intakes, while in the middle is a pair of side skirts and vented front wheel arches. Speaking of which, the wheel arches are all blistered, housing a set of 19-inch wheels – an inch smaller than last time – shod in Michelin Pilot Sport 4S tyres. Under these, you'll find a beefed-up Brembo braking system with two-piece discs for improved pedal feel.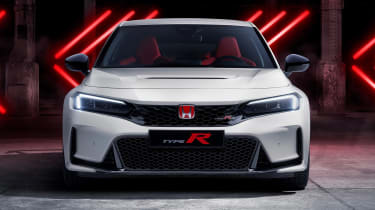 Inside, there's the same minimalistic cabin as the standard Civic, enhanced with various elements including suede-wrapped sports seats that sit the driver lower than in the last Civic Type R, a whole lot of red stitching, a suede-rimmed steering wheel and a Type R plaque on the dashboard.
From behind the wheel, drivers will be able to alter the characteristics of the engine, steering, adaptive dampers and engine sound via the following modes – Comfort, Sport, +R and Individual. There's also an updated version of the Honda LogR data logger system which now gives information like tyre friction circles and can even score drivers on their track performance.
The Civic Type R will be available in Championship White, Rallye Red, Racing Blue, Crystal Black and Sonic Grey Pearls when it arrives in Europe in early 2023. A price hasn't been revealed, but we expect the figure will be close to £40,000.
Read our full review of the new Honda Civic here…
Source: Read Full Article