New GTO Engineering Squalo set for 2023 launch
Ferrari specialist, GTO Engineering, has finally branded the previously unnamed project Moderna, and revealed its final design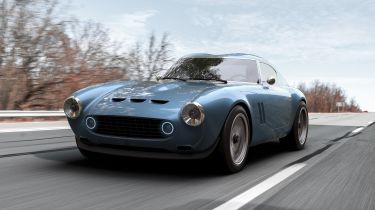 GTO Engineering has confirmed its upcoming, retro-styled sports car will be called the Squalo (meaning "Shark" in Italian). It will launch in 2023 as a celebration of sixties motoring, with a few modern conveniences.
Founded in 1991, as a specialist Ferrari restorer and servicer, It should come as no surprise that the GTO Engineering's first attempt at a car draws heavy design inspiration from what's arguably the most iconic Ferrari of all time – the 1962 250 GTO.
Best V12 engined cars
Although it looks like an extensive restomod, the Squalo is new from the ground up, including a brand new naturally aspirated quad-cam V12 engine  designed and built completely in-house.
GTO Engineering's design department has now signed off the Squalo's bodywork, meaning all the elements you can see in these images will make their way onto the production car.
The triple bonnet vents, quad-exit exhaust system and aggressive vents in the quarter panels are all clear nods to the project's muse. However, they've been augmented with a few modern touches, such as LED headlamps and fresh 18-inch alloy wheels, which have been styled to look like a set of period racing steelies.
The Squalo's similarities with the 250 GTO are more than just visual. Like the classic racer, its V12 engine will have carburetors rather than modern fuel injection, and it'll be mated to a manual gearbox. The company has also pledged that the finished car will weigh less than 1,000kg.
GTO Engineering hasn't yet confirmed any performance specs for its new V12 engine, but we're expecting a decent increase in power over the original 250 GTO's 296bhp figure. 
The company's Managing Director and founder, Mark Lyon, said: "There's been an outpour of admiration for what we're doing here and we realise a little bit of scepticism whether we're actually making this: a V12-powered, sub-tonne sports car with a Sixties feel but modern reliability, enjoyment and manufacturing quality.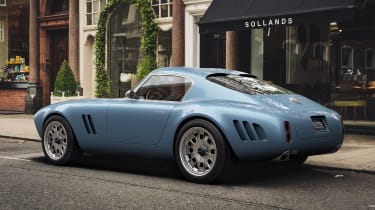 "We're here to hopefully set the record straight to say yes, it's happening and we're sticking to our original ethos for the car as well as timing promises for production. We are also delighted to have early adopters and customer orders received already, and we thank them for the trust in our vision and business.
"It's often the small parts of a car that take the longest time. We're now at a stage where the design models are being created here in the UK and soon we will announce our technical partners working with us on the exterior manufacturing and interiors, as well as wheels and tyres. In all my years working in the [automotive] industry, I've never been as excited about the creativity of manufacturing and design as I am now."
GTO Engineering has been taking orders for the Squalo for the past few months. A final price for the production car is yet to be confirmed, although it should be significantly cheaper than buying an original Ferrari 250 GTO. An example that went to auction back in 2018 changed hands for an eye-watering £52 million.
Check out our list of the greatest Ferrari's ever here…
Source: Read Full Article