New Genesis GV80 2021 review
Can the new Genesis GV80 make a statement in the luxury SUV class?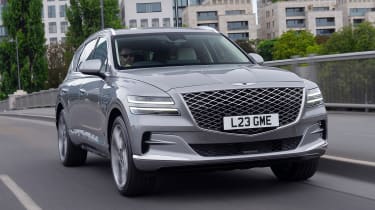 4.0 out of 5
Verdict
The GV80 has impressed us in many ways. Its quality is up with the best in the market, while the level of standard kit is beyond most. However, this is not an occasion where a new brand has to over-deliver in some areas to mask deficiencies in others. But for a slightly fidgety ride, we found the GV80 comfortable and hugely appealing, not least with the new way of buying one. And buying one is no compromise – as a first time offering in the UK, Genesis deserves huge praise for delivering such a competitive car in the most competitive of classes.
Another week and another premium pretender; this time it's the turn of Hyundai's posh arm Genesis, which has just arrived in the UK.
You could never accuse Genesis of doing things by halves with seven new models coming over the next 12 months, including three all-electric cars. First up are the GV80 SUV and G80 saloon, with this model likely to be the bigger seller of the two.
Best luxury SUVs 2021

And it is big; at 4,945mm long it sits between the BMW X5 and Audi Q7 in length, a little way off the Bentley Bentayga. 

Can we really reference a Bentley alongside a Genesis? Well on our first test drive, a curious Audi Q7 owner came and asked if the GV80 was a new Bentley. Looks wise, it does have a whiff of the Brit brand about it, not least in the winged Genesis logo.

It has plenty of presence, from the upright front end with imposing G-matrix front grille to the 'two-lines' design language that refers to the split front headlights, the bi-level illuminated side vents and the rear lights, too. It looks very premium and very European, with plenty of public interest in it on our test – the first hurdle well and truly cleared.

Inside there's a fair bit of Bentley-esque knurling on some of the switchgear, while Genesis has managed to strike a good balance between minimalism and usability. The dash layout is easy to follow, while there's not the over-reliance on the touchscreen that some rivals suffer. 

Quality is very impressive, too, and easily a match for Mercedes. Everything looks and feels as good as you'd expect on an SUV that starts from £56,815, so it's no surprise that Genesis has won awards in the few markets it already exists in – notably the US – for quality.

The whole Genesis experience, with a new way of buying, is expected to appeal as much as the cars themselves. Everything is done online or via Genesis 'Studios' that won't be traditional dealerships, they'll be shopfronts in upmarket shopping centres.

You're allocated your own Genesis personal assistant who will take you through the process from test drive to delivery, and on to after-care, too. Your PA is salaried not on commission like a car salesperson, so there's no hard sell, with the mantra being 'service over sales'. As Genesis UK MD Andrew Pilkington told us, "We want a stress-free seamless online buying and ownership experience."

That also means a five-year care plan covering warranty (with no mileage limitation), servicing (only up to 50,000 miles), roadside assistance, courtesy cars and map and over-the-air software updates. And if you're struggling to understand your car after your Genesis personal assistant's initial handover, you can book a second one – and again, they'll come to you.

That's all very appealing, but where so many wannabe premium brands have fallen down in the past is on the product – and Genesis has made a better start than any we can remember since Lexus' first attempt back in the 1990s.

It's got the style and the quality licked, but there's also plenty of appeal to the way the GV80 drives. You can choose from 3.0-litre diesel or 2.5-litre petrol (we went for the former) in either Premium Line or Luxury Line (this time the latter) trim levels. Option packs include Nappa leather upholstery, a panoramic sunroof, a sound system from specialist Lexicon and rear seat comfort packs for those in the second and third rows. 

Our car costs £62,915, although you can save £500 if you go for the five-seater version – ours had seven. That's a little cheaper than rival Q7 or X5 models, while the Genesis is better equipped. There's an excellent infotainment system with 14.5-inch screen and all the connectivity you expect, plus plenty of gadgets including a self-parking system that will parallel park for you without you even having to be in the car. 

But is it better to drive than rivals? Again, Genesis is ploughing its own furrow here, aiming for comfort over agility – a smart move in a 2,300kg large SUV. Trouble is, cars like the X5 and Q7 have mastered the ride/handling balance, too, and our Genesis lacks a bit of low-speed ride finesse.

The GV80 comes with a camera monitoring the road surface and adjusting the dampers to suit. At higher speeds and over bigger bumps and potholes things remain reasonably comfortable. But over smaller more frequent undulations, the ride can start to feel a bit fidgety.

We suspect things may be better on the 20-inch rather than the smart 22-inch wheels of our car, while smaller rims may also improve the steering, which is a little light and lacking in feedback – although this is a comfort-orientated SUV, not a sports car.

The 3.0-litre six-cylinder diesel offers decent performance, getting to 62mph from rest in 7.5 seconds, while noise-cancelling tech does a good job of keeping things quiet inside. The GV80 is a lovely car to cruise in, especially with the semi-autonomous tech that'll keep it in lane and away from the car in front on the motorway.

Our car did without the optional panoramic roof that restricts headroom in the G80 saloon so there are no complaints at all about space in any of the three rows. You might not have quite as much room in the very back as in a Discovery, but it's at least the match of a Q7. And when you can work out which buttons fold the five rear seats flat there'll be 2,144 litres of space, more than you'll get in the biggest Audi. With five seats in place, the boot stands at 727 litres, oustripping the BMW X5 and the Mercedes GLE.

So with the exception of the ride, the GV80 gets closer to its premium rivals than any newcomer we've seen before. However, there's always a nervousness around a new brand that is likely to damage residual values, and therefore monthly costs.

The big Genesis deserves to do well, though – we could fully understand why anybody looking at a large premium SUV would find it an attractive proposition. Straight out of the box, the GV80 is a strong contender in its class.

| | |
| --- | --- |
| Model: | Genesis GV80 3.0D Luxury Line |
| Price: | £62,915 |
| Engine:  | 3.0-litre six-cylinder diesel |
| Power/torque: | 274bhp/588Nm |
| Transmission: | Eight-speed automatic, four-wheel drive |
| 0-62mph:  | 7.5 secs |
| Top speed:  | 143mph |
| MPG:  | 33.1mpg |
| CO2: | 220 g/km |
| On sale:  | Now |

Source: Read Full Article