New Genesis G70 2021 review
We find out if the new Genesis G70 can mount a challenge to the compact executive establishment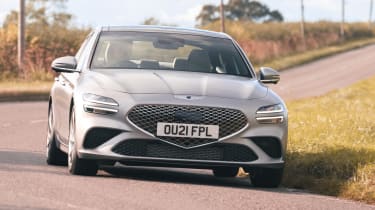 3.5 out of 5
Verdict
After an impressive arrival in the UK, Genesis has taken a sideways step with the G70. While the brand's other products are real rivals for the premium establishment, the G70 won't give the average 3 Series or C-Class buyer much to think about. It doesn't have the special feel inside of the brand's other products, nor is it particularly fuel efficient. Different to the mainstream? Yes, but not brilliantly so.
It could be argued that the arrival of Genesis on the UK market has been one of the success stories of 2021, Hyundai's premium brand having made a name for itself in a very short space of time, 
Our first encounters with the new Genesis model range have been positive – the G80 executive saloon, the GV80 large SUV and the mid-size GV70 have all made solid impressions, with their strong quality, vibrant interior designs and excellent tech. They're all contenders in their respective classes, where German brands like BMW, Mercedes and Audi tend to pick up the most sales in the UK. 
Genesis G80 vs Mercedes E-Class vs Lexus ES

Here's the fourth new car the brand is launching here this year: the G70. It's a compact executive saloon designed to rival the BMW 3 Series, Mercedes C-Class and Audi A4 trio, as well as other compact executive options, such as the Volvo S60 and Volkswagen Arteon. 

However, the G70 isn't exactly a new car. It's been on sale in other markets, most notably North America, for a couple of years now. Its introduction in Europe has been timed to coincide with a heavy mid-life facelift. 

The G70 uses the same platform as the Kia Stinger and is available with two four-cylinder engines, the UK market not taking the 3.3-litre six-cylinder option that's popular in the United States. Alongside a 2.2-litre diesel is a turbocharged 2.0-litre petrol engine developing 241bhp and sending drive to the rear wheels – that's what we're driving here. 

From the outside, the G70 ticks all the boxes with a look that's bang up to date with the brand's latest design language. The split headlights and taillights are joined by a large 'G-Matrix' grille, as the brand calls it, while the Sport Line trim level introduces some racier touches, including 19-inch wheels finished in black. It looks the part, and files itself neatly alongside the larger G80 saloon as a smaller counterpart. 

It's inside, though, where some telltale signs of the G70's real age appear. That's because the interior architecture isn't the same dazzling design as on the brand's other new cars. Instead, it's an updated carry-over of the pre-facelift model's interior, and sadly, it's just not as impressive. 

You can have few gripes about the level of perceived quality – the plastics feel extremely high grade, as does the metalwork, and there's a general feeling of robustness in the switchgear. The quilted nappa leather upholstery is a premium touch too.

In the £3,250 Innovation Pack is 12.3-inch digital instrumentation with a party trick – it's linked up to the blind spot monitoring system, and can neatly broadcast video feed from the car's flanks when you put the indicators on. In the middle is a 10.25-inch display that's sharp and rapid to operate, though unlike other Genesis models that have a click wheel, it is a touchscreen affair only in the G70. But the layout of the dashboard and centre console feels dated compared with that of the newer Genesis models – it doesn't have the wow factor that left such an impression on us in the GV70, GV80 and G80, which is a shame. 

Space up front feels good, but the rear bench of the G70 is compromised with poor leg room – you'll certainly find more space back there in the established Germans. The boot of 330 litres isn't too competitive either, so for buyers valuing space and practicality, this isn't the best option in the compact executive class. 

The G70 is not a bad car to drive – in fact, the direct steering and positive, sharp turn-in are strong points in a chassis that feels balanced and reminiscent of the similarly well-planted Kia Stinger. Ride quality, even on the 19-inch wheels, feels well judged between comfort and control. It's far from a BMW 3 Series beater, but few things are. 

It's refined too, especially on motorways where the G70 is, like the GV70, eerily quiet. However, as positive as this aspect of the engine is, it comes with drawbacks. 

The powertrain doesn't match the solid handling and steering feel. It's not a spectacular engine and transmission combination, perhaps a little exposed by the torque figure of only 353Nm. Active sound actuation does little to lift the spirits either with a strange synthesized V8 note, which you can turn off. Overall, the engine never really feels like one to complement what is a decent chassis.

It's also not a particularly economical choice. Official fuel economy of 35.4mpg is lagging behind compared with rivals such as the BMW 330i, and in the real world, it's all too easy to stray below 30mpg. 182g/km CO2 makes it a difficult sell for company car buyers as well. 

An awful lot of what the Genesis brand offers comes in the ownership experience, and the G70 promises the same tailor made package as other cars in the brand's line-up, with no hard sell, and an on-call personal assistant who will be assigned to buyers throughout the purchase and ownership process. It's a unique aspect to owning a Genesis, and we're keen to see if it proves its worth with early adopters in the coming months.

| | |
| --- | --- |
| Model: | Genesis G70 2.0T Sport Line |
| Price: | £40,480 |
| Engine: | 2.0-litre 4cyl petrol turbo |
| Power/torque: | 241bhp/353Nm |
| Transmission: | Eight-speed automatic, rear-wheel-drive |
| 0-62mph: | 6.1sec |
| Top speed:  | 149mph |
| Fuel economy:  | 35.4mpg |
| CO2:  | 182g/km |
| On sale:  | Now |
|   |   |

Source: Read Full Article