New Ford Ranger Raptor 2023 review
The new Ford Ranger Raptor performance truck struts its stuff on British soil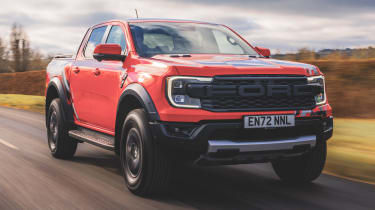 4.0 out of 5
Verdict
The latest Ranger Raptor is about as far removed from the standard truck as it's possible to get. It has a broad range of talents, with the different drive modes helping it to deliver comfort, performance and off-road ability in an impressive all-round package. Yes it feels big on UK roads, and the running costs are steep, but it's a refreshing alternative to a performance SUV.
Plenty of performance Ford badges have come and gone over the decades, but one that's been established in recent years is Raptor. Starting with the F-150 Raptor pick-up truck in the US, the label adorns high-performance versions of Ford's off-road models, and has subsequently appeared on the Bronco SUV and Ranger pick-up. The latter was the first Raptor to arrive officially in the UK, and now a second-generation version has landed on these shores.
The last model tested the waters for the Raptor brand, and it proved to be a success. So Ford has raised the ante with this all-new model, which tops the line-up of the new-generation Ranger.
Best pick-up trucks 2023

While the old truck's diesel powerplant is still on offer, if you want the full Raptor experience, you need the 3.0-litre twin-turbo V6 petrol tested here. Partly because the petrol version comes with 288bhp (up from the diesel's 202bhp), but it also features more advanced Fox dampers which are independently adjustable. Plus you get seven preset drive modes, launch control, a front diff lock, an anti-lag system to keep the turbos spinning and extra steering wheel buttons for adjusting different settings.

More reviews

Car group tests

The best long-term car tests 2022

In-depth reviews

Ford Ranger pick-up review

Long-term tests

Ford Ranger Wildtrak: long-term test review

Road tests

New Ford Ranger Raptor 2022 review
New Ford Ranger Stormtrak pick-up 2022 review
New Ford Ranger Raptor Special Edition 2022 review
New Ford Ranger MS-RT 2022 review

Used car tests

Used Ford Ranger (2011-date) review

Among those is the Active Exhaust mode, which offers four levels of volume from the twin tailpipes. There are Quiet and Normal modes for civil use, while the Sport mode is a bit fruitier, but the Baja mode adjusts the system so that it's largely unsilenced. It gives the Raptor an aggressive note that's borderline obnoxious, although Ford does add a caveat that this setting should be used away from the public highway.

It's off road where the Ranger Raptor is supremely capable, with the diff locks, a low-range gearbox and variety of off-road settings allowing it to tackle almost any terrain without issue. There are 360-degree cameras that project images to the vast 12-inch portrait display, so you can position this big truck precisely, and Ford's Trail Control adaptive cruise system is designed to let the driver concentrate on their surroundings.

Standard-fit all-terrain tyres contribute to the Raptor's off-road prowess, but on the road they're a bit of a limiting factor to what this truck is capable of. If you're in the two-wheel-drive setting – which you should be if you want to get anywhere near the official fuel economy of 20.5mpg – then the power of that twin-turbo V6 can overcome the tyres on slippery tarmac.

Floor the throttle when transitioning from a 30mph zone to the national speed limit, and the traction control warning blinks and the truck squirms sideways as the torque is laid down. Of course, you can overcome this by selecting 4WD instead, and this does tame some of the Raptor's wilder behaviour.

In the Normal drive mode, the Ranger Raptor is pretty docile. It's a big vehicle to manoeuvre, and the large, flat bonnet does limit your forward view a little, but this truck is as comfortable as a performance SUV, with only a slightly intrusive buzz from those knobbly tyres.

Sport mode does an impressive job of tying this big, heavy truck down. Body roll is still present, but it's not uncomfortable, while the steering weights up to help you get the Raptor pointing in the right direction. In fact, it's the off-road bias of the tyres that limits the truck's on-road ability – it would be interesting to see what a different set of treads would do to the driving experience.

| | |
| --- | --- |
| Model: | Ford Ranger Raptor |
| Price: | £58,901 |
| Engine: | 3.0-litre V6 twin-turbo petrol |
| Power/torque: | 288bhp/491Nm |
| Transmission: | 10-speed automatic, four-wheel drive |
| 0-62mph: | 7.9 seconds |
| Top speed: | 111mph |
| Economy: | 20.5mpg |
| CO2: | 315g/km |
| On sale: | Now |

Source: Read Full Article