New Ford Ranger Raptor 2022 review
The all-new Ford Ranger Raptor arrives with 288bhp and plenty of off-road appeal, but what's it like from behind the wheel?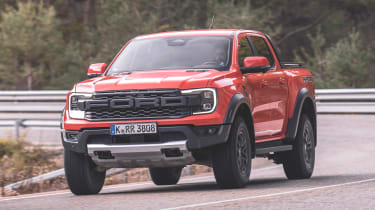 4.5 out of 5
Verdict
The Ford Ranger Raptor has always been an intriguing alternative take on the performance car, and this all-new model redefines what it's capable of. The introduction of a potent V6 petrol engine turns its performance up to another level, while the bespoke dampers give the truck a breadth of ability that's unrivalled. The Raptor is hugely impressive off-road and at any speed, but perhaps what really helps it to stand apart is that it's also comfortable, practical and as packed with tech as any SUV.
The new Ford Ranger Raptor has some boots to fill. The US firm set the template for performance pick-up trucks with the original F-150 Raptor, while the first Ranger Raptor gave European markets a taste of the performance pick-up truck in a more compact package. Now the second-generation model is here, and it's ready to take things to another level.
The Raptor is the first model of the new Ranger line up to go on sale – the rest of the range doesn't arrive until next year – and it certainly makes a mark with its imposing looks. There's a chunky stance and the bluff front end features C-shaped daytime running lights to tie the Ranger in with the larger F-150 model. The Raptor gains flared wheelarches and bigger bumpers with large tow hooks front and rear, while silver bash plates, black alloy wheels with all-terrain tyres and exclusive Code Orange paint complete the look.
Best pick-up trucks 2022

Inside, Ford has updated the Ranger with the latest tech from its car range. Since this is the top-spec model, it features a 12-inch portrait touchscreen Sync4 infotainment set-up, while a sharp 12.4-inch digital dashboard is also included. There's also a 10-speaker B&O sound system, leather and Alcantara trim for the bespoke sports seats, while Code Orange accents highlight parts of the cabin.

More reviews

Car group tests

Ford Ranger vs Isuzu D-Max

In-depth reviews

Ford Ranger pick-up review

Long-term tests

Ford Ranger Wildtrak: long-term test review

Road tests

New Ford Ranger Stormtrak pick-up 2022 review
New Ford Ranger Raptor Special Edition 2022 review
New Ford Ranger MS-RT 2022 review
New Ford Ranger Thunder 2021 review

Used car tests

Used Ford Ranger (2011-date) review

While the Ranger Raptor will once again be sold with 2.0-litre twin-turbodiesel power (due in early 2023), the main focus is on the version we're driving here, with a 3.0 twin-turbo petrol V6. It packs 288bhp and 491Nm of torque, while it's connected to a permanent four-wheel drive transmission via Ford's 10-speed automatic gearbox.

The transmission is electronically controlled and features a two-speed transfer case and diff locks front and rear, while there are seven modes that set the Raptor up for nearly every driving condition you might encounter. As well as Normal and Sport modes for the road, there's a Slippery setting for greasy tarmac, then for off-road driving there are Sand and Mud & Ruts modes, a Rock Crawl setting for extreme terrain and the new Baja mode for fast off-road use.

Our time with the Ranger Raptor took in a lot of off-road driving, and the truck's capability truly excelled. Standard-fit all-terrain tyres certainly helped, but the combination of a consistent, smooth power delivery from the V6 unit, locking diffs, low-range gears and kit such as Trail Control – an off-road cruise control system that allows the Ranger to crawl at a set speed between 1.5mph and 10mph while you concentrate on steering – mean that the only thing really limiting the truck's ability is its long 3,270mm wheelbase.

Baja mode cranks everything up to the max for impressive off-road performance, which is assisted by the standard-fit Fox dampers. Featuring Live Valve technology, the units are designed to boost off-road capability while still delivering good on-road comfort, and different levels of damping are available depending on conditions. At its most extreme setting, the suspension delivers excellent shock absorption from high-speed jumps, making fast off-road driving feel like a breeze.

A lot of Ranger Raptor buyers are unlikely to scrape the surface of what this truck is capable of off-road, but that's not where its talents end. Thanks to those clever Fox dampers, the Raptor is equally impressive on tarmac. The steering lacks some feel, while switching settings from Comfort to Sport mode doesn't seem to make much of a difference to the truck's behaviour, but the Ranger Raptor soaks up bumps that would send a shudder through the old model's frame, and body roll in corners is kept to a minimum. The biggest limiting factor for the Ranger Raptor's on-road performance is its standard-fit all-terrain tyres, which feel like they will give up grip a lot earlier than the truck's chassis will.

The performance of the 3.0-litre V6 petrol impresses, too. There's a 0-62mph time of 7.9 seconds, while the 10-speed auto gearbox shifts slickly, with no kind of transmission shunt as the next gear slots in. There is the option to take manual control, but with so many ratios to choose from – plus the fact that the electronics retake control if it doesn't detect you shifting – we found it best to leave the gearbox to its own devices.

An anti-lag system keeps the twin turbos spinning for three seconds when lifting off the throttle to help boost engine response. It's slightly different to the kind of system found on a modern rally car, so there are no unruly pops or bangs from the exhaust when you lift off, but it does provide improved reactions if you're pressing on.

One highlight of the Ranger Raptor is its exhaust system. There are four noise options to choose from, with a neighbour-friendly Quiet setting, Normal and a slightly fruitier Sport mode, while the Baja setting creates what's essentially a straight-through system. It's certainly louder, but not enough to be offensive, with a gruff V6 purr through the rev range.

Perhaps even more surprising is the comfort that the Ranger Raptor offers. There's a level of suppleness to the on-road ride that's unheard of for a pick-up truck. In the Normal setting the Raptor is perfectly happy to cruise along, and noise from the off road-biased all-terrain tyres (normally a sticking point on trucks such as this) is non-existent – so much so that wind noise from around the mirrors was a more significant intrusion at motorway speeds. Around town, stop-start and a suite of safety systems boost the Raptor's everyday usability, although official fuel economy of 20.4mpg means that this will be a pricey truck to run.

As for other downsides? Well, like the previous-generation Raptor, a payload weight of 652kg means that this version of the Ranger can't be classed as a commercial vehicle. This means tax costs are emissions-based, like they are for a conventional passenger car or SUV, and will be very steep. A price tag edging towards £60k is comparable with fast SUVs such as the Porsche Macan and Audi SQ5, too. But then neither of these cars will be able to match the Ranger Raptor off-road.

| | |
| --- | --- |
| Model: | Ford Ranger 3.0 EcoBoost Raptor |
| Price: | £58,901 |
| Engine: | 3.0-litre V6 twin-turbo |
| Power/torque: | 288bhp/491Nm |
| Transmission: | 10-speed automatic, four-wheel drive |
| 0-62mph: | 7.9 seconds |
| Top speed: | 111mph |
| Economy: | 20.4mpg |
| CO2: | 315g/km |
| On sale: | Now |

Source: Read Full Article