New Ford Ranger pick-up teased ahead of 2022 launch
Ford has offered an early look at the new Ranger pick-up, still in camouflage wrap, proving itself on the world's toughest terrain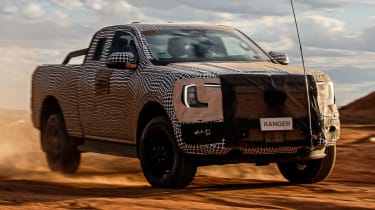 Ford has released a new teaser video which showcases the off-road ability of its upcoming fourth-generation Ranger. The new pick-up is scheduled to launch in 2022 alongside its Volkswagen Amarok twin, which will share the same platform.
The current model has enjoyed global sales success – particularly in the UK, where it's been the best-selling pick-up for the past five years. The Ranger also claimed the Auto Express Pick-up of the Year award in 2019, 2020 and 2021.
New 2022 Volkswagen Amarok pick-up revealed in sketch
Ford's development prototype still wears heavy camouflage, but it's clear that its styling won't stray too far from its predecessor, blending dimensions of the current model that are more applicable to the European market with the boxy front end and upright grille of the larger US-market Ford F-150.
Judging by the video, Ford will look to build on the strengths of the current model, improving the Ranger's off-road ability. The current pick-up already comes with selectable four-wheel drive and a choice of drive modes for different terrains such as mud, snow and sand.
Improved versions of these systems are expected, along with suspension tweaks (such as new dampers and springs) to suit a broader range of off-road environments.
It's almost certain that the next Ranger will be powered by a diesel engine, at least to begin with. The powersliding test car in the video is accompanied by a soundtrack that we expect belongs to an updated version of the current pick-up's 2.0-litre EcoBlue diesel unit.
There's no word yet on whether we'll get an electric version of the next Ranger, although it could happen during the pick-up's lifetime. Ford has already set aside $22 billion (around £16 billion) to spend on electrification up to 2025.
Ford has also launched an electric version of its stalwart Transit van, while an EV version of the larger F-150 pick-up truck is due early next year. So, it's entirely possible that the Ranger could join its siblings in Ford's expanding line-up of pure-electric commercial vehicles.
As the commercial and passenger vehicle segments draw ever nearer in terms of technology and equipment, Ford could also improve the Ranger's cabin by fitting some of the plusher trim from its passenger cars, such as the newer Kuga. Carry-overs could include the SUV's switchgear, dashboard trim and sharper eight-inch touchscreen.
We'll also get a new Raptor-badged performance version of the next Ranger. Our spy photographers have spotted the new flagship model tackling its development programme, and it shares the same roll-over hoop, chunky bumpers, flared wheel arches and raised ride-height as the current model.
What does the new Ford Ranger have to beat? Check out our list of the best pick-up trucks on sale now…
Source: Read Full Article