New Ford Fiesta ST Edition 2020 review
The new Ford Fiesta ST Edition's upgrades have made an already great hot hatchback even better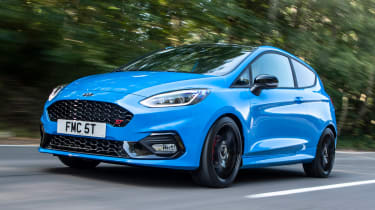 4.5 out of 5
Verdict
Exactly £2,500 sounds like a lot for some trick suspension and lightweight wheels, but the Fiesta ST Edition's upgrades add a level of control beyond what the already brilliant standard ST-3 trim possesses, while the adjustable suspension allows owners to tailor the car's settings to their exact requirements. The ST Edition is compact, playful and enormous fun – everything that a hot hatch should be.
This is the Ford Fiesta ST Edition, a new version of the finest small hot hatchback on the market that aims to deliver an even purer driving experience for just 300 British buyers.
Changes to this limited edition model are more than just skin deep. Ford hasn't turned to the marketing and design departments and come up with a silly styling package (although the Azura Blue paint is exclusive to the Edition), nor has it simply slapped on a loud exhaust (but pops and bangs are still on tap). Instead, Ford's engineers have been tasked with making the ST's already brilliant chassis even more engaging.
Best hot hatchbacks 2020/2021

To achieve this, the standard suspension has been replaced by adjustable coilovers at each corner. These drop the ride height by 15mm at the front and 10mm at the rear compared with the standard ST, while the driver can manually tweak the settings for the dampers, with 12 positions to choose from for compression and 16 for rebound.

More reviews for Fiesta ST Hatchback

Car group tests

Mazda 2 vs Ford Fiesta
Audi A1 Citycarver vs Ford Fiesta Active
Renault Clio vs Ford Fiesta vs SEAT Ibiza

In-depth reviews

Ford Fiesta review
Ford Fiesta ST review

Road tests

New Ford Fiesta Trend 2020 review

Used car tests

Complementing the uprated springs and dampers is a new set of alloy wheels. The 18-inch rims shave 2kg of unsprung weight from each corner, and this reduction helps the new suspension control the Fiesta's body movements with an even greater degree of precision. The engineering upgrades are completed by a Quaife mechanical limited-slip differential.

If all of those specs sound familiar, you'd be right: the Edition is mechanically identical to the bright-orange Ford Fiesta ST Performance Edition that was released back in 2019.

It's not surprising to learn, then, that the Fiesta ST Edition is a very special car to drive. We sampled those adjustable coilovers in their middle settings for both bump and rebound, but left as they are, they not only add an extra degree of sharpness beyond what the standard Fiesta ST delivers, but also do so while rounding off bumps even better.

We can't see much need to make things any stiffer outside the requirements of a track day – there's more than enough body control for the road as it is – but relaxing the settings could improve the ride quality further. The ST still treads a fine line close to what's acceptably firm for everyday use, but the extra compliance of this Edition model means that the car remains even more settled at all times. The result is that you can carry huge speed into corners and the chassis is able to keep everything under control. Even harsh mid-corner bumps do little to unsettle it.

The torque vectoring system nips the inside brakes when entering the corner, which allows the driver to adjust the car's mid-corner balance with the throttle free of any nasty surprises. Upon exit, the differential hunts out every last patch of grip from the road surface as you accelerate.

While 197bhp isn't a lot when some larger hot hatches top 300bhp, it's possible to exploit almost all of the Fiesta's power on the road. It's hugely exciting, unrelentingly fun and massively rewarding to drive, with a great six-speed gearbox. What seems like a perfect blend of power, weight and compact dimensions makes you wonder how many cars on sale today can claim to be better suited to a British B-road.

There are three driving modes available: Normal, Sport and Track. Playing with each of these is easier than ever thanks to a steering wheel-mounted shortcut button, which gives the driver the ideal balance between throttle, brake and steering response.

The cabin is standard ST fare, but that means the same brilliant Recaro seats hold you in place. Elsewhere, the steering wheel gets unique blue stitching, while there are a couple of bits of carbon-fibre-effect trim and a brilliant Bang & Olufsen sound system.

Prices for the ST Edition start from £27,075. It sounds like a lot, but once you've added LED headlights and metallic paint to an ST-3, that tops £25,000, while the Edition's wheels, paint and suspension are exclusive to this model, so it isn't much of a stretch beyond the regular car. Crucially, it also means that it still undercuts more powerful and extreme hot hatches like the Honda Civic Type R and new Toyota Yaris GR.

The Fiesta could be fairly cheap to run, too. Take a more relaxed driving style, and we see no reason why the ST can't match the official 40.4mpg claim – a brilliant figure for a car that offers so much performance.

| | |
| --- | --- |
| Model: | Ford Fiesta ST Edition |
| Price: | £27,075 |
| Engine: | 1.5-litre 3cyl turbocharged petrol |
| Power/torque: | 197bhp/290Nm |
| Transmission: | Six-speed manual, front-wheel drive |
| 0-62mph: | 6.5 seconds |
| Top speed: | 144 mph |
| Economy: | 40.4mpg |
| CO2: | 149g/km |
| On sale: | Now |

Source: Read Full Article