New Ford Bronco 2022 review
The new Ford Bronco SUV is one of the hottest new cars in the US, and it could well be coming to the UK. We got behind the wheel to try it out…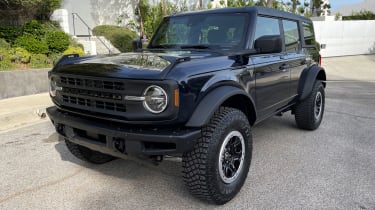 4.0 out of 5
Verdict
If we awarded stars based on charm and character, the Bronco would get five of them. It's further proof that Ford is building cars that will make you smile, with a sense of fun (and a sense of humour) built into them. The bumpy ride (at least on our test car) might not translate well to the UK, but the rest of the package certainly would. It could well turn out to be the cut-price Defender rival many people are looking for.
The new Ford Bronco is another example of an iconic SUV being reinvented – just as Land Rover has done with the Defender. There are plenty of similarities, too, with a healthy dose of retro detailing, but in the US the Bronco starts at a little over half the price of the Defender.
Our Advanced model with the addition of a Sasquatch pack (more on that shortly) had a retail price of $42,960, which equates to around £32,000. We're not saying that price would stick in the UK – those price conversions never do – but we'd fully expect a UK Bronco to undercut both a Defender and the Bronco's arch-nemesis, the Jeep Wrangler, if it does turn up in the UK.
Rally-ready Ford Bronco DR revealed with 395bhp V8

But should Ford bother? In a word, yes; this is a serious 4×4 that could well fill the gap the Defender has vacated by moving upmarket – and it's not just a pretty face.

Let's start with those looks, which hark back to the original Bronco of the sixties and seventies. It won't mean as much in the UK as it does in the US, but the two-box profile has its wheels pushed to the corners of the car for the best off-roading performance, while there's very little detail along the side except for a pronounced ridge along the car's shoulder, which mimics that on the original.

At the front, the squared-off grille is juxtaposed with cute circular headlights – again, like the original – split by LED lines that point to the bold Bronco name across the centre of the grille.

The back features a side-hinged tailgate that usefully opens beyond 90 degrees, plus slim, vertical LED lights – another retro nod – and the bucking bronco badge.

Whether you remember the original or not, it's a great look that's carried over on the interior where it's very similar to the Defender – or the Defender is similar to the Bronco, whichever way you want to look at it.

The upright dash features grab handles to help you haul yourself up into the front seats and runs the full width of the cabin. There's a central eight-inch touchscreen and digital instrument cluster of the same size that both show cool Bronco-inspired animations as you get into the car.

The word Bronco is stamped into the dashboard in front of the passenger just as Defender is in the Land Rover, while separate heating controls sit beneath the touchscreen, again as they do in the British model.

Sure, build quality is better in the Land Rover, but the Ford feels more utilitarian and very much in keeping with its image. And although there are more tough plastics in the Bronco, there's nothing to complain about – it all feels built to last, looks great and is easy to use.

There's also plenty of room inside once you've climbed in, with seats that look like they'll survive the worst family or farm life could throw at them. But there are also a few nice design details thrown in, like the bucking bronco on the floor at the back giving the centre rear passenger something to look at as they'll have to sit with their legs akimbo, either side of the transmission tunnel. The boot is huge, too.

There's a choice of three or five-door bodies, removable roof panels and even removable doors, plus no end of accessories Ford will sell you for your Bronco, including the obvious roof rack. And if you should carry something oversized up top, like a Kayak for instance, then there are handles on the front of the bonnet to help you secure long loads. They're also handy for seeing where the front corners of the car are – just as Mercedes does with its indicators on a G-Class.

Under the bonnet of our Bronco was the familiar 2.3-litre four-cylinder Ecoboost engine that debuted in the Ford Mustang and has also been used in hot Focus models in the UK. It's never going to have the guts of the 2.7-litre six-cylinder Ecoboost option, but it's not bad with a decent bit of pace from 296bhp if you really want it, although the engine note is a bit uncultured.

The 10-speed gearbox is a gem, though – responsive and super-smooth, with buttons on the side of the shifter that offer a little manual control. The car will run in two-wheel drive most of the time, automatically switching to four-wheel drive when needed or via manual override buttons.

And given the Bronco's 4×4 credentials, the steering was surprisingly beefy and responsive, with none of the slack you usually get with serious off-road cars. Don't go thinking it's a sports car, though. Again, it fares better than some, but will still lean around bends as the tyres scrabble for grip.The turning circle was surprisingly tight, though.

Our off-roading was limited to some rough terrain up amongst the multi-million pound houses and just as expensive building sites in Bel Air, overlooking Los Angeles, but the Bronco feels hugely capable coming with seven GOAT modes – GOAT, of course, standing for Goes Over Any Type of Terrain – and numerous other clever 4×4 devices.

Then there's the Sasquatch Pack for the ultimate off-road experience, adding 35-inch tyres with 17-inch wheels, front and rear locking differentials, a 4.7:1 final drive ratio with electronic locking front and rear axles. Bilstein shocks raise the car, while flared arches give the Bronco an even beefier look.

As you might expect, the ride can get a little busy, bumping you around a bit on urban streets and wobbling over broken concrete on the freeway. Strangely, though, in the Bronco it's not a deal breaker – it just seems to add to the car's character.

And that's what this car is all about; we were grinning from ear to ear driving it around Los Angeles. But would that translate to the UK? Size-wise, Ford boss Jim Farley told us that it was about the same size as a Defender – and he's right: at 4,811mm long and 2,189mm wide it's only marginally larger than the Land Rover.

| | |
| --- | --- |
| Model: | Ford Bronco 2.3 Advanced |
| Price: | $42,960 (£32,000) |
| Engine: | 2.3-litre turbocharged four-cylinder |
| Power/torque: | 296bhp/441Nm |
| Transmission: | 10-speed automatic, four-wheel drive |
| 0-62mph: | TBC |
| Top speed: | TBC |
| Economy/CO2: | TBC |
| On sale: | N/A |

Source: Read Full Article