New Fiat 500 Action 2021 review
The new all-electric Fiat 500 Action is only available with a smaller 24kWh battery, but is significantly cheaper than the 42kWh model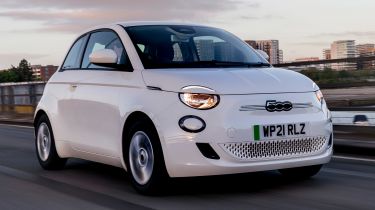 4.5 out of 5
Verdict
If you're buying the Fiat 500 as a first car, or if it'll be used as the second in a two-car household, most will find the range of this base-spec Action model absolutely fine. While it misses out on some fancy tech, it's still easy to drive, and stands out from the city car crowd. Factor in monthly finance payments that comfortably undercut its closest competition, and the new electric version is likely to be just as popular as its petrol predecessor.
Following our first couple of encounters with the latest Fiat 500, the dinky EV has proven to be a huge leap forward over its predecessor, not just in terms of philosophy (ditching the combustion engine seems at its most logical in a car designed for urban areas) but also in terms of ability.
When we tested a higher spec 500 against the MINI Electric and the Honda e, it came out on top. This car can hold its own in the style stakes against two of the most fashionable small cars of the moment, yet for less cash it delivers significantly more range – roughly 170 miles in the real world compared with the 110 miles or so that its rivals can muster.
Fiat 500 review

But what if you don't need that extra range? Fiat allows owners to save even more cash with a smaller battery model. Available in entry-level Action trim only, it opens the range with prices starting from £20,995 including the government's £2,500 grant for electric vehicles. That's a full £3,500 cheaper than the next step up, and £5,000 less than the most basic MINI Electric. It's £50 cheaper than Volkswagen's smallest electric vehicle, the e-up!.

So what do you miss for the reduced price tag? Well as it stands, the priciest component in a typical EV is the battery, so to cut costs, Fiat has chopped the capacity down from 42kWh to 24kWh. As a result, the official WLTP range stands at 118 miles (down from 200 miles). Not as versatile as the other variants, then, but it's still on par with those other style-led but more expensive rivals from MINI and Honda.

The electric motor puts out a little less power too – there's 92bhp here, instead of the 116bhp in other variants. The resulting performance drop off isn't as much as you might think, though; the smaller battery pack weighs over 100kg less, so the Action's 0-62mph time of 9.5 seconds is only half a second slower.

Although it doesn't spring forward with the enthusiasm of some other small EVs, it's lively enough, and much more nippy than the old petrol 500. Switch to the 'Sherpa' driving mode and the 500's throttle response is softened and the air-conditioning disengaged to boost range. It also increases the strength of brake regeneration – how much charge is put back into the battery when slowing down – so that one-pedal driving can be possible. All of these things help to eke out every last mile of range.

The 500 is unlikely to be the sort of car that will spend much time cornering enthusiastically along a B-road, but it's reassuring to know that the low centre of gravity that comes with a heavy, low-mounted battery means the handling is stable and secure. What really matters is that thanks to the near-silent powertrain, smooth power delivery and the light steering, it's an incredibly easy car to drive in town. 

Inside, there's a big gap on the dashboard where plusher models would feature a touchscreen infotainment system. In its place sits a smartphone cradle so users can securely mount their device and let that take care of all the mapping and media functions. That also means there's no reversing camera fitted, though at 3.6 metres long and with excellent visibility, there are few cars on sale today that need a camera less.

Buyers can still add a touchscreen if they choose – the £850 Radio Pack adds a seven-inch display with DAB radio, wireless smartphone charging and compatibility with Apple CarPlay and Android Auto. A hi-res digital driver's display is standard and displays all the vital information clearly.

The rest of the cabin still looks special, even if it doesn't always feel it – there's a few hard, scratchy plastics around. But this is a city car built to a competitive price, so that's not a big gripe, especially when most of the switchgear feels suitably chunky, and the design itself is simple, uncluttered and modern. 

The driving position is a little high, there's no height adjustment for the seat and it's a shame that there's no space to rest your redundant left foot. Still, it's miles ahead of the old 500 ergonomically.

There are of course downsides to the 500. Tiny dimensions that make it so easy to drive around town also have their drawbacks, which are only magnified by the packaging work needed to cram a battery within its footprint. As a result, the back seats (strictly designed for two, there's no centre seat here) are tight for both legroom and headroom. At 185 litres, the boot is also quite small.

In both areas, the Volkswagen e-up! is slightly more accommodating – especially because it comes with five doors so it's easier to get in the back in the first place. Its range is slightly better than the Fiat's too. 

In other areas, though, it's not quite at the Fiat's level. Performance and refinement are areas where the Fiat shines, as is charging. While it lacks the 85kW system of the bigger battery models, the Action can still top up at a rate of 50kW, so it only takes 30 minutes to boost the state of charge from 10-80 per cent. The same level of replenishment through the e-up!'s 30kW system takes 48 minutes.

But the crucial difference between the two is the cost on a monthly finance deal. Strong residual values and a further £950 deposit contribution from Fiat swings things greatly in the 500's favour. With a £2,000 payment up front from the customer, a three-year PCP deal comes to £251 per month for the 500, compared to £334 for the e-up!.

| | |
| --- | --- |
| Model: | Fiat 500 Electric Action |
| Price:  | £23,495 |
| Battery/Motor: | 24kWh/single motor |
| Power/torque:  | 92bhp/220Nm |
| Transmission:  | Single speed, front wheel drive |
| 0-62mph:  | 9.5 seconds |
| Top speed:  | 84 mph |
| Range:  | 118 miles |
| Charging: | 50kW (30 mins 10-80%) |
| On sale: | Now |

Source: Read Full Article