New Ferrari Purosangue 2023 review
The Ferrari Purosangue is every bit as spectacular to drive as it looks. Just don't call it an SUV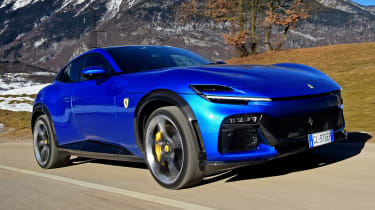 4.5 out of 5
Verdict
Brash, thirsty, barkingly expensive and not very well packaged it might be, but the Purosangue is also one of the most exciting four-door, four-seat cars ever. It sets new standards for a vehicle of this type, offering the pace and dynamic clarity of a full-blown supercar car on one hand (well, almost) with much of an SUV's practicality on the other. Not that it's an SUV, of course.
It's the car they said they'd never make at Maranello. Yet here it is, Ferrari's brand-new SUV – all 715bhp, £313,000 and 2.2 tonnes of it.
Except, according to Ferrari, the Purosangue isn't an SUV at all. Instead it's a "four-seater, four-door sports car" that just so happens to be four-wheel drive and has a centre of gravity several inches higher than any other Ferrari in history.
​Fastest SUVs in the world 2023

It also has a hatchback tailgate opening in place of a traditional boot, two back seats, and although its rear doors do open rather intriguingly – they hinge forwards, not backwards, to give a "uniquely welcoming entry experience", according to their designers – the packaging isn't great. The boot, for instance, is luxuriantly trimmed, but also unusually small for an SUV. Not that the Purosangue is an SUV, remember.

Whatever the case, and however you choose to define it (as a sports car, as an SUV, or an intriguing hybrid of the two), it is a radical departure for the brand in both its design and its intended audience. As such, and no matter how Ferrari might choose to spin it, the Purosangue's closest rivals are indeed SUVs; so think Lamborghini Urus, Aston Martin DBX 707, Range Rover SV, Rolls-Royce Cullinan, and the list goes on.

But does it deliver on its promise, is it worth the astonishing amount of money it costs, and is it sufficiently spectacular to drive to justify its eye-watering price?

Broadly speaking, the answer to all three of those questions is yes, but in each instance there is – inevitably – a caveat. Before we go into any detailed conclusions, however, let's talk a bit more about what lies beneath, because from an engineering perspective, the Purosangue is a mightily impressive machine. It also looks pretty spectacular in the flesh, too.

At the business end of the car (in this case, the nose) sits a mildly detuned version of the same 6.5-litre V12 that propels the 812 Superfast. Ferrari claims the engine is mid-mounted because its centre point is well behind the front axle. Intriguingly, the eight-speed dual-clutch automatic gearbox is then mounted at the rear, with drive to all four wheels being controlled by a single 'Power Control Unit', mounted on the back of the V12, that works out where best to send drive at any given moment, depending on which drive mode you've selected, how much grip the system detects there is beneath each of the vast 22-inch front and 23-inch rear wheels, and how much throttle you deploy.

Given that the V12 produces 715bhp at a screaming 7,750rpm and 716Nm of torque at 6,250rpm, the throttle pedal is a key component in the Purosangue, even though it's 100 per cent electronically controlled, as are the entire suspension system, the brakes, the steering, the gearbox – you name it.

The Purosangue's chassis itself is constructed from aluminium, and the Ferrari Active Suspension Technology it contains is unfathomably clever in its both design and operation. The 'FAST' acronym for the system might be a bit cheesy, but the way it controls the car's 2.2-tonne mass is anything but – because on the move, the Purosangue is quite some piece of work. It certainly doesn't drive anything like a traditional SUV, that's for sure.

Climb aboard and you sit high behind the part-carbon fibre, part-leather, button-festooned steering wheel, but not as high as you would in an Urus, Cayenne or DBX. The main instruments are digitised and clear, and switch from one design to the next as you scroll through the various drive modes. All the car's main on-board functions (seats, climate control, Burmester stereo etc) are accessed by a big, central rotational button, which works well. However, the new infotainment system is seriously complex and it takes a while to feel at one with. You need to know your way around a smartphone if you're going to get the most out of the Purosangue's configurability and tech.

But driving is surely what this car is all about, and driving is most definitely what it does best. The V12 engine sounds incredible and delivers an almighty thump in the back at any engine speed above 3,000rpm. The extra weight the car carries means the V12 needs revs before it really delivers, but that's no hardship because the eight-speed DCT's ratios are short and stacked closely in the first seven gears. It works quite beautifully on the move.

Ferrari claims a mere 3.3 seconds for the 0-62mph sprint and a top speed of 192mph. And that's about how fast it feels if you open the throttle wide and hold it there in any of the more aggressive drive modes – of which there are several to choose from.

But it's the chassis and steering, plus the way the Purosangue stops, that truly distinguish it as something a little bit different compared with any other rival. Not even a Cayenne Turbo GT can get anywhere near the Purosangue's clarity and speed of response when driven with gusto along a twisting road. Yet when you want to just sit back and relax, you select Comfort via the mannetino, and the dampers, steering, throttle response and exhaust all calm back down. Then the Purosangue just purrs along smoothly with a ride that's always firm, yes, but no longer frantic in its precision. The breadth of dynamic ability contained under just one carbon-fibre roof is spectacular.

Downsides? Headroom in the rear isn't great at all, although getting in and out is an experience, thanks to the distinctive action of those rear doors. The boot is not as big as you'd rightly expect it to be, given how much road space the thing occupies. The fuel consumption and emissions are horrendous, at 16.3mpg combined and 393g/km of CO2. Meanwhile, the car's price before options is such that, after extras – which many owners will probably indulge in heavily – most Purosangues will probably cost north of £400,000. Which is bonkers.

But then, there is nothing else quite like the Ferrari Purosangue out there at the moment. So in a way, Ferrari can afford to stick such a monstrous price tag on the car because it knows its customers will pay it. Quite willingly.All the rest of us can do is just stare on in disbelief, knowing that we're in the presence of greatness.

| | |
| --- | --- |
| Model: | Ferrari Purosangue |
| Price: | £313,120 |
| Engine: | 6.5-litre V12 petrol |
| Power/torque: | 715bhp/716Nm |
| Transmission: | Eight-speed automatic, four-wheel drive  |
| 0-62mph: | 3.3 seconds |
| Top speed: | 192mph |
| Economy: | 16.3mpg |
| CO2: | 393g/km |
| On sale: | Now |

Source: Read Full Article