New electric Lotus sports car set for 2026 launch
A new tie-up with battery manufacturer Britishvolt will power the next generation of Lotus electric sports cars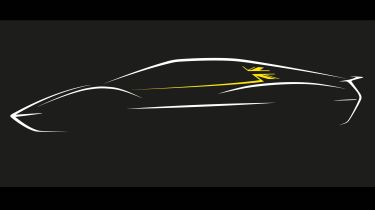 Lotus has teased a new all-electric sports car successor to its iconic Elise. The Lotus EV is due in 2026 on a new platform being developed by the British brand for use in future electric sports cars – and the next-generation Alpine A110.
Now owned by Chinese parent Geely, Lotus has confirmed that the new Emira sports car will be its last combustion-engined model, with every new Lotus that follows it due to be fully electric and based on a range of newly developed platforms.
Lotus confirms four new electric cars including two SUVs by 2026
The next new Lotus will be a large SUV, codenamed 'Type 132', which will be built in China along with a future four-door GT known as 'Type 133' and a mid-size SUV, codenamed Type 134. This off-roader will also form the basis of a future higher-riding Alpine model.
But, in this deluge of what the brand terms 'lifestyle' models to be based on a platform called Premium Architecture, Lotus has also confirmed plans for a fully electric sports car, which will be built at its Hethel HQ using a new platform called E-Sports. This car will arrive in 2026, and will be an all-electric Elise successor designed to sit alongside the combustion-powered Emira.
The teaser image previews an almost Esprit-like silhouette, with a roofline and windowline that appear similar in shape to that of the brand's iconic mid-engined supercar, along with a similarly pointy nose. The strong, pronounced haunches over the front and rear axles of the vehicle are more in keeping with the brand's latest performance car design language, drawing inspiration from the Evija electric hypercar and the Emira.
Alongside the teaser, the brand has confirmed that it is working with battery specialist Britishvolt to develop the new battery technology that will be key to the vehicle.
Fastest electric cars in the world
The partnership will see the two firms work together to develop a next-generation battery cell package that will be used on future all-electric Lotus sports cars. The Britishvolt-developed battery tech will be allied to Lotus propulsion and motor systems, and will likely be mounted in Lotus cars based on the E-Sports platform using an electrified rear-subframe called LEVA.
This subframe means that the battery can either be positioned under the car's floor, or can be stacked vertically behind the passenger cell, to provide a similar weight distribution and centre of gravity to a typical mid-engined petrol sports car.
Lotus Managing director Matt Wendle said: "Lotus is delighted to be collaborating with Britishvolt to develop new battery cell technology to showcase the thrilling performance that a Lotus EV sports car can deliver. These are the first exciting steps on the journey towards an all-new electric sports car from Lotus."
What do you think of the electrification plans for Lotus? Let us know in the comments…
Source: Read Full Article