New Dacia Stepway SUV to rival Nissan Juke
Dacia hints that the off-road-style Sandero Stepway hatch could develop into a genuine SUV and our exclusive image previews how it could look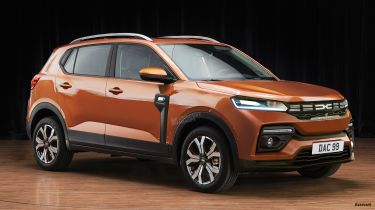 The new-car market moves fast. After 10 years in the UK, Dacia is on a quest to reinvent itself, moving the brand away from its original 'budget' image towards 'value' – and key to that change will be a range of brand-new models.
We'll see the Romanian brand's Bigster full-size SUV arrive in 2025, crowning the line-up and allowing the next-generation Duster (set for a 2024 reveal) to grow in size. This will leave a space between the Duster and the brand's Sandero supermini which, in time, could be filled by a bona fide small SUV – an evolution of the firm's more off-road-inspired Sandero Stepway.
New Dacia Jogger Hybrid 140 2023 review
Speaking to Auto Express, Dacia's senior vice president, sales, marketing and operations, Xavier Martinet, said "We're actually trying to separate the Sandero and Sandero Stepway. It's something we've been doing regularly." He added: "We feel there's space to differentiate them more, so this is something we will investigate between the Stepway and the Duster."
As a result, expect the next-generation Stepway to take a sizeable step towards the SUV camp, as our exclusive image shows. It will take elements of Dacia's recent rebrand when it comes to the treatment of the logo, headlights and grille, and mix these with styling cues inspired by the forthcoming Bigster flagship on a raised-up model around 4.1 metres long. This would put the newcomer at the heart of the compact SUV class as a rival to the likes of Ford's Puma and the segment-founding Nissan Juke.
As part of parent firm Renault's 'Renaulution' plan, announced at the start of 2021, Dacia committed to all future models being underpinned by the Renault-Nissan CMF-B platform. As a result, a future small Stepway SUV based on this chassis could be powered by Dacia's 89bhp 1.0 TCe 90 three-cylinder turbocharged petrol engine, or a 99bhp unit designed to also run on LPG. However, as with other future models in the Dacia range and given the need for part-electrification in the future, the firm's 1.6-litre hybrid set-up from the Jogger Hybrid could also be a candidate.
The current Sandero and Sandero Stepway pairing was launched in 2020, with successors to these Mk3 models expected to appear "around 2027, 2028," according to Martinet.
But with Dacia's insistence that it won't turn to full electrification until it's essential, and possible for the brand to deliver it at a cost that represents value to customers, a more pumped-up petrol-powered (but maybe hybrid) successor is on the cards. Asked if we'd see one more generation of combustion-engined Sandero before the proposed 2035 ICE ban in Europe, Martinet said: "Yeah, of course. We'll try to offer this."
Pushed further on how much we'd see the Stepway branding diverging from the regular Sandero, Martinet said "Look at the last 10 years. The first Stepway way – I mean, even the price difference, gradually we are increasing it. So it's one of the questions for the future. Should we continue gradually? Should we have a greater difference?"
We would expect to see Dacia's Stepway design cues amplified for the future model, with an increased use of plastic body cladding to give the vehicle a stronger SUV image. Given Dacia's focus on keeping its cars lightweight to maintain fuel efficiency, and its approach towards sustainability, the company's proprietary 20-per-cent-recycled-plastic material – called Starkle – could feature on a future Stepway.
Starkle made its debut on the marque's 2022 Manifesto concept, which Dacia bosses explained was a rolling laboratory for some innovations that will make production in the future. Starkle will also be present on the new Duster, the marque has confirmed.
Martinet said that the Sandero has been Dacia's best-selling model in Europe for the past five years, with the more lifestyle-focused Stepway accounting for around two thirds of sales. A £1,400 price jump trim-for-trim, and more than 60 per cent of all Dacias sold being high-spec trim levels, highlights the firm's successful evolution from 'budget' to 'value', and underlines how a more SUV-focused Stepway could be a lucrative option for Dacia as it pushes towards establishing itself as a more lifestyle-focused brand.
Key to this will be the arrival of the Bigster, which could be available with seven seats – "We haven't communicated anything yet, I cannot say more," Martinet told us – and the Duster, while he also said that Dacia would launch two more C-segment cars in addition to the Bigster. Martinet confirmed that these would be applicable to the UK market, with one of these products potentially a family hatchback to bolster the line-up.
Click here for our list of the best small SUVs on sale right now…
Source: Read Full Article