New Cupra UrbanRebel concept to preview entry-level electric car coming in 2025
The new Cupra concept car will be a racing version of the EV planned for launch four years from now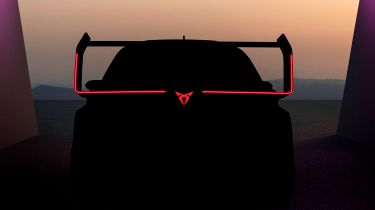 Cupra has teased a new concept car that will be revealed in September at the Munich Motor Show, confirming that the show car is a forebear of its 'urban EV' coming in 2025 on the MEB Entry platform. 
Called the UrbanRebel, the concept car will preview the design language of the upcoming vehicle, but far from being a close-to-production glimpse at the model we'll see in showrooms, it will be a racing car interpretation of the entry-level EV.
New SEAT urban EV to arrive by 2025
Auto Express learned of SEAT's plans for an electric car on a smaller and cheaper version of the MEB platform earlier in the year. SEAT and Cupra boss Wayne Griffiths told us that one of his brands would be the first within the VW Group to use the new MEB Entry platform which is still in development, but that no decision had been made as to whether or not the car would be a SEAT or a Cupra. 
This announcement seems to confirm that it will be the latter, and Cupra will be the first VW brand to use the cheaper MEB platform for smaller cars. 
The concept is described as a racing car, and teaser images together with a short video clip support this. We can see a huge rear wing at the back of the vehicle with racing numbers on the endplates, and an integrated rear brake light. 
The front end features the sharp looking headlights that are typical of the Cupra brand, and an aerodynamic fascia with a lip on the trailing edge of the nose acting as a splitter. A purple pattern is repeated across the car, and we can see strong, flared rear wheel arches. 
The vehicle also appears to be a two or three-door EV, with no rear door visible from the B-pillar onwards in the teaser clip. It leads into a rakish rear end with a large C-pillar. The production version of the car will probably take some of these design elements but repurpose them into a small, five-door SUV or tall riding supermini. 
After the launch of the Cupra Urban EV in 2025, cars from the Volkswagen and Skoda brands also using the MEB Entry platform are planned. The cheaper production costs and smaller battery packs of cars on MEB Entry mean that prices for cars like the Cupra Urban EV could start from around £17,000 when they go on sale in the middle part of the decade.
Click here for all the build-up to the 2021 Munich Motor Show…
Source: Read Full Article