New Cupra Tavascan Extreme E concept hints at production SUV
Cupra says its next entry for the electric off-road racing series will share design elements with the upcoming road-going Tavascan SUV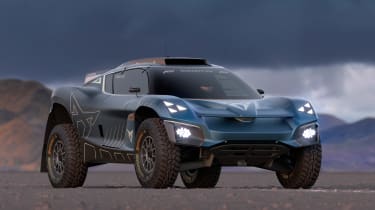 Cupra has unveiled its new Tavascan Extreme E concept at this year's Munich Motor Show, which will compete in the next season of the all-electric Extreme E off-road racing series.
The Spanish brand also says the concept racer shares elements of its design language with the road-going Tavascan electric SUV, previewing some styling features of the forthcoming 2024 production car. When it goes on sale, the Tavascan will be the company's second electric vehicle after the Cupra Born hatchback.
Cupra's styling tweaks over its current Extreme E racer include a slightly reshaped front bumper, a modified rear diffuser and a new livery that was designed to stand out from the racing series' arctic, desert, glacial and ocean-side backdrops.
Cupra Tavascan set for production in 2024
The brand's engineers have also used natural flax fibres for as much of the car's bodywork as possible, to reduce the amount of carbon fibre in its structure and lower its environmental impact. Cupra says the material has similar properties to carbon fibre, too, and could easily be adapted for use in production vehicles.
The LED headlight clusters are another new addition and feature a similar triangular design to the Tavascan concept, mounted in a new 3D-printed frame.
Cupra says this latter innovation will give its racer a competitive edge by allowing the team to adapt to changes quickly, be it because of accident damage or a change to the headlight position to improve visibility. A replacement mount can be printed in just six hours, without the need for heavy fabrication equipment.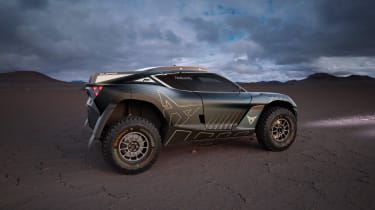 The racer is powered by a 54kWh battery mounted behind the cockpit for optimum weight distribution. This supplies an all-electric powertrain, which Cupra says delivers a 0-62mph time of around four seconds.
The current Extreme E spec racer, called the Odyssey 21, is manufactured by Spark Racing Technology and features a battery from Williams Advanced Engineering. The twin-motor powertrain serves up 536bhp, with the spec of car set to be carried through to the 2022 season.
Alejandro Agag, founder and CEO of Extreme E, said: "I am delighted to see Cupra launch the Cupra Tavascan Extreme E concept as it enables it to become the second manufacturer to use its own bodywork for its Extreme E team. 
"This move not only injects added style and personality into the series, but also supports our goals for Extreme E to prove itself as a global marketing showcase for partners, as Cupra prepares to launch this model to consumers in the future."
Now click here to read our race guide for this year's Extreme E racing series…
Source: Read Full Article