New Cupra Leon Estate 2021 review
The new 306bhp Cupra Leon Estate has arrived in the UK, but is it worth its premium price tag?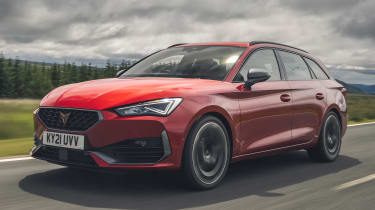 4.0 out of 5
Buy used for less at Buyacar
Verdict
The Cupra Leon Estate aims high, with an impressive standard kit list, well-sorted dynamics, very strong performance and, yes, a premium price tag. That last element pitches it squarely above the likes of the (more practical) Skoda Octavia vRS Estate and the (more fun) Ford Focus ST Estate. But as a four-wheel-drive, 300bhp-plus fast wagon, it has enough sophistication about it to be a valid alternative to the forthcoming VW Golf R Estate.
Cupra does have a model of its own, the Formentor, but the fledgling brand is also making good use of SEAT's range as it builds up its model portfolio. There's the Ateca, of course, and we've already been impressed by the Cupra Leon hatchback. Now it's the turn of the Leon Estate, giving Cupra a fast wagon in its line-up.
This is, in fact, the most potent Leon available – because the Cupra Estate is available only with four-wheel drive, a seven-speed dual-clutch transmission and a 2.0-litre turbocharged petrol engine tuned to 306bhp and 400Nm. Admittedly you can get this motor, codenamed EA888, in a more powerful form in the latest VW Golf R Estate – but even with a list price nudging £40k, Cupra's offering should be slightly cheaper.
Best fast family cars 2021

It certainly looks fast enough on paper, too; this is a five-seat estate car with a claimed 0-62mph of 4.9 seconds (the top speed is the usual limited 155mph), and that sort of pace puts it on terms with the Mercedes-AMG CLA 35 Shooting Brake, which the Leon also undercuts on price.

More reviews

In-depth reviews

It's available in three trim levels, but while we're trying the mid-range VZ2 here, VZ1 looks pretty well equipped to us. The entry point brings 18in alloys, LED headlights, a digital instrument panel, a 10-inch touchscreen infotainment system, sports bucket seats, sports suspension, front and rear parking sensors, and a rear-view camera.

VZ2 increases the wheel size to 19 inches and VZ3 throws in wireless phone charging, heated front seats and leather upholstery. But the most significant addition on both of the upper trim levels is the Cupra Dynamic and Comfort Pack; this brings speed-sensitive steering but also Dynamic Chassis Control – in effect, adaptive dampers whose stiffness can be controlled via the car's drive modes.

This feature contributes to what is a really strong dynamic package. The steering has a pleasing amount of weight to it, without feeling laboursome, and there's enough directness and response in the front end to make you feel like you're properly pointing the Leon wagon into corners. Body control is well contained and even on test roads that were a mixture of bone-dry tarmac and recently doused country lanes, we found so much grip that we were quickly able to build up faith that the Leon was going to stay on line.

The engine is more than up to the job, too. Peak torque feels like it kicks in a teeny bit beyond the claimed figure of 2,000rpm but even so, you won't find this car wanting any extra low-down punch. Stick the DSG gearbox in manual mode and you'll enjoy revving the 2.0-litre motor out to (and beyond) 6,000rpm.

There's an aural benefit in doing this, as well as a performance one, for Cupra's engineers have used sound synthesis to try to enhance the EA888's notes and in general they've succeeded. Flick between the car's driving modes, via the easy-to-use button on the steering wheel, and you'll add a bit more base in Sport before transferring to full-on warble (some way between a five-pot and a V8, to our ears) in Cupra mode.

Of course, these settings also change the dampers, the response and the steering – although as with other VW Group models of late, you're able to fine-tune a lot of these areas and save them into an individual mode that the steering wheel button cycles through.

What this feature delivers is a pleasing amount of duality. On the right back road a Focus ST Estate would be no faster than the Leon but it might still be a little more rewarding – especially with a manual gearbox. However, over a long distance, the Leon's ability to dial back from its hardcore limits makes it a surprisingly refined cruiser. You can tackle motorway journeys in this car in a very acceptable amount of comfort, even on 19-inch rims; equally, you can also enjoy thrashing it. That's a relatively rare recipe in estates of this size.

Inside, the cabin gets a few nicer finishes (brushed metal, and a padded rubber) to lift it above the regular Leon's interior. But sadly, it retains that car's clumsy infotainment set-up, which incorporates too many features on its screen and does without proper switches for the heating and ventilation.

The boot in the Cupra Leon Estate is the same size as that in its regular stablemates, meanwhile, offering 620 litres of capacity with the rear seats in place. That's a little down on what you'll find in the Skoda Octavia vRS – but while that car is cheaper, it does also feel a step down from the Leon on outright performance and dynamic focus.

| | |
| --- | --- |
| Model:  | Cupra Leon Estate 2.0 TSI VZ2 4Drive 310PS DSG |
| Price: | £38,570 |
| Engine: | 2.0-litre, 4cyl turbo petrol |
| Power/torque: | 306bhp/400Nm |
| Transmission: | Seven-speed dual-clutch auto, four-wheel drive |
| 0-62mph: | 4.9 seconds |
| Top speed:  | 155mph |
| Economy:  | 32.8-34.4mpg |
| Emissions: | 186g/km |
| On sale: | Now |

Next Steps

Source: Read Full Article