New Caterham Super Seven 600 and 2000 launched
The two new Caterham models arrive to help celebrate the brand's 50th anniversary next year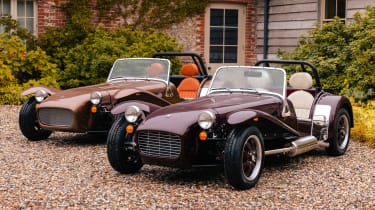 Caterham cars haven't really changed much during the firm's near-half century in existence, which you could say is a key reason for Caterham's longevity and success. Now, taking inspiration from its early Super Sevens of the 1970s are two new models following the familiar formula – the Super Seven 600 and the Super Seven 2000.
There's not much to mark the two models out in terms of looks. The classic Caterham Seven proportions remain, with a long, thin bonnet, seats positioned almost on top of the rear axle and stubby rear end.
Best track day cars 2022
Key exterior changes include flared front wings that Caterham has previously used on the Super Seven 1600, Sprint and Super Sprint, plus 14-inch 'Juno' wheels on the 600 and 14-inch 'Classic' wheels on the 2000. There's also a chromed filler cap, a Moto-Lita leather steering wheel, a carpeted rear backrest panel and LED rear lights.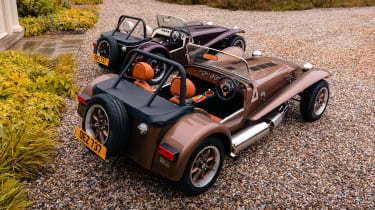 The Seven being such a focused, lightweight sports car, it's not surprising that Caterham keeps the options list short. There's a range of paint finishes (including some new ones exclusive to these two new models) as well as interior colour options for the carpet, dashboard, leather seats, gear knob and handbrake gaiters.
Kicking things off in terms of pricing is the Super Seven 600 at £29,990. It's powered by a turbocharged 660cc Suzuki engine, producing 84bhp. Given the 600's lack of weight (Caterham has not given weight figures, but expect around half a ton), 0-60mph stands at 6.9 seconds – the same as the existing Seven 170 version.
The more powerful Super Seven 2000 gets a Ford Duratec-derived engine (the same as the one found in the 360S, with 180bhp delivered from the 2.0-litre four-cylinder unit. This gives the 2000 a 0-60mph time of 4.8 seconds. Caterham will also add a sport suspension package for the 2000 – featuring a rear anti-roll bar and front ventilated discs with quad piston callipers. The 2000 starts from £39,990.
Both cars can be specified with a limited-slip differential and in true Caterham fashion, both can be delivered as kits to UK customers for self-assembly.
Click here for our review of the new Caterham Seven 360S…
Source: Read Full Article