New car sales suppressed by chip shortage and Covid 'pingdemic'
UK new car market sees weakest July figures since 1998 as ongoing supply and demand issues combine with test and trace impact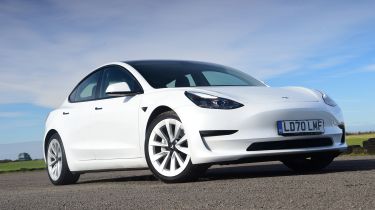 New car registrations in the UK declined 29.5 per cent in July 2021 compared with the same month last year, with the ongoing semiconductor shortage and so-called 'pingdemic' to blame.
July 2020 was a particularly strong month for the market, with showrooms enjoying their first full month of operation after the first national lockdown, resulting in a release of pent-up consumer demand.
Best-selling cars of 2021
Although this puts July 2021 at an immediate disadvantage, the 123,296 new cars registered was still 22.3 per cent lower than the 10-year July average, according to the Society of Motor Manufacturers and Traders (SMMT).
The ongoing shortage of semiconductor chips was one major issue, with manufacturers unable to build and deliver customer's cars as quickly as they normally would. Furthermore, the pingdemic, which is seeing hundreds of thousands of people being told to self-isolate by the NHS, has complicated matters.
The biggest decline in the market in July 2021 was with fleets, which saw 28.7 per cent fewer registrations than average. Private registrations were down 10.7 per cent meanwhile. Electric cars enjoyed a nine per cent growth in registrations, however, with plug-in hybrids up eight per cent.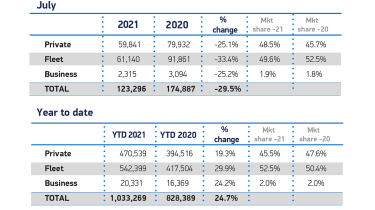 The SMMT forecasts that 1.82 million new cars will be registered in 2021 – up 11.7 per cent on 2020, but still 21.8 per cent lower than the 10-year average. Electric cars will account for a 9.5 per cent market share by the end of the year, though, with PHEVs taking 6.5 per cent.
Mike Hawes, chief executive of the SMMT, said: "The automotive sector continues to battle against shortages of semiconductors and staff, which is throttling our ability to translate a strengthening economic outlook into a full recovery.
"The next few weeks will see changes to self-isolation policies which will hopefully help those companies across the industry dealing with staff absences, but the semiconductor shortage is likely to remain an issue until at least the rest of the year.
"As a result, we have downgraded the market outlook slightly for 2021. The bright spot, however, remains the increasing demand for electrified vehicles as consumers respond in ever greater numbers to these new technologies, driven by increased product choice, fiscal and financial incentives and an enjoyable driving experience."
Thinking of buying an electric, petrol or hybrid car? Read our buying guide to help you along the way…
Source: Read Full Article