New-car sales: Lockdown 2 hits registrations by 27.4%
Second closure of English car dealerships contributes to 42,840 fewer new cars registered in November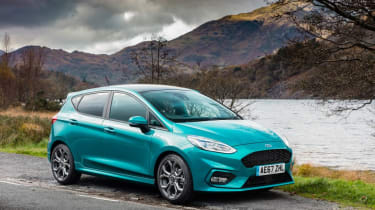 Ford Fiesta
The UK's new-car market contracted by 27.4 per cent in November due to lockdown forcing the closure of English car dealerships.
A total of 113,781 new cars were registered last month, down from 156,621 in November 2019. Both private and fleet sales were hit, falling 32.2 and 22.1 per cent respectively. Sales of diesel cars fell 56.2 per cent, while petrol registrations were down 41.9 per cent.
Best-selling cars in the UK 2020
Buyers who did pick up a new set of wheels increasingly turned to electrified cars last month, with EV sales up 122.4 per cent and 10,345 such cars being registered. Plug-in hybrid registrations rose 76.9 per cent, while sales of mild hybrid petrol and diesel cars were up 232.6 and 7.9 per cent respectively. The new-car market remains 30.7 per cent down year-to-date, with 1,498,382 new cars registered, down from 2,162,143 over the same period in 2019.
The Vauxhall Corsa was the UK's best-selling car in November with 3,718 registrations, while the Ford Fiesta – which typically occupies the top spot – slipped to eighth place. Ford's supermini is the best-selling car so far this year, though, with 45,807 registrations, beating the Corsa's score of 43,410. October's best seller, the Mercedes A-Class, fell to third place, with 3,243 sales.
Mike Hawes, chief executive of the Society of Motor Manufacturers and Traders, which compiled the data, said "dealers and consumers were all better prepared to adjust to constrained trading conditions" during the second lockdown than they were when restrictions came into place in the spring.
Hawes warned, though, that "with £1.3billion worth of new car revenue lost in November alone, the importance of showroom trading to the UK economy is evident and we must ensure dealers remain open in any future Covid restrictions."
Concluding on a more hopeful note, Hawes said: "More positively, with a vaccine now approved, the business and consumer confidence on which this sector depends can only improve, giving the industry more optimism for the turn of the year."
Find out the best cars coming out in 2021 here…
Source: Read Full Article