New BMW Vision concept to showcase Neue Klasse technology
The latest BMW Vision concept will appear at CES Las Vegas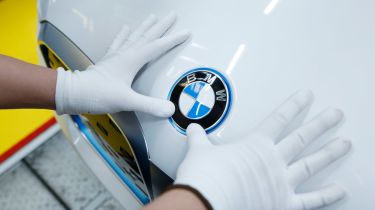 Within BMW's most recent quarterly report the firm announced a new concept car will be revealed at CES Las Vegas in January. The concept will give us a preview of BMW's future electric cars that will be based on the upcoming Neue Klasse platform.
Details on the concept remain thin, but BMW says the car will be a 'Vision Vehicle', so we can expect it to emulate previous BMW Vision concepts, such as the Vision NEXT 100,  i Vision Circular and the M Vision NEXT. 
New BMW M5 hybrid loses camouflage on Nurburgring test
The new Vision concept will most likely showcase BMW's new battery technology – announced in September this year. BMW calls it 'round cell' and the technology has been optimised for the Neue Klasse platform. The German firm claims a 20 per cent improvement in energy density, a 30 per cent increase in range and a 30 per cent boost to charging speed. The improved performance doesn't come at any extra expense either, with BMW saying the cost of the battery will actually be reduced by up to 50 per cent. 
With new battery technology on board, the upcoming concept car could offer the greatest range of any BMW model – a title currently held by the BMW iX and its 389-mile range. This could potentially mean a maximum range of over 500 miles. As for the first production BMW to utilise the Neue Klasse platform, that honour will go to the all-electric successor to the 3 Series.
BMW says it expects over half of its global sales to come from BEVs, with the Neue Klasse platform accounting for a large chunk of those. Six factories will get investment to produce the new round cell battery and these will be spread across Europe, China and the Americas to keep production and delivery costs down.
Check out the latest BMW news and reviews here…
Source: Read Full Article