New Audi SQ8 Sportback e-tron 2023 review
The revised flagship Audi SQ8 Sportback e-tron electric SUV now goes further on a charge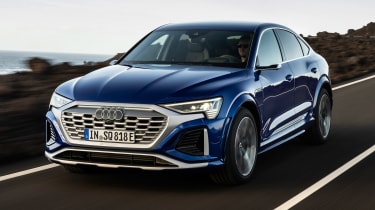 4.0 out of 5
Buy used for less at Buyacar
Verdict
The revised Audi SQ8 – like its predecessor – can sometimes feel every bit of its chunky kerbweight. Yet the blend of power, performance, luxury and refinement it delivers remains hard to beat, especially now that the updated car gets the standard Q8's bigger battery and faster charging. It's expensive, but as an effective all-rounder, there's an awful lot to like.
We drove the new Audi Q8 e-tron late last year, and were won over by the renamed model's bigger battery, longer range and improved kit count. Extensive changes once again made it competitive against an increasingly long list of rivals.
But as before, the 50 e-tron and 55 e-tron will be joined by a range-topping S variant – now badged SQ8 e-tron. It's not available to order just yet, but we've been given an early taste of the flagship Vorsprung model in sleek Sportback guise.
Best electric SUVs to buy now

The core ingredients are unchanged. It's fitted with three electric motors that produce a combined 496bhp and 973Nm
of torque, giving the SQ8 a 0-62mph time of 4.5 seconds, while top speed stays capped at 130mph.

As with the standard e-tron, however, the biggest difference lies beneath the floor, where the old SQ8's 95kWh battery has been boosted to 114kWh. The result is a healthy range increase; the new car can cover 290 miles on a charge, up from 223 miles.

Not only will the SQ8 go further than before, when the time does come to stop it'll charge faster too. Now with a 170kW peak, it'll go from 10 to 80 per cent in 31 minutes, despite the bigger battery.

More reviews

Car group tests

BMW iX vs Audi e-tron Sportback: 2022 group test review
Mercedes EQC vs Audi e-tron

In-depth reviews

Long-term tests

Audi e-tron 55 quattro: long-term test review

Road tests

New Audi Q8 e-tron 2023 review
New Audi e-tron S 2021 review
New Audi e-tron Sportback 2020 review
New Audi e-tron S Sportback 2020 review

Inside, it doesn't feel all that different to the standard Q8, aside from the lavish Valcona leather 'super' sports seats and extended LED lighting package. There's a Bang & Olufsen stereo, a head-up display and Audi's Virtual Cockpit Plus, too.

Quality is flawless, as you'd expect for the price, and most of the technology feels well integrated. We could forego the lower of the two central screens – a conventional climate control panel with buttons would suffice – but at least the software within is powerful, making it easy to navigate.

Our car was the even-better equipped SQ8 Vorsprung (an additional £17,000), which swaps the Black Edition's 21-inch wheels for 22-inch alloys, while adding Digital Matrix LED lights, a panoramic roof, heated seats front and rear, and cameras for door mirrors. Our opinion on the latter isn't particularly favourable; avoid them if you can.

It's on the move where the SQ8 shows its true talents. In normal driving, only the two rear motors send power to the wheels, with the single motor on the front axle waking up on demand. The standard Q8 is no slouch, but this range-topper is little short of a rocketship; floor the throttle and all four wheels lock to the tarmac while the near-1,000Nm of torque launches the car towards the horizon. There are few SUVs (bar a Tesla Model X Plaid) that can compete.  

At more than 2.6 tonnes, you might assume the SQ8 would struggle with faster direction changes, and at times it can feel like a bit of a blunt instrument. Yet that prodigious power and plentiful grip mean the driving experience isn't devoid of enjoyment. The regenerative brakes scrub just enough speed in most situations, allowing the car to regain composure before being hustled through the next tight bend.

As with the conventional Q8 though, the SQ8 is its best when cruising. The e-tron has always been a quiet luxury SUV, and the new car is no different. Audi claims the smoother Sportback is even more efficient, too.

There's little compromise to be made when it comes to practicality, either. Audi is one of the few manufacturers that offers a lower coupé-style roofline while retaining reasonable cabin space. You get the same near-flat floor as the normal SUV, and the 528-litre boot trumps a Mercedes EQC, too.

| | |
| --- | --- |
| Model: | Audi SQ8 Sportback e-tron Vorsprung |
| Price: | £117,000 |
| Powertrain: | 114kWh battery/3x e-motors |
| Power/torque: | 469bhp/973Nm |
| Transmission: | Single-speed automatic, four-wheel drive  |
| 0-62mph: | 4.5 seconds |
| Top speed: | 130mph |
| Range: | 290 miles |
| Charging: | 170kW (10-80% 31mins) |
| On sale: | Spring |

Source: Read Full Article