New Audi RS 3 Performance Edition 2022 review
The Audi RS 3 Performance Edition is an exclusive version of an already talented hatchback, but it's sadly not coming to the UK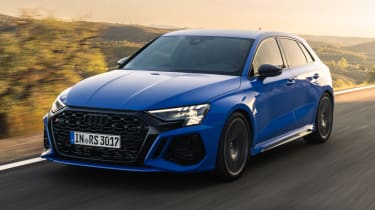 4.0 out of 5
Buy used for less at Buyacar
Verdict
The RS 3 Performance Edition is the fastest version of the RS 3 yet, but it isn't coming to the UK. You'll be hard-pressed to notice the extra power on the road, so what you're left with is a very exclusive version of an already talented hot hatchback. The carbon-backed seats are lovely, too – we hope these find their way onto the options list of other RS 3s.
This is the new Audi RS 3 Performance Edition. Just 300 units of this special hyper-hatch will be produced – a number chosen because, thanks to some subtle engine tweaks, the RS 3 is now capable of a 300km/h top speed. That's 186mph in a practical five-door hatchback. 
The increase over the existing model comes courtesy of a lift in turbo boost pressure by 0.1 bar, which in turn has increased the maximum power of the 2.5-litre turbocharged petrol engine from 394bhp to 401bhp. Torque reaches the same maximum of 500Nm, but the plateau is available for 100rpm longer, starting at 2,250rpm and continuing to 5,700rpm. Officially, acceleration is unchanged, with the 0-62mph time taking 3.8 seconds.
New Audi TT RS Iconic Edition 2022 review

In the real world, you'll be hard-pushed to notice that bump in power. The RS 3 is a staggeringly quick car in a straight line, with a huge amount of shove on hand from pretty much any revs you choose to start from. The engine sounds fantastic, too; there's a tuneful, characterful excitement that comes with every squeeze of the throttle which sets it apart from any other rival. 

More reviews

Car group tests

Audi RS 3 vs Mercedes-AMG A 45 S: 2022 twin test review
BMW M2 Competition vs Audi RS 3 Saloon

In-depth reviews

Road tests

New Audi RS 3 Saloon 2021 review
New Audi RS 3 Sportback 2021 review
New Audi RS 3 Sportback 2019 review

Used car tests

The seven-speed gearbox does a reasonable job of keeping up, but if you select manual mode, it isn't the most responsive in dealing with your requests – especially on downshifts.

Driving on a damp, Spanish race track revealed the benefits of the RS 3's quattro four-wheel drive system and the track-biased Pirelli P Zero Trofeo R tyres. With settings switched to their most track-focused and the stability control systems off, the RS 3 still delivers formidable traction, which gently brakes into an easily controllable four-wheel drift – making you feel like something of a hero even though you know it's the car doing most of the hard work. 

Of course, RS Torque Splitter, a system which thanks to a pair of clutches on the rear axle, can allocate up to 50 per cent of drive to an outer rear wheel, allows the RS 3 to perform its full drifting party piece, too. It's an odd sensation, and one which really takes quite a lot of space – and a lot of commitment – to initiate, so it's one best saved for the confines of a private circuit. 

The brakes are 380mm ceramic items up front gripped by six-piston calipers, with the rear steel discs measuring 310mm. The system is phenomenally strong, and was able to stand up to repeated abuse on track. A little trail braking towards the apex helps to overcome a slight nose-heavy feeling when you're really pushing on.

Without any suspension changes to speak of, the Performance Edition should remain just as comfortable as the standard model on the road. Switch the adaptive dampers to Comfort mode, and it's smoother across bumps than most standard A3 models – something which highlights a spread of talents that is wider than any of its rivals.

There's also a range of cosmetic changes to mark out the Performance Edition. Up front, the Matrix LED headlights feature smoked bezels, while the 15 LED daytime running elements below flash in an animation which spells out 3-0-0 when the car is unlocked – a nod to both its top speed and the production run. 

Elsewhere, there are motorsport-design wheels, while the grille, tailpipe trims and badges are all finished in black. There's a choice of five exterior colours, including the Nogaro Blue shade used by the original RS model, the RS 2, while LED puddle lights project "#RS performance" onto the ground when you open the doors. 

Inside, the lightweight carbon bucket seats are new. They save a modest amount of weight compared with the standard RS 3 items, and they give fantastic support when cornering hard. The stitching in the Alcantara honeycomb centre panels is blue, which matches the seat belts and the 12 o'clock marker on the Alcantara-trimmed steering wheel.

Unfortunately, UK buyers won't be able to get their hands on one. The waiting list for the RS 3 currently sits at over 18 months here, so there's no scope for taking on the extra limited allocation. Elsewhere, the Performance Edition is priced at €75,000 in Sportback form and €77,000 for the saloon.

| | |
| --- | --- |
| Model: | Audi RS 3 Sportback Performance Edition |
| Price:  | € 75,000 |
| Engine:  | 2.5 5cyl petrol turbo |
| Power/torque:  | 401bhp/500Nm |
| Transmission:  | Seven-speed auto, four-wheel drive |
| 0-62mph:  | 3.8 seconds |
| Top speed:  | 186 mph |
| Economy/CO2:  | 31.4mpg/205g/km |
| On sale:  | Not for UK |

Source: Read Full Article