New Audi A6 S line 2021 review
S line trim makes the Audi A6 look and feel that little bit sportier and the appeal isn't hard to see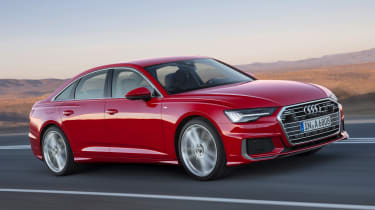 4.5 out of 5
Verdict
The S line trim level is a hugely popular option in the Audi range for a reason. On the A6 it does the usual job of noticeably shifting the car's looks in a sporty direction and adding even more gloss to the beautifully formed cabin. It doesn't transform the driving experience to the same extent, and the core strength of an Audi A6 S line remains in the way it cossets occupants rather than thrills its driver, but it does sharpen things up a tad. Overall, Audi's is an executive saloon without serious faults and the S line package will continue to sway buyers in this highly competitive market.
Audi knows its customers and the German manufacturer has elected to open its A6 executive saloon range with the Sport model – no S or SE option here. Sitting one rung higher, with a look and feel that you could say is slightly sportier than Sport, is the S line specification.
It's these Audi A6 S line models we're interested in here, a longstanding sweet-spot in Audi's model lines that does what the name suggests in that it brings some of the visual flavour of Audi S-badged second-tier performance models, like the S6, to more mundane areas of the range. Audi knows that customers seeking executive cars particularly value the kind of purposeful visuals that are easily created with some larger wheels with lowered suspension, which is why the modern A6 range has the sporty slant that it does. 
Best executive cars 2021

Buyers certainly like an S line Audi and in the A6 range most of what it gives you over a basic Sport model is cosmetic. The 19" twin-spoke alloy wheels are an obvious upgrade over the 18" items on the Sport models, then there's rear privacy glass and sports suspension that lowers the ride height of the A6, shunting those larger wheels up to fill the arches. The S line cars also gain a range of exterior styling tweaks, including to the sills and the intakes in the front bumper. Matrix LED headlights are added at the front and Audi's dynamic 'scrolling' rear indicators feature, too. 

On the inside, there are sports seats finished in leather and Dinamica microfibre, plus various S line styling elements designed to push things in a sporty direction. The S line package comes in at around £3,700 over the cost of a Sport model on the A6, with prices opening at under £44,000 for the 40 TFSI engine with the S tronic gearbox in the saloon bodystyle. The Avant estate is just over £2,000 more model for model, and if you climb up the trim level ladder past the S line you'll find the Black Edition and Vorsprung variants. 

The 4.0 TFSI models open the range with 201bhp from a 2.0-litre turbo petrol engine. The 45 TFSI has a 261bhp version of the same engine, but the 55 TFSI has a 335bhp 3.0-litre V6. On the diesel side there's the 201bhp 2.0-litre 4.0 TDI  and the 3.0-litre 282bhp 50 TDI. That leaves the 50 TFSI e plug-in hybrid, combining the 2.0-litre petrol engine with a larger battery and electric motor for 295bhp. All the plug-in hybrids come with quattro all-wheel drive as do all the other engines bar the entry-level 40 ones, though the 40 TDI diesel presents the choice between quattro and front wheel-drive.

There's a lot to be said for the entry-level engines in the A6. They obviously lack the muscle of the larger units, but the 40 TFSI, 45 TFSI and 40 TDI models benefit from the smaller, lighter engine over the front axle and feel more nimble as a result. The 50 TFSI e hybrid is at the other end of the scale weight wise (2,010kg compared to the 1635kg 40 TFSI), but it's extremely refined and its smooth powertrain holds a different appeal.

Best hybrid cars to buy 2021

The A6 rides and handles very well compared to rival executive saloons. The S line sports suspension does transmit noise and bumps into the cabin on poor surfaces, but show it a relatively smooth piece of road and progress is largely serene, just as in the standard cars. There's some feel to the steering but BMW's 5 Series is better in this regard, even though the A6 responds sharply for a car of its size, especially on the tauter S line set-up.  

The A6 is a fairly silky experience on the road and that impression is carried over into the cabin where S line trim brings a sporty edge, but not at the expense of comfort or quality. Audi's usual clean design and robust build is in evidence with the impressive Virtual Cockpit driving display still setting the standard in the class. The controls move and click into place with a well-oiled efficiency, each time confirming that you're experiencing a premium product.

There's also a raft of driver assistance features, but if anything these prove to be the biggest bugbear of the A6. The collision avoidance system can be annoyingly sensitive in low speed manoeuvres where it picks up small pieces of vegetation that you'd normally brush past and slams on the brakes. On the open road, the active lane assist system will tug on the steering wheel to keep you on track but on tighter roads where you often move over to make room for large oncoming vehicles it often tries to steer you back into their path, which can be disconcerting. The A6 is a very advanced and safe car, but the electronic safety blanket does seem a little thick at times.

Best used executive cars

Cabin space is very good for four adult passengers, but the middle rear seat isn't somewhere you'd want to spend much time due to the high transmission tunnel in the floor and general narrowness. In the boot, there's 530-litres which isn't as good as the Mercedes E-Class but is certainly adequate for the class. The plug-in hybrid only has 360 litres of boot space due to the battery under the floor and that is compounded by the large bag needed to store its cables.  

Costs will be absolutely central to the high proportion of A6 buyers who choose the Audi as a company car. The undisputed king here is the 50 TFSI e. Officially it can return nearly 177mpg on the WLTP combined cycle in S line trim and although this would be next to impossible to achieve in the real world without leaning very hard on the 36-mile electric range, the resulting 36g/km CO2 emissions bring bumper tax advantages for company car users. Elsewhere the 40 TDI diesel can manage upwards of 50.4mpg with 147g/km emissions and the 40 TFSI petrol offers around 38.2mpg with 167g/km emissions, helped by the fact that all A6 models get mild hybrid assistance.

| | |
| --- | --- |
| Model: | Audi A6 saloon 50 TFSI e S Line quattro S tronic |
| Price: | £57,250 |
| Engine: | 2.0 TFSI plug-in hybrid |
| Power/torque: | 295bhp/370Nm |
| Transmission: | Dual-clutch automatic |
| 0-62mph: | 6.2 seconds |
| Top speed: | 155mph |
| MPG/CO2: | 176.6mpg/36g/km |
| On sale: | Now |

Now read our roundup of the Best company cars 2021…

Source: Read Full Article