New Aston Martin V12 Vantage Roadster debuts at Pebble Beach with 690bhp
The drop-top Aston Martin V12 Vantage Roadster matches the coupe with 690bhp and 753Nm of torque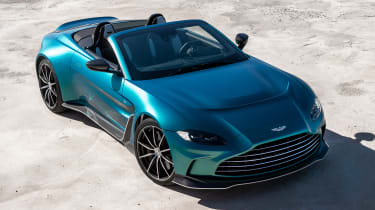 Aston Martin has unveiled the Roadster version of its V12 Vantage, featuring the same hardcore focus over the regular Vantage as the coupe we saw earlier this year. Like the coupe, the Roadster will be a limited-run affair, but even rarer – just 249 will be built, compared to the 333-unit cap on the hard-top V12 Vantage. Also like the coupe, every V12 Vantage Roadster has already been accounted for, despite production not starting until September.
The V12 Vantage coupe was priced from £265,000 and we expect the Roadster to sit around the £300,000 mark due to its added rarity.
New Aston Martin V12 Vantage 2022 review
First off there's the engine. It's unchanged from the V12 Vantage, so we have a 5.2-litre, twin-turbocharged V12. The power figures also remain the same with the unit pumping out 690bhp and 753Nm of torque. The V12's exhaust system features again, weighing 7.2kg less than the V8's system.
While the standard, V8-powered Vantage Roadster delivers a slightly slower 0-62mph time and lower top speed than its coupe counterpart, the V12 Roadster is just as fast as the coupe. That means it'll do 0-60mph in 3.5 seconds and top out at 200mph.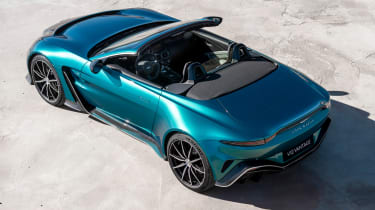 Power is sent through a ZF eight-speed automatic transmission to the rear wheels, and to help bring some stability to the mix there's a mechanical limited-slip differential too. The chassis has also been looked at with the Roadster featuring the same suspension as the coupe, although the adaptive damping has been tuned further. Making sure the Roadster stops properly are a brace of 410mm carbon ceramic discs at the front with six-piston calipers and 360mm discs at the rear with four-piston calipers.
The exterior gets some noticeable revisions over the standard Vantage. As we've seen before with the new V12 model, the entire front end has been reworked, featuring a larger and more aggressive air outlet on the front wing and a completely re-styled rear bumper. The V12 model also has a 40mm wider track than the V8.
New 21-inch alloy wheels finished in satin black or diamond-cut satin are available. There's also an optional lightweight forged wheel set which saves an extra eight kilograms. These are wrapped in Michelin Pilot Sport 4S tyres. Towards the rear you'll notice the omission of the large wing we saw on the coupe, although Aston Martin says the rear spoiler can be added if desired.
Click here four our list of the best convertibles on sale right now…
Source: Read Full Article