New Aston Martin V12 Vantage confirmed for 2022 launch
Aston Martin teases V12 version of Vantage sports car, which is set to be the last car of its kind before electrification comes to the brand
Aston Martin has officially confirmed it will unveil a new V12 Vantage next year. The 12-cylinder sports car will be a "Final Edition" – signifying it's the last of its kind. 
The British brand has released an extremely short statement beneath a V12 Vantage logo. It states: "You've heard about it. You will certainly hear it coming. V12 Vantage. It's not just a Limited Edition, it's a Final Edition. Returning in 2022."
New Aston Martin Vantage F1 Edition 2021 review
With the standard Vantage using a Mercedes-sourced twin-turbo V8, the V12 version is highly likely to be the most powerful Vantage ever built, going up against cars such as the Porsche 911 Turbo S.  It's expected to use Aston's 5.2-litre twin-turbo V12, as used by the DB11 and DBS Superleggera, 
Aston Martin's limited-run, Vantage-derived V12 Speedster uses the same engine, tuned to offer 690bhp, and we predict a similar output for the top-flight Vantage. The 'Final Edition' wording in the release appears to confirm that it'll be the last 12-cylinder Aston sports car, with CEO Tobias Moers confirming earlier this year that an electric sports car is due to arrive in 2025.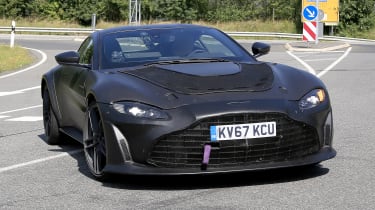 A prototype for the new V12 Vantage had previously been seen undergoing testing at the Nurburgring racetrack in Germany. Although heavily disguised, the test mule featured a set of aggressive modifications that set it apart from standard Vantage models by some distance. A huge front grille flanked by additional air intakes hints at the increased cooling demand of a high-power V12, along with new cooling cut-outs in the bonnet beneath the disguise. 
Further tell-tale signs of an uprated powertrain included a new central-exit twin-tailpipe exhaust set-up, and this development car was fitted with a small, downforce-generating gurney flap on the rear ducktail, presumably to simulate the revised aero package of the final car during testing.
In order to produce the roofless Speedster from the current Vantage platform, Aston borrowed the chassis structure ahead of the A-pillar from the flagship DBS Superleggera in order to package the larger engine. We may see a similar solution for the V12 Vantage, which will also use a more aggressive chassis set-up to make it more suitable for track use. 
The arrival of a hardcore Vantage could follow a comprehensive facelift due next year. The new model will form part of a brand offensive, dubbed 'Project Horizon' and instigated by CEO Tobias Moers, which will include a coupe-SUV variant of the DBX, the recently unveiled Valhalla supercar and the potential for hybridisation across the entire Aston Martin range. 
Check out the latest on the Aston Martin Valkyrie hypercar here…
Source: Read Full Article