New all-electric Rolls-Royce edging closer
Rolls-Royce has reiterated its intent to bring an all-electric luxury model to market by the end of the decade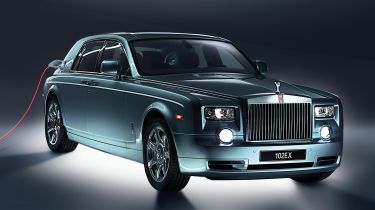 Rolls-Royce appears to be gearing up to announce its long-awaited pure-electric vehicle, based on a cryptic release issued this morning.
The luxury British brand has issued a statement saying it is "reflecting on the heritage of electric power ahead of a historic announcement" – and reiterating earlier promises from its CEO Torsten Muller-Otvos that Rolls-Royce will launch a pure EV during this decade.
Best luxury cars 2021
In today's release, Torsten Muller-Otvos references "a new electric future at Rolls-Royce" and says, "In April 1900, our founding forefather, Charles Rolls, made a prescient prophecy about automotive electrification. Move forward over 120 years to when I made a public promise, on the record, that we would bring the first fully electric Rolls-Royce to market within the current decade. 
"And right now, our company is embarking on an historic undertaking to create the first, super-luxury car of its type. This will happen, sooner than many thought possible, through the incredible skills, expertise, vision and dedication of our engineers, designers and specialists."
The statement also reinforces Rolls's existing position on EVs: it will introduce an EV this decade, so before 2030, and it will be a pure-electric car, as the firm has chosen to bypass plug-in hybrid technology. The firm "invites media to reflect on its unique heritage in electric power" – a reference to Henry Royce's early career as an electrical engineer, and Charles Rolls buying an early electric car and importing it from the United States to the UK in 1898.
Rolls-Royce has experimented with full electrification on its own vehicles before; more than a decade ago, the firm launched an all-electric concept called 102EX at the Geneva Motor Show. It is said to have showcased the vehicle in a number of private clinics with regular customers, but Rolls has always claimed that the car was never intended for production.
Five years ago Rolls revealed the 103EX, a radical all-electric model designed to showcase future trends in styling, autonomous technology and luxury materials. That car also went on a global tour, but returned to Rolls's Goodwood base in 2019.
Click here for our list of the best electric cars on sale right now…
Source: Read Full Article