New all-electric Porsche SUV will be focused on luxury
Following the Macan EV next year, Porsche will add a Cayenne-sized electric SUV to its range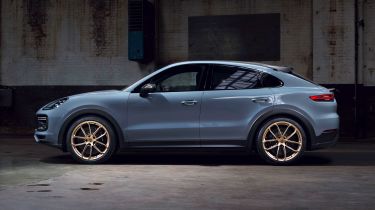 The Taycan is currently Porsche's only electric car, but we're about to see an influx of electric SUVs from the German brand in the coming years. Next year the electric Macan will debut and now Porsche has claimed it will follow up with a larger, all-electric SUV.
"We plan to add a new luxury, all-electric SUV model to our attractive portfolio. It will further expand our position in the luxury automotive segment." A Porsche statement read this week.
The Volkswagen Group has invested heavily in its new PPE architecture, which will be first seen on the Audi Q6 e-tron and will form the basis of the new Macan EV. It's likely the new Porsche will utilise the PPE platform, which could offer the largest battery capacity seen in an electric car from the VW Group.
Official: Porsche Boxster and Cayman will go electric by 2025
The Taycan Turbo S currently utilises a 93.4kWh battery, which was recently beaten by the Mercedes EQS and its 107.8kWh unit. With the large amount of space a Cayenne-sized EV would offer, an even larger battery capacity could feature in Porsche's new electric car.
That SUV body might also detract from potential range however, especially in comparison to the sleek Taycan. The Taycan 4S can reach up to 318 miles on a single charge (which could be improved further with incoming updates), even with the new PPE architecture, we expect this new car will only offer a similar range.
Porsche has said the new car will be built on the production line at its Leipzig plant, where the current Panamera and Macan are made and also where the upcoming electric Macan will be produced. A full debut is still some years away however.
Now check out our review of the facelifted Porsche Macan here…
Source: Read Full Article