New AC Cobra GT Roadster: British sports car revived by £285,000 remake
The GT Roadster is the latest in a string of official AC Cobra recreations, underpinned by an extruded aluminium chassis and a 654bhp V8 engine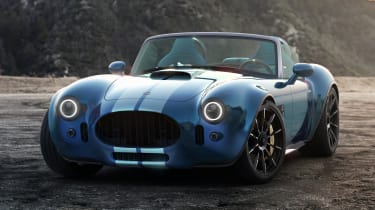 The AC Cobra has been subject to countless kit cars and replicas over the years, of varying quality, it must be said – but in 2023, its original maker is taking the spotlight. Meet the AC Cobra GT Roadster: it's a modern take on the 60s icon built around a bespoke aluminium chassis and a 654bhp V8. 
Order books have now opened for the reborn sports car, which costs from around £285,000 in the UK – although the final design has yet to be revealed in physical form. A series of renders have been released ahead of its full unveiling next month, hinting at a muscular body shell with key design changes to bring the Cobra into the modern age. 
Top 10 best sports cars 2023
The Cobra's traditional long-bonnet proportions remain but the body has swelled from the comparatively dainty original, with wider tracks and an extra 110mm in length. A set of spindly 21-inch centre lock wheels have been fitted, too, along with what appear to be retro-style LED light units. A thicker windscreen surround, conventional door mirrors and a conspicuous absence of chrome trim also distinguish the GT Roadster from its forebear.
The new body is made up of carbon composite panels, and despite clear Cobra DNA in the design, the structure of the GT Roadster is a significant departure thanks to its extruded aluminium chassis. Reworked suspension works in tandem with the stiffer frame to provide "compliant yet responsive" handling, according to AC – useful given the car's colossal power. 
The 5.0-litre Ford V8 is expected to be available in various states of tune up to 654bhp, driving the rear wheels through either a six-speed manual gearbox or a 10-speed automatic. Weighing less than 1,500kg, the GT Roadster can launch to 62mph in 3.4 seconds, slicing almost a second from the time of the classic Shelby Cobra.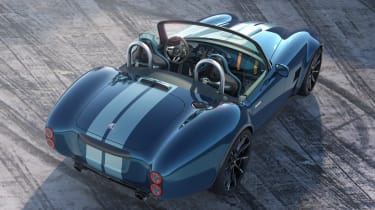 AC has also given the GT Roadster's interior a sympathetic revamp, with hand-finished materials and an oval shaped painted dashboard. A modern steering wheel and what appear to be carbon-backed bucket seats have been installed, too. A full suite of luxuries – including a digital driver display, electric windows, climate control and satellite navigation – complete the clean-sheet makeover.
A number of GT Roadsters have already been reserved by customers before the first examples hit the road in 2024, and each will be produced using AC's own facilities in the UK and Germany.
Now read our review of the AC Cobra 378 Superblower…
Source: Read Full Article