New 2023 Rolls-Royce Spectre will be brand's first electric car
The new Rolls-Royce Spectre will kickstart the luxury manufacturer's charge towards becoming EV-only by 2030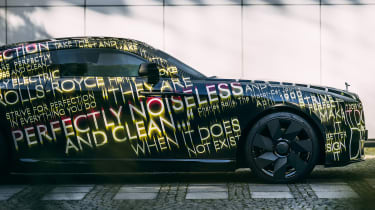 Rolls-Royce has confirmed that it will introduce its first electric production car towards the end of 2023. It will be called the Rolls-Royce Spectre, and teaser images of the vehicle suggest that it will be a large electric coupe. 
On-road testing of the new vehicle on public roads has already started, and Rolls-Royce CEO Torsten Muller-Otvos has called commencement of the prototype's public development program as "the most significant day in the history of Rolls-Royce Motor Cars since 4 May 1904", referencing the founding of the company.
Best luxury cars 2021
The brand says the name Spectre has been chosen with zero-emissions motoring in mind. "Spectre is a name given to otherworldly beings synonymous with great power and apparition; creatures of an alternative realm that make their presence felt through fleeting manifestation," the brand explains. 
"This name perfectly matches the extraordinary Rolls-Royce that we are announcing today – a motor car that makes its presence felt before disappearing into a world inaccessible to all but the very few. As a quintessentially British brand, we have selected the British spelling, however the meaning is universal. 
Three teaser images confirm that Spectre will be an electric coupe similar in size and shape to the Wraith, though it won't be a direct fully electric version of the brand's large luxury coupe. The teaser images hint at subtly different surfacing, plus a redesigned door handle residing at the A-pillar, enabling the brand's trademark suicide doors. 
The teaser shots also demonstrate some EV-specific Rolls-Royce design cues for the first time, such as the large aeroblade wheels. Though quite what the brand will do with its trademark enormous chrome grille is still under wraps. 
These images aren't placeholders, either. "This is not a prototype. It's the real thing," claims Muller-Otvos. "You will see these test cars on roads around the world. Look out for them – they will be in plain sight. They will be tested in all conditions and over all terrains on their multi-million-mile journey – that will literally accelerate Rolls-Royce into the future."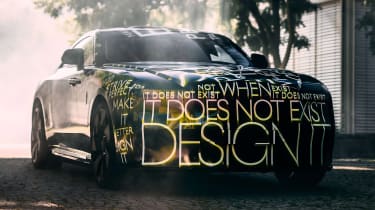 The Wraith has been in production since 2013, and like its convertible Dawn counterpart is one of two Rolls-Royce vehicles yet to move off the BMW F01 platform and onto Rolls-Royce's own fully scalable Architecture of Luxury base. 
Rolls-Royce has already confirmed that the Wraith will be discontinued in the United States in 2021, and the timing of the Spectre's introduction in 2023 suggests that it could act as an all-electric replacement. With Rolls having committed to being fully electric by 2030, it leaves little time for a combustion-powered Wraith replacement to be developed and sold. 
The brand has confirmed that the Spectre will use the aluminium spaceframe Architecture of Luxury platform and that the system is capable of integrating a battery-electric drivetrain. However, it has stopped short of revealing any key technical details. 
"Free of any group platform sharing strategy, we were able to integrate our plans for an electric powertrain into the architecture's initial design," said Muller-Otvis. However, while the platform is Rolls's own, it could still integrate BMW-designed electric motors. 
"We embark on this bold new future with a huge advantage," continues the Rolls-Royce boss. "Electric drive is uniquely and perfectly suited to Rolls-Royce Motor Cars, more so than any other automotive brand. It is silent, refined and creates torque almost instantly, going on to generate tremendous power. This is what we at Rolls-Royce call 'waftability'."
Rolls-Royce has experimented with full electrification on its own vehicles before; more than a decade ago, the firm launched an all-electric concept called 102EX at the Geneva Motor Show. It is said to have showcased the vehicle in a number of private clinics with regular customers, but Rolls has always claimed that the car was never intended for production.
Five years ago Rolls revealed the 103EX, a radical all-electric model designed to showcase future trends in styling, autonomous technology and luxury materials. That car also went on a global tour, but returned to Rolls's Goodwood base in 2019.
Though the brand has confirmed that the Spectre will arrive in 2023, it has not indicated when a full reveal of the vehicle will take place.
Click here for our list of the best electric cars on sale right now…
Source: Read Full Article