New 2023 Renault Espace to feature biggest glass car roof ever
Renault's iconic seven-seater will be reformed into a large SUV, but it still won't be available in the UK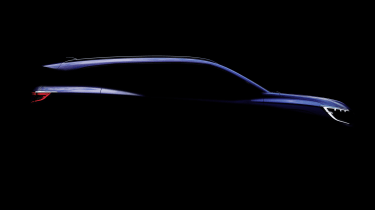 Renault has revealed another teaser of its next generation Espace, the iconic people carrier that helped define the genre back in 1984. Unlike its highly-specialised monobox predecessors, though, Renault's new Espace is taking a rather more pragmatic path by being reformed into a stretched three-row SUV based on the new Austral. 
New images have now given us our first look at the contemporary interior, which features the biggest single-pane glass roof in any car at 1.33m long. The rest is typical of a modern Renault, with a dash design and user interface directly derived from the Austral. 
Top 10 best SUVs to buy 2023
This new image joins previous teasers, which revealed a side profile very similar to the Austral, incorporating virtually identical headlight and rear light signatures. There's also a rear spoiler and visible haunches above the wheel arches which Renault says "contribute to the vehicle's slender appearance and elegance."
The similarities between the Espace and Austral aren't surprising given that they share the same CMF-CD platform. The Espace is actually 190mm longer than the Austral and a tiny bit longer than the Nissan X-Trail – which shares its underlying architecture. 
From previous spy shots taken on the road, we can deduce plenty of its styling cues. The front end isn't likely to change much from the Austral and neither are the flanks, until you get to the C-pillar.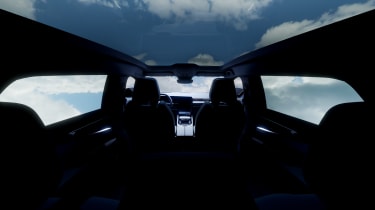 At the rear we can see a much less rakish rear window, allowing for more headroom for a third row of passengers. The rear lights look to be retained, as does the overall boot lid shape and number plate surround. 
While the bodystyle has transitioned from that of the traditional MPV we'd associate with the Espace name, Renault says the new car has "the same successful genetics of its predecessors". There will be five and seven-seat models to choose from – to help it stand out as a more practical offering compared to the five-seat only Austral.
Unlike the closely related X-Trail, the Austral won't use Nissan's e-Power engines, with Renault preferring its own hybrid set up. Instead, the Espace should make use of the same lineup found in the existing Austral. Renault has hinted at a full-hybrid powertrain with gold badging in a previous teaser image. That's likely to feature a 1.2-litre, turbocharged three-cylinder petrol with up to 197bhp. Mild-hybrid power will come in the way of a 138bhp 1.2-litre petrol with 12V assistance and a 157bhp units with a 48V electric motor. 
Like the fourth-generation model, the new Espace won't make its way to the UK, allowing the smaller Austral to retain its flagship SUV above the Captur and Arkana. The Espace will be revealed in full on March 28, before European sales commence from the middle of this year. 
Now read our list of the best family cars…
Source: Read Full Article