New 2023 Porsche 911 facelift spotted testing
Porsche is giving its iconic 911 sports car an update this year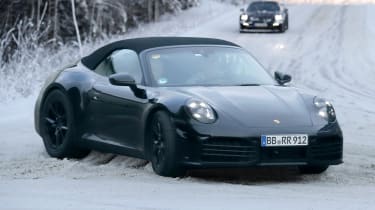 The Porsche 911 will gain a facelift in 2023 and we've spied it during its winter development phase. Both the coupe and cabriolet body styles are included in these spy shots, but it's not the first time we've caught them testing – which suggests a full reveal could be imminent. 
We've seen the facelifted 911 in range-topping Turbo form as well as this GTS model here. The changes to the new drop-top and coupe are clear to see, with the German brand aiming for a subtle evolution of the current car's looks ahead of its launch this year.
New Porsche 911 Dakar receives three more heritage liveries
Likely to be designated the 992.2, the facelifted 911 will get a slightly neater grille arrangement up front and new integrated LED daytime running lights – which have been camouflaged on this car. 
The rear bumper and diffuser have been redesigned to make space for a new centre-exit exhaust system, which looks similar to current Cayman GTS. Above this we can see plastic moulding around the engine grille, so a revised air intake is seemingly on the cards.  We're also expecting some different alloy wheel designs and paint options.
A new air intake and exhaust system could allow for more power. During the previous generation's facelift (from 991 to 911.2), Porsche increased the Carrera S' output from 395bhp to 420bhp and the GTS also received a 20bhp bump. A similar uplift could happen across the standard 911 model range for the updated 992 generation.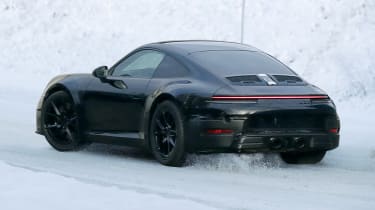 The refreshed 911 will also benefit from some chassis tweaks and, perhaps most significantly, a fully digitised cabin that ditches the current model's analogue rev-counter.
Inside, the facelifted 911 is expected to retain the same basic layout as the existing car. It'll also benefit from Porsche's latest PCM 6.0 infotainment system, which has just recently been updated to include Spotify music streaming, wireless Android Auto and an improved voice assistant.
However, the updated sports car will move forward with a new, fully digital instrument panel, like that of the Taycan EV. The current model has an analogue rev-counter flanked by two screens, but this could be replaced with a slender curved screen that can display drive mode information, a map for navigation and a feed from the car's night-vision system. Don't be fooled by the huge central screen in the latest batch of spy imagery. We expect this screen is just for research and development use only. 
The next 911 could also receive an improved suite of sensors for more advanced driving-assist technologies. A raft of chassis and handling improvements is also expected to give the 992.2 sharper responses when the driver takes full control.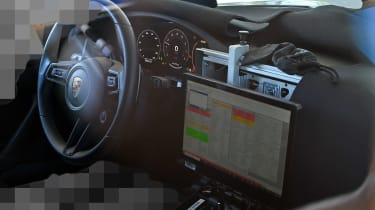 Porsche has honed the 911's suspension and steering set-up as part of previous mid-life updates, so a returned electric power steering set-up and revised chassis settings are likely. A snappier calibration for the eight-speed PDK gearbox is also possible, although the 992.2 is unlikely to receive significant powertrain revisions.
It will, however, gain a new hybrid variant. The long-awaited electrified 911 will be part of the 992.2 line-up and will be based on the Turbo model. We spotted it testing back in 2021 so it could be ready for launch alongside the facelifted 911. The electrically assisted 911 could also end up producing more power than the 641bhp 911 Turbo S and become the most potent 911 available.
Now read our in-depth review of the Porsche 911 GT3 RS…
Source: Read Full Article