New 2023 Audi A3 facelift spied in Saloon form
Audi is giving its A3 a tweak for next year with a new exterior design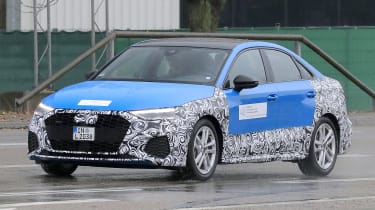 Audi looks to be readying a mid-life update for the Mercedes A-Class rivalling A3, which has been spied here for the first time in the saloon bodystyle. Despite some test car camouflage we can clearly see the new updates Audi has in store for its family hatchback.
The A3, revealed in 2020, is the firm's C-segment hatch and compact saloon. This early glimpse at the new version, which will in all likelihood be revealed next year, looks set to embrace only a small number of cosmetic revisions for its mid-life spruce up. 
New 2023 Audi Q8 e-tron: specs, pricing and release date
The new two-dimensional Audi badge will be applied on the grille, while some minor exterior details will be revised. The side air intakes look to have been enlarged and to the rear we can see a new design of bumper, plus a different reflector position. The headlights and rear lights may also take on a new signature. 
The exterior changes on this test car aren't the only amendments Audi could make to the A3 as the model may introduce all-electric models and SUVs in the near future. 
We've already spotted the jacked-up A3 Citycarver testing, which could incorporate the same exterior and interior tweaks as the facelifted A3. The higher-riding Citycarver variant would also sit between the Q2 and Q3 SUVs. An option of a lifted A3 shouldn't come as too much of a surprise given Audi Q3 deliveries went up 19.2 per cent in 2021 while A3 deliveries declined 17.7%.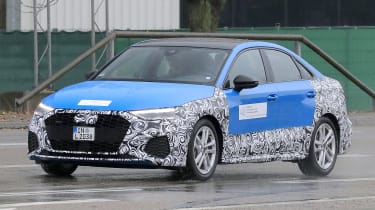 As for the regular A3, it's likely this facelift is the final internal-combustion powered development of the model, as the firm will launch its final fossil-fuelled cars in Europe in 2025. 
We've seen the A3 name use Audi's e-tron badging before with the previous generation plug-in hybrid model, the next-generation may adopt that nomenclature permanently, becoming a pure-electric hatchback alternative to the Volkswagen ID.3 and Cupra Born.
Now check out the best hatchbacks to buy here…
Source: Read Full Article