New 2022 Morgan Super3 to be revealed on 24 February
The all-new Morgan 'Three-Wheeler' is just around the corner and is set to be powered by a three-cylinder engine from Ford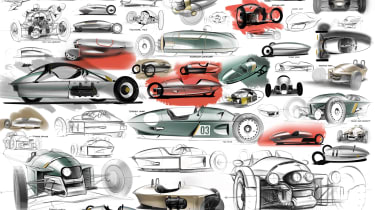 Morgan has confirmed that the next-generation 'Three-Wheeler' will be unveiled 24 February, while teasing that the new model will be its 'most-customisable' car to date.
Morgan hasn't confirmed the exact name of the car yet and only refers to it as its new 'three-wheeled model.' But trademark applications found on the web suggest that the car will take on the name 'Super3.' Morgan says the new three-wheeler will be its first clean-sheet visual design since the Morgan Aero 8, which was launched in 2000.
New Morgan Plus Four CX-T goes off road as Ariel Nomad rival
The company says this all-new model will be available with an extensive array of accessories available at launch. Morgan says its different options 'will highlight some of the personalities that have inspired its design, from bold, individual, and eccentric colours to fit-for-purpose adventure and motorsport-inspired mid-century racers'. New teaser images show three different model variants, described by Morgan as 'personalities'.
Jonathan Wells, Head of Design at Morgan Motor Company, said: "The energy and imagination that the design and engineering teams have invested into creating the all-new three-wheeled model is incredible. I am confident that this will be apparent through the sheer quantity of options, quality, performance and attention to detail."
The prototype also shares some key design details with the previous car, such as the skinny front tyres, large front mudguards and round headlamps. However, the front end will change significantly to suit the new engine, and the side-exit exhausts appear to have been omitted.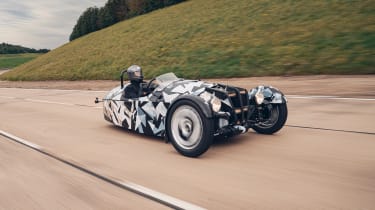 The old car's motorcycle-derived 82bhp 2.0-litre, twin-cylinder petrol engine hasn't survived the generation change, partly because it no longer complies with emissions regulations. In its place, there'll be a naturally aspirated 1.5-litre three-cylinder petrol engine from Ford.
Morgan hasn't yet announced how much power the new engine will produce, but the firm has said the car will benefit from plenty of "engineering enhancements," so we're expecting it'll beat the old car's 0–62mph time of six seconds. The new 3-Wheeler should also stick with the old car's rear-wheel-drive layout.
Steve Morris, Chairman and CEO of Morgan Motor Company, said: "The next chapter of Morgan's three-wheeled story will begin on 24 February, and we couldn't be more excited to finally show it to the world. The all-new model continues a 113 year legacy of three-wheeled Morgan cars, and – as has always been the case – the new model will be totally different to anything else."
Now click here to check out our review of the new Morgan Plus Four…
Source: Read Full Article