New 2022 Lamborghini Urus facelift spied at the Nurburgring
Subtle redesign for Lamborghini Urus with plug-in hybrid model coming in 2023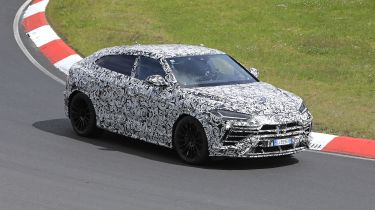 The facelifted Lamborghini Urus has been spied undergoing final testing at the Nürburgring before it is revealed later this year, before going on sale in 2022.
Underneath the disguise we can see that Lamborghini has reworked the front bumper of its Aston Martin DBX rival, swapping its old fork-shaped intakes for simpler slats. The car's egg-crate radiator grille has received the same treatment, while the front splitter has a slightly different shape and a new central support.
New Lamborghini Sian 2021 review
The facelifted Urus's rear diffuser looks a slightly different shape from the old car's, and it's gained a new grille above the rear exhausts. There's a new pair of vents behind the rear wheel arches, too – and the SUV's exhaust has been fitted with slightly larger finishers.
We're yet to see the updated SUV's interior, but we expect it'll get some retrimmed seats, a tweaked sports steering wheel and an updated infotainment system. All of the upgrades should also bring an increase over the current car's £160,000 starting price.
When the Urus was unveiled back in 2017, Lamborghini hinted that a plug-in hybrid version was in the pipeline. The car's mid-cycle refresh would be the ideal time to introduce the new powertrain, but according to Lamborghini's new electrification plan, the brand's first plug-in hybrid vehicle won't arrive until 2023, so it's likely to come a little after the mid-life update. 
As the Urus shares its platform with the Porsche Cayenne, Lamborghini Lamborghini will likely take on the twin-turbocharged 4.0-litre V8 unit used by the Cayenne Turbo S E-Hybrid. That system would give the Urus a supercar-baiting 671bhp and 900Nm of torque, while dropping its CO2 emissions to around 90g/km.
The current car's 650bhp twin-turbocharged 4.0-litre V8 will live on – although it remains to be seen whether Lamborghini's engineers will tap even more performance from the unit, in the same way they did with the recently facelifted Huracan supercar.
What do you make of the updated Lamborghini Urus? Let us know in the comments section below…
Source: Read Full Article