'Naming a car correctly is important to its success'
After driving the BYD Atto 3, editor-in-chief Steve Fowler thinks naming a car correctly is key to it becoming a success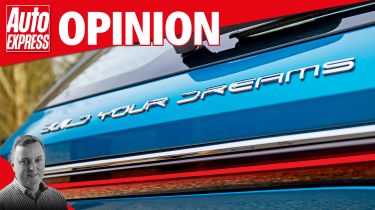 I'd been looking forward to driving the new Atto 3 from Chinese brand BYD ever since John McIlroy's first drive of a very early car on an airfield in Amsterdam. "It's really rather good," he proclaimed at the time. 
Now, having driven a right-hand-drive car in the UK, I can confirm that it is really rather good. In fact, I enjoyed it a lot. But could it fit into the Fowler family fleet?
How to name a car: car name generation tips uncovered
I decided to do a quick bit of market research with the four car owners (and buyers) at home: my wife, daughter and two lads. They could sense my excitement about the BYD, they loved the interior with its swivelling screen and thought it looked pretty striking in blue. The thought of owning a BYD Atto 3 was starting to appeal.
And then I showed them the picture above of the back of the car, where BYD spells out its name in full: Build Your Dreams. At which point they walked off.
I did ask the good folk at BYD if there was a delete option for the rear badging – and they promised to take that thought away… But as my daughter put it – and she doesn't mince her words: "It's just a bit naff, isn't it?"
What a shame if the Atto 3 doesn't get the success that its talent deserves just because of the name on the boot. But it's so important – especially when you're building a new brand. That's a difficult enough task for the new influx of companies and cars from China. They have a great opportunity with a clean sheet of paper to build something that's new, fresh, different and maybe cool.
My advice to BYD is to just stick with BYD – play up the mystique and have some fun with it. After all, I bet most BMW customers neither know nor care what the famous three letters actually stand for.
As for my lot, one son was concerned that a Build Your Dreams might not live up to its promise. And my daughter doesn't want a car to build her dreams. But then she doesn't want an Ora Funky Cat because: "I'm more of a dog person!"
Do you agree with Steve? Let us know your thoughts on car names in the comments section…
Source: Read Full Article