Munich Motor Show 2021: news round-up and all the cars
Our detailed round-up of all the cars and news from the 2021 Munich IAA Mobility show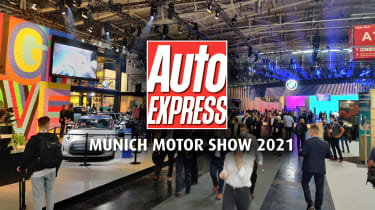 The first Munich Motor Show was a huge success. Officially called IAA Mobility, it spread right across the city, with a traditional motor show space as well as displays in the city centre and even a test track that linked the main locations.
The Munich Motor Show hosted the reveals of various new models, and you can read about all the most important ones below in our A-to-Z list of car makers and what they got up to at the show.
Best cars of the 2019 Frankfurt Motor Show
Audi, BMW, Cupra, Dacia, Hyundai, Mercedes, Polestar, Porsche, Renault, Smart and Volkswagen were all in attendance at the Munich show, but there were some key manufacturers who gave the event a miss: notably, Stellantis brands, including Vauxhall, Peugeot, Citroen and Fiat.
The 2021 Munich Motor Show replaced the traditional Frankfurt Motor Show and was built around the Summit area, a typical motor show space with halls full of new products. This is where our reporters were hard at work chatting to industry bosses on the hunt for our famous scoops and exclusive news stories.
Then there was the Blue Lane, a test track that ran from the conference centre to the city centre, where visitors could try out new products, including cars and bicycles – since the motor show was focused on all forms of mobility and not just cars. Finally, there was the Open Space in the city centre, where visitors to Munich were able to see the new cars and other transport.
Munich Motor Show 2021: news headlines
Hyundai announces plans to go all-electric in Europe by 2035
Hyundai to launch two new hydrogen fuel cell powertrains in 2023
Polestar Re:Move concept unveiled as last-mile delivery scooter
Renault and Dacia to seek petrol and diesel car ban extension to 2040
Volkswagen ID.3 GTX hot hatch confirmed for production
High performance Volkswagen ID. Life GTX in the works
Munich Motor Show 2021: gallery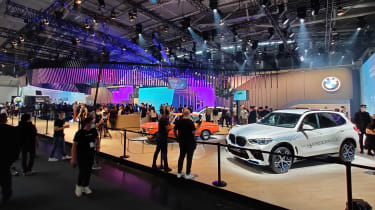 Munich Motor Show 2021: A to Z
Audi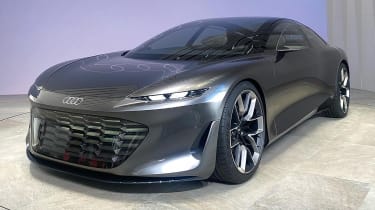 Audi Grandsphere
Audi Skysphere
Audi RS 3
Audi showed off two of its 'Sphere' concepts at the Munich Motor Show. The first, the 'Grandsphere', is an all-electric luxury car that previews a future A8 limo replacement. It features Level 4 autonomous tech, while the 120kWh battery provides 710bhp, 960Nm of torque and a driving range of around 460 miles between charges.
It also features a new approach to interior design, with the cabin constructed mainly of sustainable or recyclable materials. The highly digital approach centres around a new infotainment system that can project a full cabin-width image onto the surface when in its autonomous mode. Audi also claims the Grandsphere is the closest of the three Sphere concepts (the others being the Skysphere and the as yet unseen Urbansphere) to a production model.
The sporty Skysphere was also in Munich. It was revealed a few weeks prior to the show and features dramatic swoopy styling that is said to preview the brand's next-generation design direction. The all-electric luxury two-seat roadster also incorporates some radical thinking, helped by its variable wheelbase set-up, that's claimed to provide occupants of the Skysphere two very different experiences.
Power comes from a battery that "is expected to be more than 80kWh" for a claimed WLTP range of 500km (around 310 miles). The battery feeds one electric motor mounted on the rear axle producing 623bhp and 750Nm of torque; Audi claims that the Skysphere weighs around 1,800kg, which results in a 0-62mph time of 4.0 seconds.
If those two advanced concepts weren't enough to drag you to Audi's Munich stand then there was also the first chance to get up-close-and-personal with the giant-slaying hyper hatch, the RS 3. Already unveiled in full online, the Mercedes-AMG A 45 S rival returned with its trademark 2.5-litre turbocharged five-cylinder that pumps out a muscular 395bhp and 500Nm of torque.
Combined with a seven-speed dual-clutch automatic and quattro all-wheel drive, Audi says the RS 3 can get from 0-62mph in just 3.8 seconds before running into its speed limiter at 155mph. In the UK, the RS 3 that has claimed the Nurburgring lap record for compact cars, is priced from £50,900.
BMW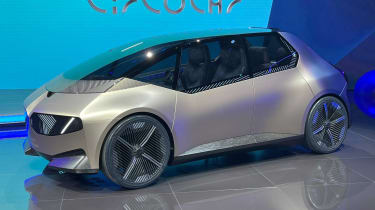 BMW iX3 facelift
BMW iX5 Hydrogen
BMW i Vision Circular
BMW used its home motor show to show off its view of a sustainable future in the form of the i Vision Circular. The striking concept is a vision of a 2040 hatchback and it features a host of new design elements, including a re-think of the brand's iconic kidney grilles and an overhauled rear. 
However, the i Vision Circular is all about helping the planet and is built from 100 per cent recycled materials, which are also able to be recycled themselves. Therefore, every part of the car is designed to be removed and taken apart quickly.
BMW also rolled out its hydrogen fuel-cell powered X5 SUV at Munich. Called the iX5 Hydrogen, the zero-emission SUV is also available for showgoers to take short rides in ahead of its 2022 debut.
Featuring a unique blue-tinted grille, lightweight 22-inch alloys and a revised rear diffuser with blanks where the exhausts sit on ICE-powered X5s, the short-production run of iX5s are driven by a pair of electric motors that generate a combined 369bhp. Employing fuel-cell tech developed in partnership with Toyota, the BMW iX5 Hydrogen is claimed to combine an unconfirmed long range with a four-minute refuelling time.
As well as the bigger hydrogen-powered X5, BMW also debuted the recently updated pure-electric iX3 that received mild cosmetic updates and more tech.
Cupra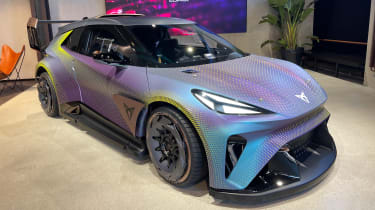 Cupra Born
Cupra UrbanRebel
Spanish performance brand, Cupra, nveiled the UrbanRebel concept at Munich, which gives an indication of the design language the manufacturer will employ on its more affordable, smaller electric cars.
Look past the motorsport addenda and the shape provides an interesting insight into how a small Cupra EV might look. Although Cupra says the UrbanRebel has 335bhp, with the ability to produce up to 429bhp for short periods, a production car is more likely to have around 200bhp and a rear-wheel-drive set-up.
Cupra also used the Munich show to unveil its all-new Born electric hatch that's closely-related to the Volkswagen ID.3. Beneath the skin, the Cupra Born will be offered with either a 148bhp or 228bhp electric motor that, with the largest 77kWh battery provides a range of up to 335 miles. Priced from £32,000 including the government's £2,500 grant, deliveries begin in early 2022, while the former SEAT sub-brand says it's tuned the Born to be fun to drive.
Dacia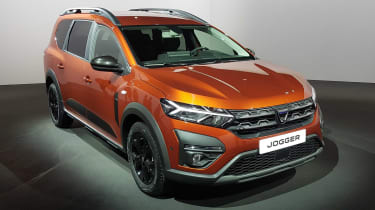 Budget car maker Dacia showed off its new seven-seat MPV called the Jogger – a replacement for the Romanian brand's Lodgy seven-seater MPV. It's been confirmed to be coming to the UK, despite this model having been previously only available in other markets. 
It uses the same architecture as the new Sandero and Sandero Stepway, but it's larger to accommodate the extra passenger seats inside. It also uses the same engines, including a small petrol and the LPG-equipped Bi-Fuel model.
Kia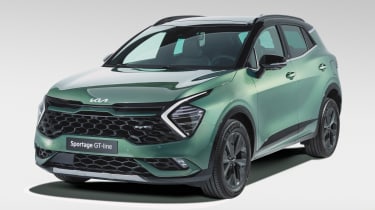 Kia showcased the all-new European-spec Sportage family SUV in plug-in hybrid form at the 2021 Munich show. It's the first time the brand has produced a specific model for the European market. The SUV packs a 13.8kWh battery feeding a 90bhp electric motor that works in conjunction with a 1.6-litre turbocharged petrol unit.
The Korean brand's first electric car to be based on the E-GMP platform, the EV6, also made its European debut.
Mercedes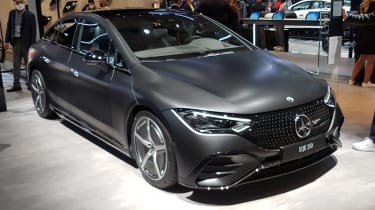 Mercedes C-Class All-Terrain
Mercedes EQE
Mercedes Concept EQG
Mercedes-AMG EQS 53
Mercedes-AMG GT 4-Door 63 E-Performance
Mercedes-Maybach Concept EQS
Mercedes launched a host of new cars at Munich, including five pure-electric vehicles and one new performance hybrid.
The most important debut was the Mercedes EQE saloon. Set to take on the Tesla Model S, the EQE will go on sale in 2022 as an all-electric alternative to the E-Class exec and will offer up to 410 miles on a single charge thanks to its large 90kWh battery. Two versions will go on sale in the UK, but Mercedes will only show the EQE 350 at Munich, which will feature 288bhp and 530Nm of torque.
The Concept EQG joined the EQE on Mercedes' stand, previewing a future all-electric version of the G-Class. No performance figures were quoted, but the German brand has promised that the production version of the EQG will offer the same rugged off-road ability as the G-Class when it arrives in 2024. 
AMG also revealed its first ever electric performance model in the shape of the EQS 53. Promising 751bhp in top spec Dynamic Plus trim, it'll sprint from 0-62mph in just 3.8 seconds and go on to an electronically-limited 138mph. 
Plus, we had our first look at the EQS SUV, as the new Maybach Concept EQS previewed the flagship variant of the upcoming all-electric luxury SUV.
If that wasn't enough, the Mercedes-AMG GT 4-Door 63 S E-Performance – the brand's most powerful ever model with 831bhp – was on show, along with the new C-Class All-Terrain.
ORA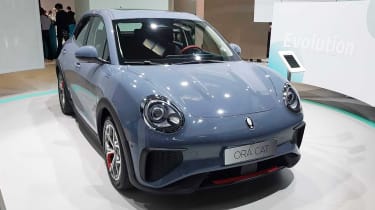 Chinese manufacturer Great Wall confirmed that its all-electric sub brand, ORA, is coming to the UK at Munich – and the first model will be called the Cat.. The retro looks hide an EV that is similar in size to the VW ID.3, but is likely to significantly undercut its rival with a starting price of between £25k and £30k. 
The Cat features a 63kWh battery, which the brand claims is good enough for a range of 250 miles, while the 169bhp motor will help it sprint from 0-62mph in 8.5 seconds. It's expected to go on sale later this year, with deliveries likely in the first quarter of 2022.
Porsche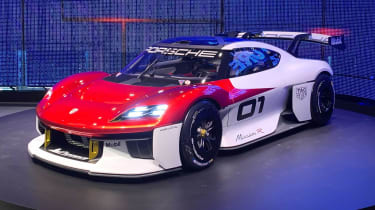 Porsche Mission R concept
Want to know what the future all-electric Porsche 718 Cayman will look like? Well the new Mission R concept might just give you the answer. Porsche's Munich show star was a car designed for a single-make racing series, but those behind the concept have confirmed they are working on production cars at the same time – and that's likely to mean a Cayman EV.
The Mission R is powered by a battery of around 80kWh, while two electric motors help it produce up to 1,072bhp. This figure is only available for short periods though, with the normal operating power coming in at 671bhp. Top speed is quoted at over 180mph, while it'll cover the 0-62mph sprint in just 2.5 seconds.
Renault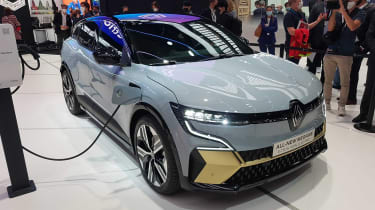 Mobilize Limo
Renault 5
Renault Megane E-Tech Electric SUV
Renault had a strong line-up at the Munich show, starting with the new Megane E-Tech electric car. It's a fully-electric version of the popular family car and will rival the Volkswagen ID.3. 
The Renault 5 electric car prototype also made an appearance on the show stand, as well as some classic Renault 5 models to compare it with. 
Finally, there were vehicles from the new Mobilize brand, which Renault is using to show its planned range of urban vehicles, likely to be called Duo, Bento, Limo and Hippo. This service looks like it will produce a successor to the oddball Twizy, but with a more modern sales policy with charges based on time spent in the car and paid by smartphone.
Smart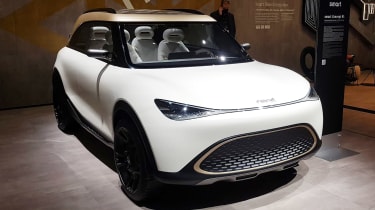 Smart showcased the start of its push upmarket and into larger vehicle segments at Munich, with new parent company Geely at the helm. The company unveiled its Concept #1 electric SUV, which ditches some of the brand's famed "smallness" in favour of a more premium image. It will morph into a fresh rival for the MINI Countryman and Audi Q2 in 2023 and will be the first car using the new Geely developed SEA all-electric car platform.
Volkswagen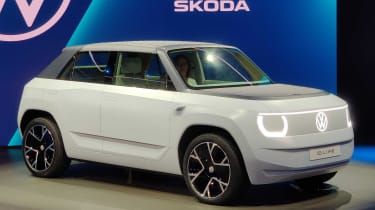 Volkswagen ID. Life
Volkswagen Polo GTI facelift
Volkswagen Taigo
Volkswagen stunned the Munich show with a surprise – the new ID. Life. The concept is an all-electric 'crossover' that will merge into a production car by 2025, sitting below the larger ID.3 in the brand's lineup. That means that it's likely to carry the ID.1 or ID.2 badge when it arrives.
The ID. Life features a number of quirky features, including a zip-on roof, which can be quickly removed to provide some open-top fun. It also makes use of sustainable materials, with paintwork made from wood chips and a roof and bonnet produced from plastic bottles.
VW also catered to performance car enthusiasts with the facelifted Polo GTI. Now pumping out 204bhp from its 2.0-litre four-cylinder turbo, the pint-size VW hot hatch gets a seven-speed dual-clutch transmission that enables it to launch from 0-62mph in 6.5 seconds.
The European market debut of the SUV-coupe Taigo also took place in Munich. Closely related to the Polo-based Nivus already on sale in South America, think of the Taigo as a sportier take on the current T-Cross. Under the bonnet there's the choice of either a 1.0-litre three-cylinder petrol or a more powerful 1.5-litre turbo that will offer up to 148bhp.
What do you think is the star of the show in Munich? Let us know in the comments…
Source: Read Full Article